Vegan Fluffernutter Doughnuts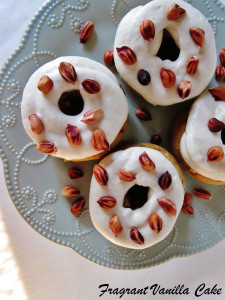 I have been wanting to make doughnuts again for a few weeks now, and then when I finally got around to it I could not decide on a flavor.  You see, there are so many different possibilities, all of which sounded amazing.  So whenever I have a problem like that I talk to Eric and ask him what sounds good to him.  Funny thing is whichever thing I am leaning towards he tends to say before I even tell him.  We are totally different in many respects, but tend to crave the same things food wise.  Funny how that works.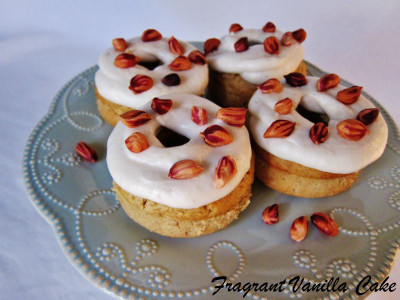 So, when I asked him, he said something with marshmallow.  My first instinct was s'mores...but then when I thought about it more peanut butter sounded good...so they ended up being fluffernutter. I imagined them.  Fluffy peanut butter doughnuts topped off with fluffy creamy marshmallow frosting.  Very fluffy...so I guess fluffernutter was appropriate.  I made exactly that, plus one special ingredient I just happed to have on hand. Home made peanut butter chips. I hid them inside the doughnut batter, and when they baked up, they were all nice and gooey and melty inside the fluffy doughnuts.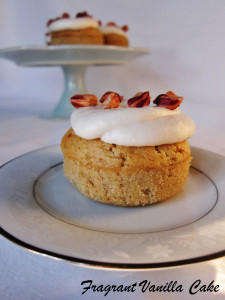 These were simply heavenly.  Eric was pretty excited about them too.  He loves peanut butter just as much as I do.  I topped them off with some pretty jungle peanuts for extra crunch. You would never know these are vegan.  They taste absolutely divine and better than any regular doughnut I ever had growing up.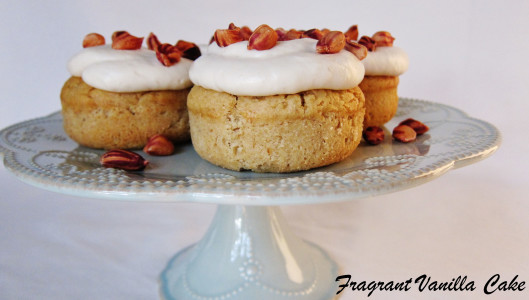 Vegan Fluffernutter Doughnuts
Makes 6 large doughnuts
Batter:
2 cups all purpose gluten free flour
1 cup coconut sugar
2 Tbsp ground flax seed
1/4 tsp sea salt
1 1/2 tsp baking powder
1/2 cup plus 2 Tbsp filtered water
1/2 cup applesauce
3/4 cup peanut butter
1/4 cup plus 2 Tbsp coconut oil, warmed to liquid
2 tsp pure vanilla extract
Marshmallow Fluff:
3/4 cup reduced aquafba (you want it to be the consistency of egg whites when cooled)
1 1/2 tsp guar gum or xanthan gum
3/4 cup granulated xylitol or granulated coconut sugar**
1 tsp pure vanilla extract
pinch sea salt
Pre heat the oven to 350F degrees, and oil a standard sized doughnut pan.  In a bowl, whisk together the  flour, sugar, flax seed, sea salt, and baking powder.  Whisk in all the wet ingredients until smooth.
Spoon into the holes in the prepared pan, filling them 3/4 full.  Press the peanut butter chips into the dough staying away from the sides (the reason I did this instead of stirring them in was to keep them on the inside of the doughnuts, because they melt). Place in the oven and bake for 20 minutes, or until the doughnuts are cooked through. Remove from the oven and allow to cool.  Once cool, pop out of the pan.
For the marshmallow fluff, in a food processor (which is what I used, or you may use a stand mixer with a whisk attachment), whip up the chickpea liquid until it has reached peaks. This will take about 2 minutes in the food processor.  Add the guar gum and process until incorporated.  Add the sea salt and sugar and with the motor running, a little at a time through the feed tube (so you do not deflate it), then allow to process until the sugar is completely dissolved and the meringue is smooth, shiny and thick.  Add the vanilla, and blend until uniform in color.  Spread the frosting over the doughnuts.
*Vegan Peanut Butter Chips:
1 cup creamy natural peanut butter
1/2 tsp pure vanilla extract
1/2 cup unrefined coconut oil, warmed to liquid
3-5 tablespoons fine coconut sugar (I put mine in the blender and buzz it until fine)
Whisk together all ingredients in a bowl until smooth, then pour into a mold, or onto a sheet of foil, and set in the freezer until hard. Break into pieces once hard.  Store in an airtight container in the refrigerator.
**If your xylitol or coconut sugar is large crystals, blend it in the food processor until smaller first so you do not deflate the meringue.  Coconut sugar will turn the meringue brown if you use it. If you are making xylitol fluff do not feed it to dogs, it makes them sick like chocolate does.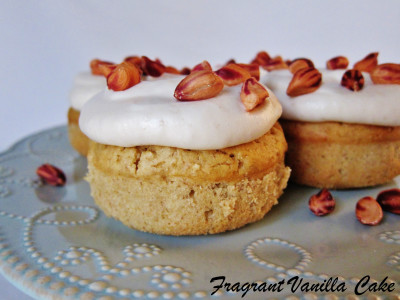 (Visited 423 times, 1 visits today)