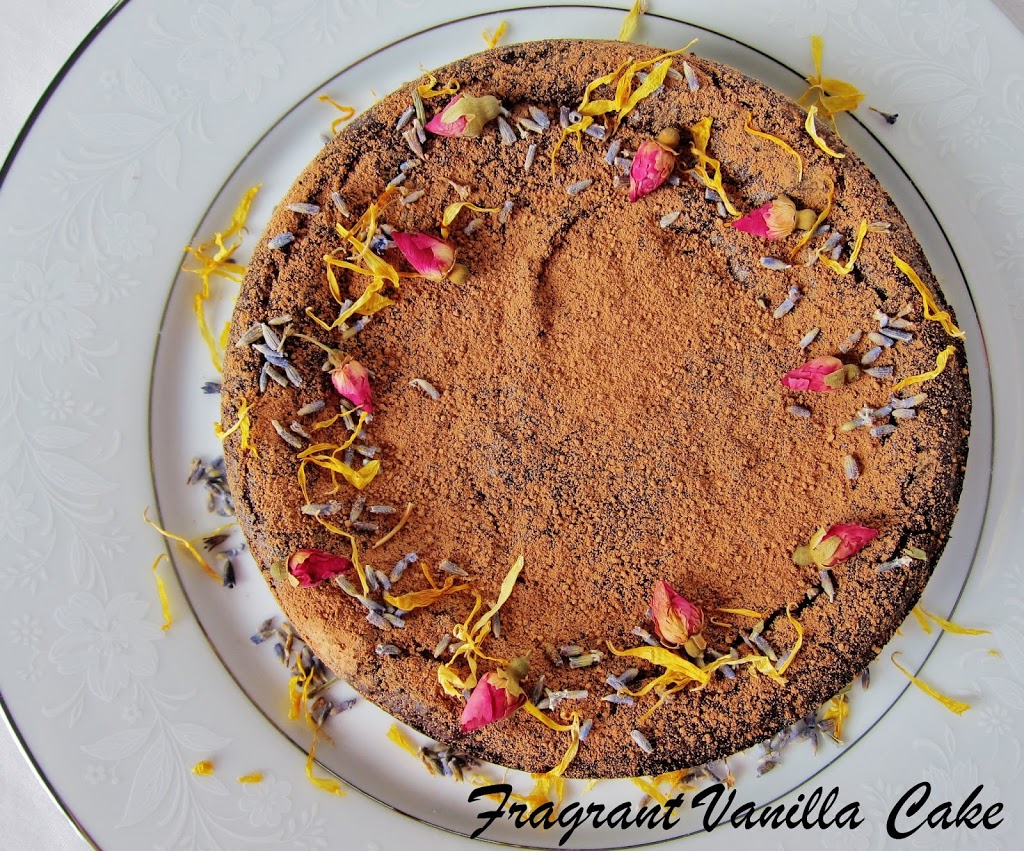 Vegan Flourless Chocolate Cake
 I have always wanted to make a flourless chocolate cake and finally last weekend I did.  It all started when someone asked me if I had a flourless chocolate cake recipe because they wanted to make one for Easter. I didn't unfortunately, and I decided that I needed to make one!  Surprising in all of my years of baking and dessert making I never have, but it couldn't be too difficult, right?  I know traditional recipes contain like 2 sticks of butter and loads of sugar and whatnot, but I wasn't going to go there...this was going to be a healthified vegan recipe.
This cake is chocolate intensified.  Just the way I like it, loads of dark chocolate in the form of cacao powder and melted chocolate.  That was the classic part of the cake.  Instead of the loads of butter, sweet coconut oil and pureed pear were added.  Not that I have a problem with fat, our bodies need it after all, but I thought the pear in place of some oil would keep the cake fudgy and not greasy.  I used flax eggs in place of the regular eggs in this, and I was a bit concerned about that when I placed it in the oven not knowing if they would work the same but they worked wonderfully!  The cake rose to the level it should, and it smelled amazing.
It tasted like chocolate heaven.  One giant fudgy brownie cake, deep dark chocolate goodness fit for a princess.  Or fit for an Easter table.  I think this would be the perfect finale to an Easter meal, or any spring celebration especially if you garnish it with dried flowers or something colorful.  The best part about this cake is it is super easy to make.
Vegan Flourless Chocolate Cake
Makes one 6 inch cake
3 Tbsp ground flax seed
1/2 cup plus 1 Tbsp filtered water
4 ounces vegan unsweetened chocolate, chopped
1/4 cup almond butter
1/4 cup pureed pear or apple
1 cup coconut sugar
1/4 tsp sea salt
1 tsp pure vanilla extract
1/4 cup almond flour
1/2 cup raw cacao powder or unsweetened cocoa powder plus additional for sprinkling
dried flowers for garnishing
In a bowl, whisk together the flax seed and water. Place in the fridge for 15 minutes to gel. This will be your flax eggs.
Meanwhile, oil a 6 inch spring form pan with coconut oil and preheat the oven to 375F degrees.
In the top of a double boiler, combine the chocolate and almond butter.  Allow to melt, whisking often.
Whisk in the pear puree, sugar, sea salt, and vanilla until smooth.
Add the flax eggs and allow to warm for a couple minutes with the other ingredients whisking often until completely smooth and uniform.  Whisk in the almond meal and cacao powder until very well combined (you want to make sure the oil is emulsified in or it will separate when baking).  Pour into the prepared pan.
Place in the oven and bake for 30-40 minutes until dried on the top and mostly set.
Once finished baking, remove from the oven, allow to cool 15 minutes, then release from the pan and dust with cacao powder.  Garnish with dried flowers if desired.
(Visited 1,030 times, 1 visits today)