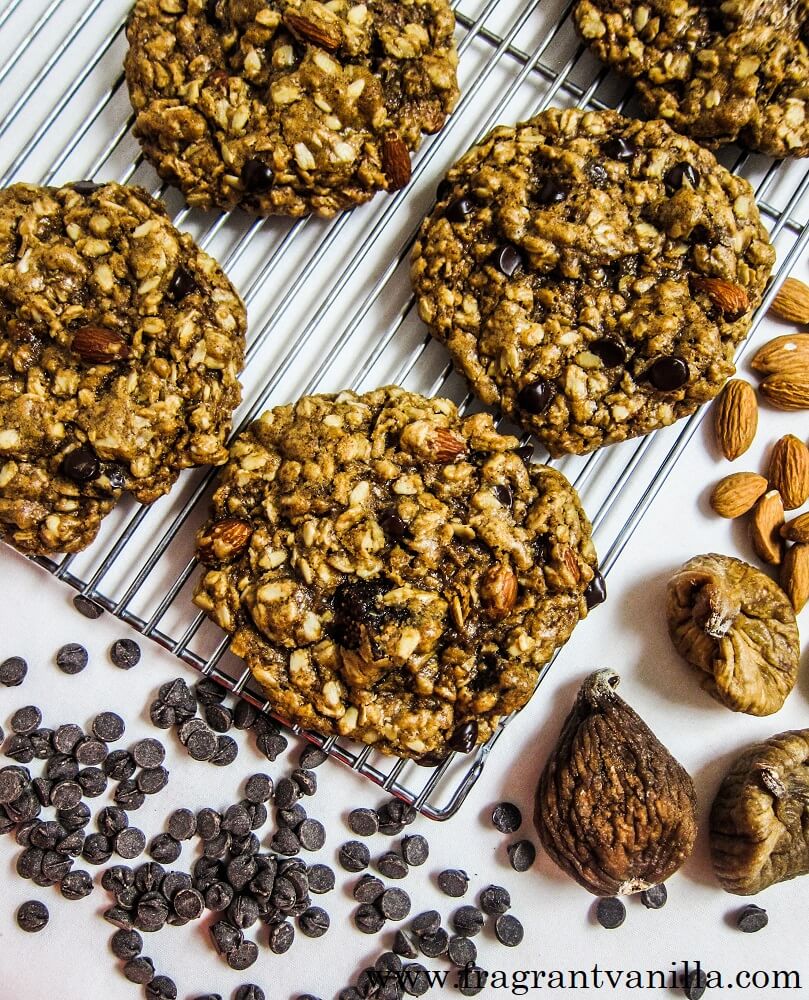 Vegan Fig Almond Chocolate Chip Oatmeal Cookies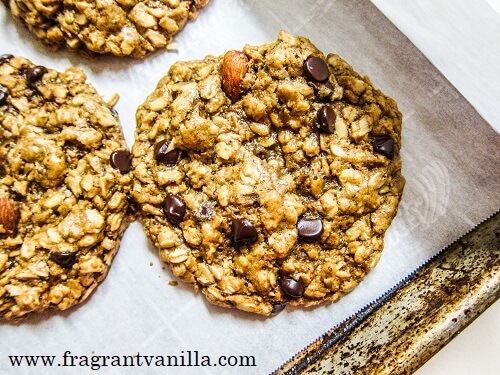 I was gifted a few bags of dried figs, and I decided that I wanted to make something delicious with them.  I could have just snacked on them of course, and I did with some, but they deserved to be used in something exciting.  I thought about it all day at work.  Maybe some fig bars?  Nah, that was too much work with all of the blending for the filling and what not.  A fig cake?  Also too much work than I was willing to put in after work.  I wanted something that was more immediately satisfying. Like cookies!  Yes, chewy oatmeal cookies seemed like just the thing to include the figs in.  Bonus, was looking forward to eat some cookie dough while I was making them.  My favorite part of the whole process.  I wanted them to have some more mix ins too, something crunchy, and maybe something chocolate.  I first thought hazelnuts would be amazing but I didn't have any in my pantry at the time.  I don't know about you, but I am all about using what I have most of the time and not going out and buying new things when I have things to use already. So, I went with the toasted almonds I had on hand instead and they were perfect in the cookies!  Now, the question was white chocolate or dark chocolate?  Well, I have been making a lot of white chocolate stuff lately, and it would be more work because I would have to make more white chocolate so I went with dark chocolate  chips.  Which was a really good decision, because the figs had almost a dark chocolate flavor note in them so it paired very well together.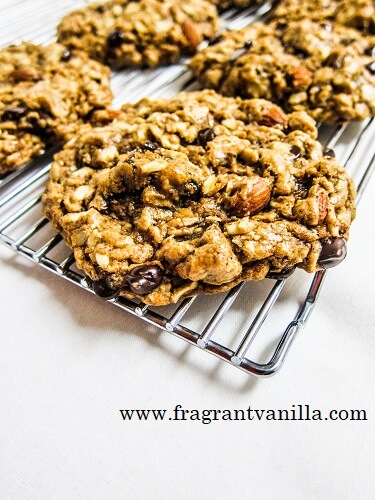 The dough for these cookies mixes up really fast, and in fact, they were all mixed, shaped, baked and done in an hour.  Nothing beats that, especially on a work night.  These are the perfect cookie if you love oats, because they contain both oat flour and rolled oats. I myself have eaten oatmeal almost every day for about the past 15 years, so I always have it on hand and ready to whip up a batch of delicious cookies. I think I get it from my Mom, because she always has eaten oatmeal too, and oatmeal cookies are her favorite.  She would always say that they were healthier than just plain old cookies because they have more fiber.  I think that is true, and if you use a healthier less processed sweetener, even better.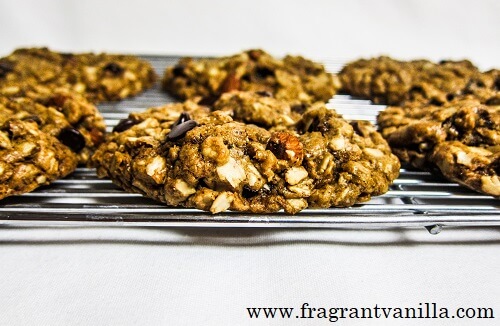 These cookies baked up beautifully!  I make mine pretty big, because if I am going to have a cookie, I am going to have a cookie...you know what I am saying?  I big hearty oatmeal cookie packed full of goodness.  They are chewy and soft in the middle and crisp at the edges, just as oatmeal cookies should be.  Especially good when they are warm and the chocolate chips are gooey.  The figs provide little sweet bursts of flavor, and the almonds some crunch and nuttiness.  If you are looking for an easy cookie recipe, give these a go, they are super delicious!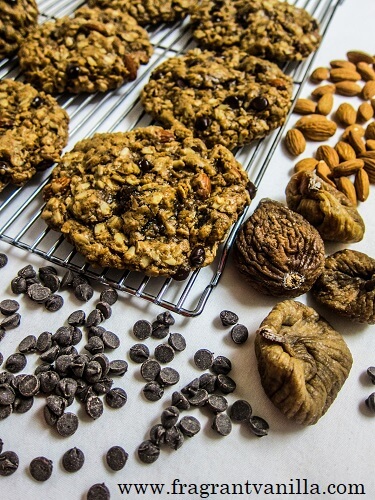 Vegan Fig Almond Chocolate Chip Oatmeal Cookies
Makes 1 dozen large cookies
Ingredients:
3/4 cup virgin coconut oil, warmed to liquid
1 1/2 cups coconut sugar
2 flax eggs*
1 Tbsp pure vanilla extract
1 1/2 cups gluten free oat flour
1 tsp baking soda
1/2 tsp cardamom
1/2 tsp cinnamon
3/4 tsp sea salt
1 cup dried figs, cut into small pieces
1 cup toasted almonds
Directions:
In a large mixing bowl, mix together the coconut oil, and sugar until well blended. Add flax eggs, vanilla, and beat until well combined (the mixture will become very thick).
Mix in the flour, soda, cinnamon, cardamom and sea salt until well blended. Mix in the oats until well combined, then add figs, almonds and chocolate chips and mix until evenly distributed throughout the dough.
Heat the oven to 350 degrees with the rack set at the middle position. Line 2 baking sheets with parchment paper.
Roll the dough into 12 large balls, and spread them out on the 2 cookie sheets with plenty of room in between, and flatten them out slightly. Bake for 13-15 minutes or until golden, but not over baked. Let cool on sheet a few minutes, then remove to a wire rack lined with parchment to cool.
*Whisk together 2 Tbsp ground flax seed, 1/4 cup and 2 Tbsp water in a small bowl.  Allow to sit in the fridge for 15 minutes until the mixture has set up (or become kind of thick).
(Visited 586 times, 1 visits today)