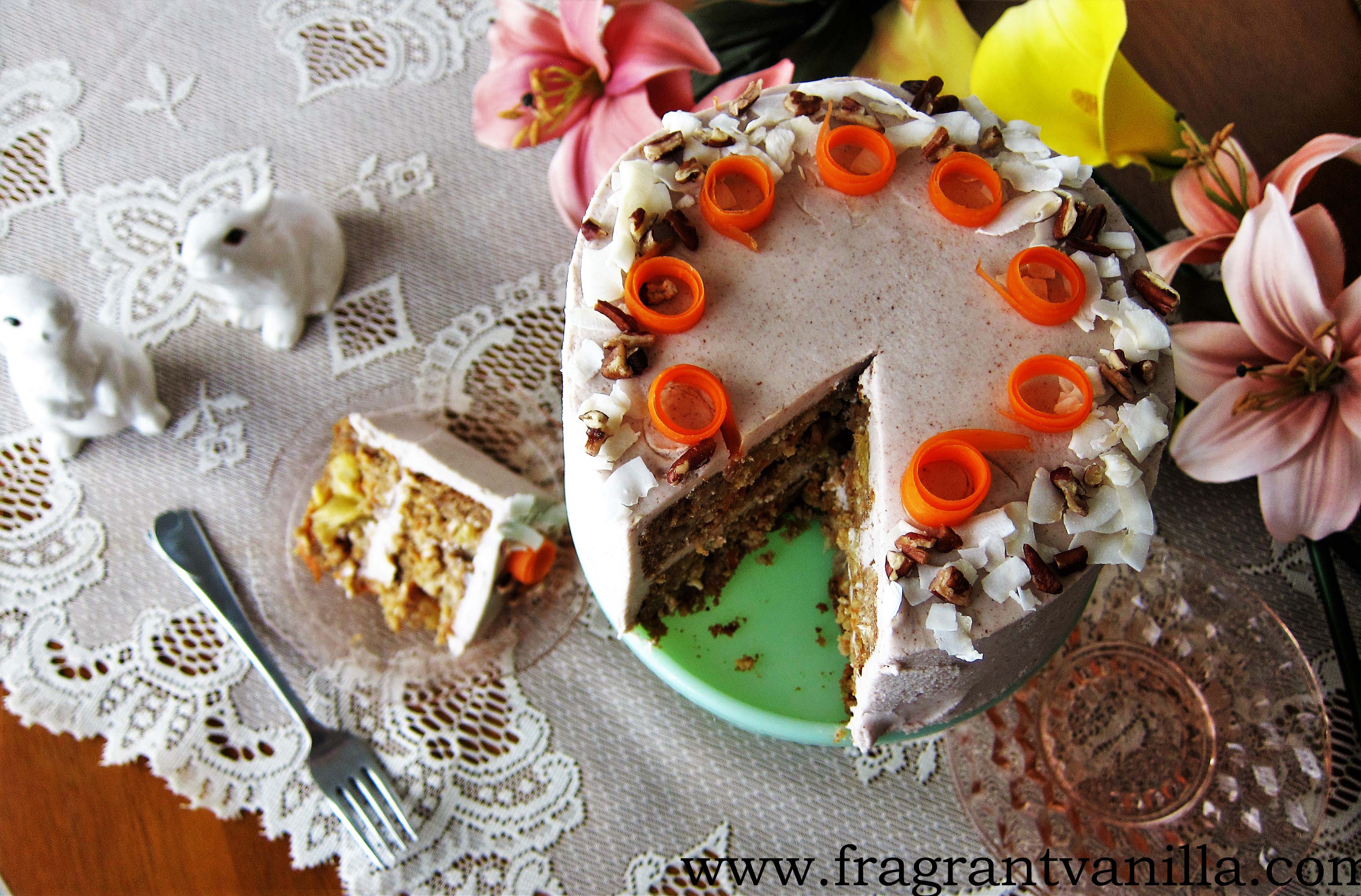 Vegan Festive Carrot Cake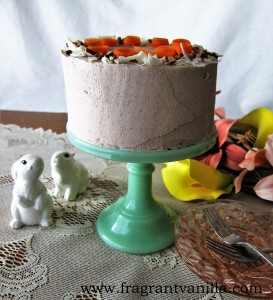 Carrot cake has always appealed to me, ever since I tasted my first bite when I was about 5.  I was not one of those kids that turned up their nose at veggies.  Not that anyone ever turns their nose up at a good carrot cake once they taste it. It is good stuff!  Especially the carrot cake that my Mom used to make.  Of course the usual is good with the spices, caramel flavor, and cream cheese frosting.  But my Mom's version included things that made you feel like you were on a tropical island. Pineapple, coconut and pecans.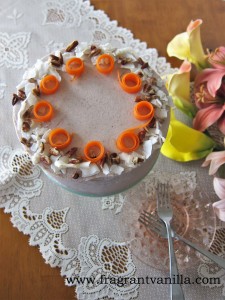 It was a gem from a church cookbook she had owned for probably 20 years.  It was so good.  However, now we both don't eat refined sugar and I am a vegan, so it hasn't been made since I was little.  So I decided I needed to recreate that cake this year for Easter.  It seemed appropriate, carrot cake to me it the quintessential Spring and Easter dessert, and the perfect centerpiece for your table.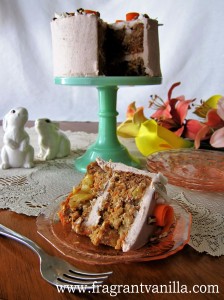 It was easy to recreate, and my version turned out just as good as Mom's.  I made it gluten free with quinoa flour, and sweetened the cake with dates to give it that caramel flavor that the brown sugar in Mom's cake once provided.  I added the classic carrot cake spices, and of course all of those delicious add ins Mom's cake had. It needed to be frosted with a cream cheese frosting as well.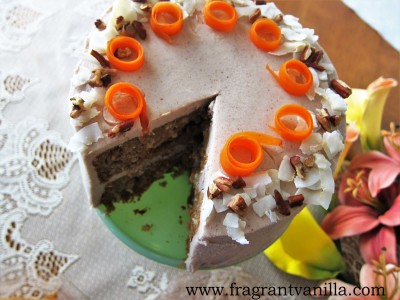 So, I made a faux almond cream cheese frosting with coconut milk and almond butter. It was so good I had to lick the extra from the bowl.  The cake turned out fabulous!  I am proud to serve this for Easter, and it is really pretty easy to make, so you can be too!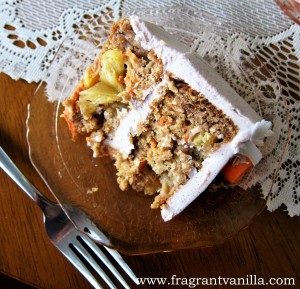 Vegan Festive Carrot Cake
Makes 1 6 inch 2 layer cake
2 6 inch cake pans
Cake:
1 1/2 cups quinoa flour (or all purpose gluten free flour)
1 1/2 tsp baking soda
1 tsp baking powder
1/2 tsp sea salt
2 tsp ground cinnamon
2 tsp ground ginger
1 cup packed soft medjool dates, pitted, soaked in water for 30 minutes and 1/2 cup of the water reserved
1/4 cup avocado oil
1 Tbsp pure vanilla extract
1 cup pineapple juice at room temperature
2 Tbsp apple cider vinegar
3/4 cup crushed pineapple
1/2 cup finely shredded, dried coconut
1/4 cup chopped pecans
1 1/4 cups shredded organic carrots
Frosting:
1 15 oz can full fat coconut milk, chilled
1/4 cup maple syrup
1 tsp cider vinegar
2 tsp pure vanilla extract
1/4 tsp sea salt
1/2 cup raw almond butter
1/2 cup plus 2 Tbsp coconut butter
Preheat the oven to 375F degrees and position rack in center of oven. Line two six-inch-diameter cake pans with 2-inch-high sides with parchment paper. Coat parchment paper and pan sides lightly with oil so that the cake doesn't stick and line the bottom of the pan with a piece of parchment fit to the pan. Whisk flour, baking powder, baking soda, sea salt, ginger, and cinnamon in a large bowl to blend well. Place dates, reserved water, oil, pineapple juice, and vanilla extract into a blender, and blend until smooth, then whisk this blended mixture into the flour mixture until well blended. Whisk in the cider vinegar until bubbles form. Mix in pineapple, coconut, walnuts and carrots.  Transfer cake batter to prepared pans and bake cakes until tester inserted into center comes out clean, about 35 minutes. Cool cakes completely in pan on rack, about 1 hour. Cut around sides of pan to loosen. Turn cakes out onto platter; peel off parchment paper. Let cool completely.
To make the frosting, combine all ingredients in a blender, and blend until smooth.  Pour into a bowl, and place in the freezer until thickened.  You want to whisk it every 15 minutes and you know it is ready when it is thick like whipped cream, about 30-45 minutes depending on how warm it has gotten.
To assemble, place one cake layer on a plate, and spread frosting 1/2 inch thick over it.  Place the other cake layer over that, then spread the remaining frosting on the top and down the sides of the cake.
***if you would like a 2 layer 9 inch cake, double this entire recipe and bake in two 9 inch cake pans. It will take longer to bake, about 50 minutes to an hour.
(Visited 337 times, 1 visits today)