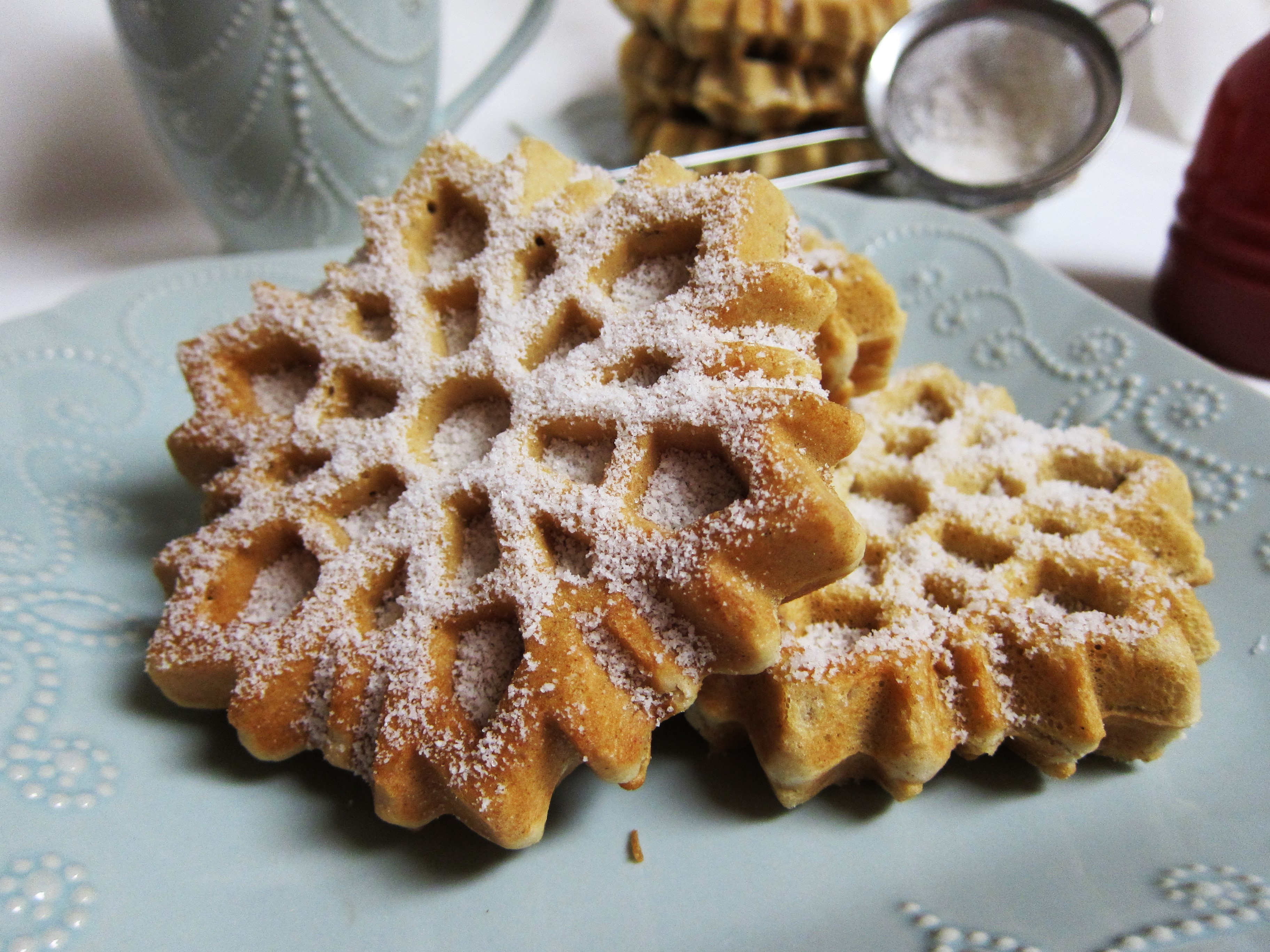 Vegan Eggnog Waffles
My Dad gave me a "Frozen" (as in the Disney movie) waffle maker last week, and I was pretty excited about it.  Mainly because the waffle mold inside is shaped like a snowflake, and it is now snowing here and practically Winter. Yes, I know I am a kid sometimes getting excited about things, but I mean come on...it is so cute! And who doesn't like fun waffles?!  Or just waffles in general.  They were always a treat growing up, and my Mom had a pretty great recipe that always turned out perfect.  I liked mine with just a bit of butter and strawberries the best.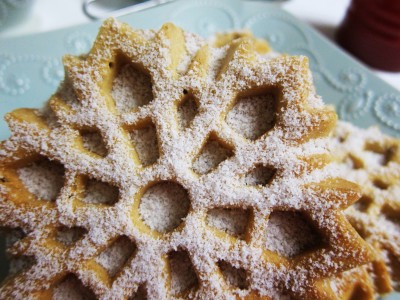 I venture out a bit more now in the waffle world.  Rarely do I make just plain old waffles. Not that there is anything wrong with those, but I like to think outside the box flavor wise.  I had just made a batch of vegan eggnog, and I decided it would be awesome in waffles.  Eric has been mentioning eggnog quite a bit, since he loves the stuff and gets excited every year when it is eggnog season (like so excited he drank an entire batch one time, like a gallon).  So, I knew he would love it too if I made eggnog waffles too.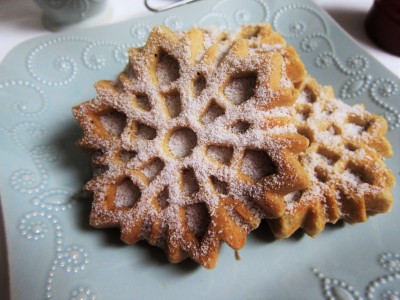 I kind of created a new waffle recipe here, it is different than the one I usually use but it turned out awesome.  I used aquafaba as the eggs, and eggnog in place of the milk, and these turned out crispy on the outside and fluffy in the middle just as waffles should be! I dusted them with a bit of powdered sugar then just served with a little maple syrup.  Call me weird, but this is dessert, as well as breakfast. I actually ate these for dessert, because they were so good. These would make the perfect treat for a chilly Winter weekend morning when you don't feel like going, out, just staying in and staying warm.  And, just in case you have any leftovers, they freeze well.  Just pop them in the toaster!  I saved some that way for Eric, since I ended up making more than I had intended.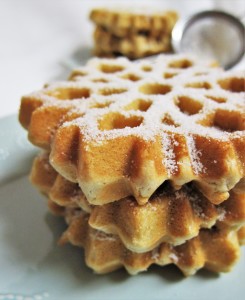 Vegan Eggnog Waffles
makes 10-12 depending on your waffle maker
Batter:
2 cups gluten free all purpose flour
1/4 cup coconut sugar
1/2 tsp baking soda
1 tsp baking powder
1 tsp sea salt
1/2 cup plus 1 Tbsp aquafaba*
2 Tbsp melted coconut oil
2 cups vegan eggnog (recipe follows)
coconut powdered sugar for serving (optional)**
Whisk together all of the dry ingredients, then whisk in the wet ingredients.  Pre-heat waffle iron. Once it is heated, add about 1/3 cup waffle batter to the iron and close it (the size of the scoop of batter you need may change if you have a larger iron, mine is smaller).  Cook according to waffle iron package directions.  Keep warm in an oven at low heat (150F degrees). Dust waffles with coconut powdered sugar if desired before serving.
*Aquafaba is chickpea liquid.  You may used canned, or if you are using the liquid from home cooked chickpeas, reduce it to the consistency of egg whites.  Alternatively, you may use 3 flax eggs for the recipe (3 Tbsp ground flaxseed, whisked together with 1/2 cup plus 1 Tbsp filtered water).
**To make coconut powdered sugar, buzz 1/2 cup finely shredded, dried coconut and 1/4 cup coconut sugar or xylitol in a high speed blender for about 30 seconds until fine like flour.
Amy's Vegan Eggnog
Makes about 4 cups
2 cups full fat coconut milk (you may use light if you would prefer it less rich)
2 cups filtered water
1/3 cup maple syrup (or a few dropperfuls stevia for sugar free)
1 cup macadamia nuts or cashews, soaked in filtered water for 4 hours, and drained
2 Tbsp nutritional yeast
2 tsp pure vanilla extract
1/2 tsp cinnamon
1/2 tsp nutmeg
pinch sea salt
Combine all ingredients in a high speed blender and blend until smooth.  Serve!
(Visited 208 times, 1 visits today)