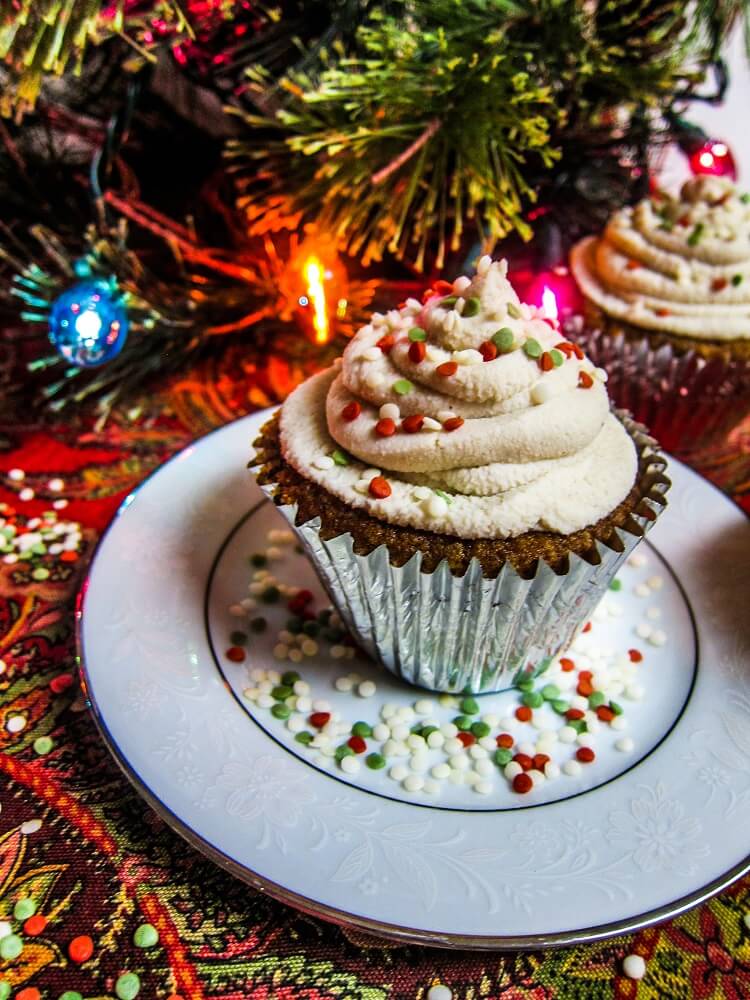 Vegan Eggnog Cupcakes 
I wanted to make a festive cake for Christmas this year, but I had a lot going on, so I opted for festive cupcakes instead since they are quite a bit less time consuming but every bit just as delicious as cake.  Plus the frosting to cake ratio is perfect when I pile it high.  I am one of those people who likes almost as much frosting as cake.  I already made some gingerbread cake this year, and I have made a lot of chocolate mint stuff lately, so I decided on eggnog cupcakes.  Funny thing I didn't really like eggnog growing up because my Dad called it "egg snag" because he didn't like it and I assumed it was gross.  When I finally did try it as an adult it was actually soy nog the vegan version and I actually enjoyed it!  Ever since then I do love the eggnog flavor profile when it comes to desserts.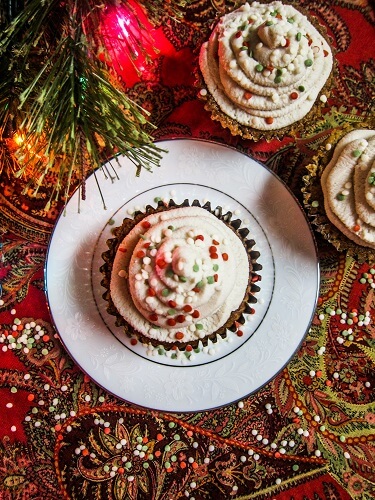 I made this cake batter a little more traditional than most of my cake batters.  I use dates a lot to sweeten my cakes, but that is mostly when I want a caramel flavor or don't mind a caramel flavor, which is not what I wanted for this particular cake.  I wanted it to have a more vanilla eggnog type of flavor.  So I used coconut milk and avocado oil (which has a buttery flavor) to keep it moist and soft.  It also had to have a hint of cinnamon and nutmeg and of course bourbon, which are my choice of flavorings when making my own home made eggnog.  The cupcakes baked up beautifully, and they smelled amazing.  But they needed an equally amazing frosting.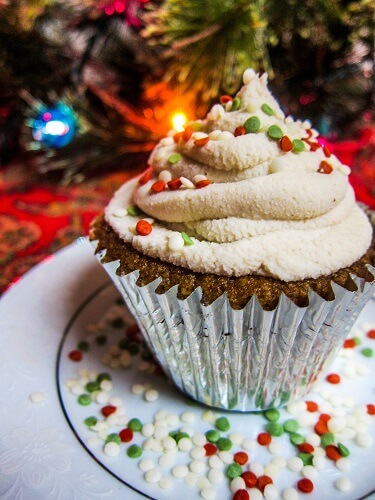 The frosting had to be rich and creamy like eggnog.  So I made it with coconut milk and cashew butter for a super creamy luscious base, with vanilla, bourbon, cinnamon and nutmeg.  It was so good I could have eaten it with a spoon like mousse.  But then I wouldn't have had any for the cupcakes!  I frosted them piled high, because that is how I like them, and topped them off with some vegan sprinkles I recently bought.  They were so good!  They tasted like eggnog, but in cupcake form!  The cake was the perfect consistency.  I am super picky, it can't be too dry or too wet and dense, these were just right.  Not only that they were so much less time consuming to make than a cake, but just as delicious!  I hope you are all having a wonderful holiday!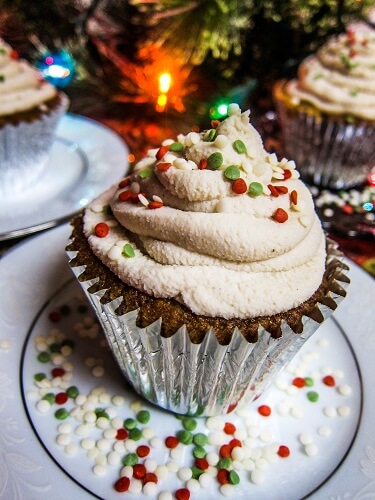 Vegan Eggnog Cupcakes 
Makes 8 cupcakes
Cake:
3/4 cup plus 2 Tbsp Bob's Red Mill all purpose gluten free flour
3/4 tsp baking soda
1/2 tsp baking powder
1/4 tsp sea salt
1/2 tsp cinnamon
1/4 tsp nutmeg
1 cup xylitol or maple sugar or coconut sugar (the last two yield a more brown cupcake)
1/4 cup avocado oil
1/2 cup almond milk or coconut milk at room temperature
1 tsp pure vanilla extract
1 Tbsp bourbon
1 Tbsp lemon juice
Frosting:
3/4 cup full fat coconut milk at room temperature (you want the kind that is mostly thick, I used Thai kitchen organic)
1/4 cup raw cashew butter
1 tsp lemon juice
3 Tbsp maple syrup
1/4  tsp sea salt
1/4 tsp cinnamon
1/8 tsp nutmeg
1 tsp pure vanilla extract
1 Tbsp bourbon
1/4 cup plus 2 Tbsp coconut butter, warmed to liquid
For decorating:
Instructions:
Preheat the oven to 350F degrees and position rack in center of oven. Line 8 muffin tins with liners.
Whisk flour, baking soda, baking powder, cinnamon, nutmeg, and sea salt in a large bowl to blend well.
Whisk sugar, oil, milk, vanilla extract and bourbon together in small bowl to blend well, then whisk into the flour mixture until well blended. Whisk in vinegar and stir quickly.
Transfer cake batter to prepared tins, then place in the oven, and bake until set and a toothpick inserted into the center comes out almost clean, about 20 minutes.  Remove from oven, let cool completely before frosting.
Meanwhile, to make the frosting, combine all ingredients but the coconut butter in a food processor and process until smooth.  With the motor running, add the coconut butter and process a minute more.  Pour the cream into a bowl and let sit in the fridge until the consistency of whipped cream.
Pipe the frosting on the cupcakes, sprinkle with sprinkles and enjoy!
Store cake in the fridge.
*If you make these with the xylitol do not feed them to dogs, as it is toxic to them.
(Visited 344 times, 1 visits today)