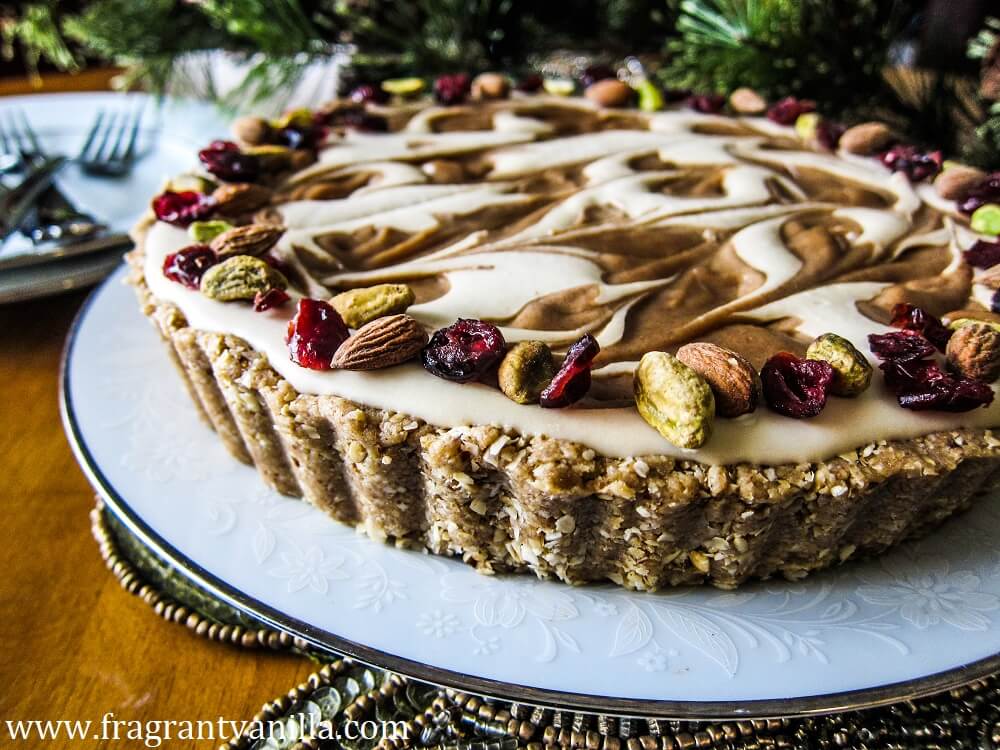 Vegan Eggnog Caramel Tart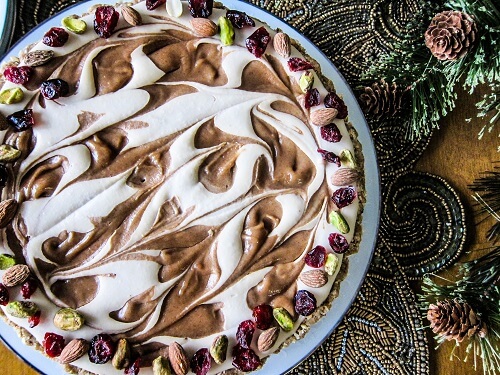 It doesn't feel like December here yet, it was 50 degrees this weekend and yesterday, perfect weather to get out running and biking in.  I know some people are missing the snow, but I love that it is warm still. I know it is going to snowy here soon enough, but for now I will enjoy the ideal weather while it lasts.  I still am getting into the Holiday spirit though despite the weather, and I am in the mood to listen to Christmas music and drink eggnog.  The first time I actually had eggnog, it wasn't even the real dairy kind.  I actually bought soy nog, because one of my coworkers said it was amazing.  So I tried that in my mid 20s and it was delicious.  I understood why people loved it so much. And, adding a little bourbon to it made it even better.  I was actually scared to try eggnog as a kid, which is why soy nog was my first exposure to it.  Because my Dad made fun of it and called it "egg-snag"  when I was little which did not sound very appetizing, and I thought that it must be gross. To be honest, the idea of the dairy kind grosses me out now, because of all of the eggs and milk.  I don't know why but I can't even stand the smell of eggs and milk anymore, or the idea of where they came from.  But luckily now actually make my own home made vegan eggnog because it is easy and healthier and less sugary than the store bought and I am sure it is way better than the dairy version.  I don't usually use soy though, I make a coconut milk based one.  Since it is the eggnog season, and I was craving it I decided that I wanted to make an eggnog dessert last weekend.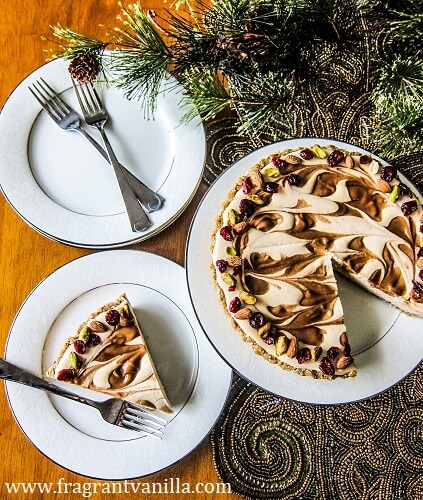 I mean, yes I could have just made eggnog.  But hot much more fun is it to make a Vegan Eggnog Caramel Tart!  Which is actually what I decided to make.  I have made a raw eggnog cheesecake before, and this filling ended up tasting like that, but it was easier to make.  I thought about making a baked crust, but decided that I wanted to make something faster and easier so I made a coconut oat crust which was perfect!  It is kind of like my quick graham cracker crust substitute for pies and tarts.  It is sweet, delicious and the perfect base for just about anything!  For the filling, I used a mixture of coconut milk and cashew butter to make a super smooth luscious base that tasted like eggnog once I added the maple syrup to sweeten, salt, nutmeg and bourbon.  It was heavenly before I even poured it into the tart.  I thought about leaving it just like that and topping it off with whipped cream, but instead opted for a bourbon caramel.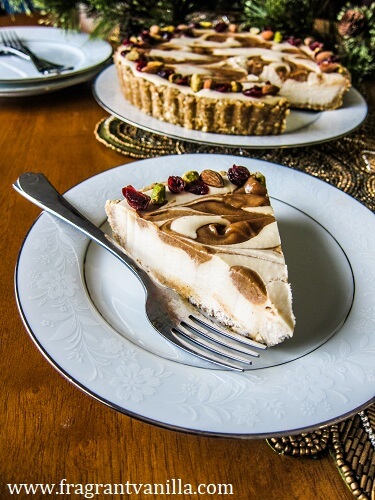 Yes, this tart is a little boozy.  If you aren't into that substitute water.  But the bourbon in this is awesome!  I know some people use rum and brandy in their eggnog, but bourbon is just what i usually use.  Feel free to swap in what you like! Once it was all set and ready to enjoy I could not wait to dive in.  It was super delicious!  Like a creamy eggnog cheesecake ribboned with boozy caramel.  This would make the perfect Holiday dessert if you are an eggnog fan (or even if you aren't it might win you over).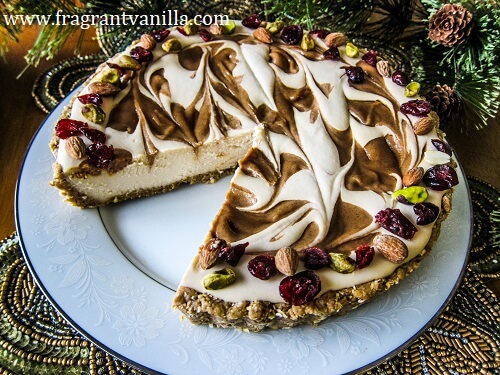 Vegan Eggnog Caramel Tart
Makes one 8 inch pie
1 9 inch pie plate or removable bottom tart pan
Crust:
3/4 cup finely shredded dried coconut
3/4 cup Bob's Red Mill gluten free rolled oats
1 cup soft pitted medjool dates (if they are not soft, soak them 30 minutes and drain well before using)
1/4 tsp sea salt
filtered water as needed
Filling:
1 1 15 oz can full fat organic coconut milk, chilled
1/3 cup maple syrup
1/4 tsp sea salt
1 tsp pure vanilla extract
3 Tbsp bourbon
1/8 tsp nutmeg
1/2 cup raw cashew butter
1 cup coconut butter warmed to liquid
Caramel:
1 cup soft, pitted medjool dates (soaked in water 30 minutes, and drained well before using if not soft)
1/4 cup pecan butter or almond butter
1/4 cup plus 3 Tbsp filtered water
1 Tbsp bourbon
1 tsp pure vanilla extract
pinch sea salt
Instructions:
For the crust, combine all ingredients in the food processor until finely chopped and starting to hold together when squeezed (if it doesn't you may need to add a little filtered water 1 Tbsp at a time).
Press the mixture into a 9 inch pie crust, or a 9 inch removable bottom tart pan or pie pan greased with avocado oil (or other oil that doesn't harden when chilled).
For the filling, combine all ingredients in a high speed blender and blend until smooth. Pour into the prepared crust.
For caramel, place all ingredients in a high speed blender and blend until smooth.  Drop the caramel over the filling by the heaping teaspoon, then swirl it with a knife or toothpick to marble it.  Place in the freezer until set, about 2 hours.
Tart keeps refrigerated for 1 week in a container.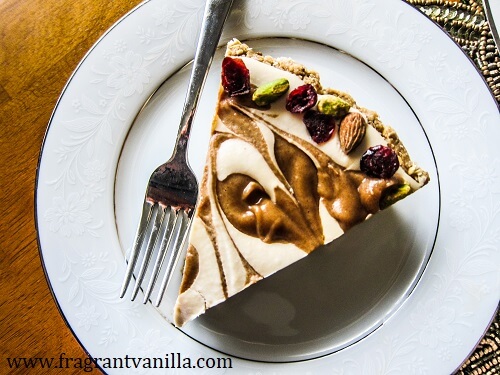 (Visited 1,277 times, 1 visits today)