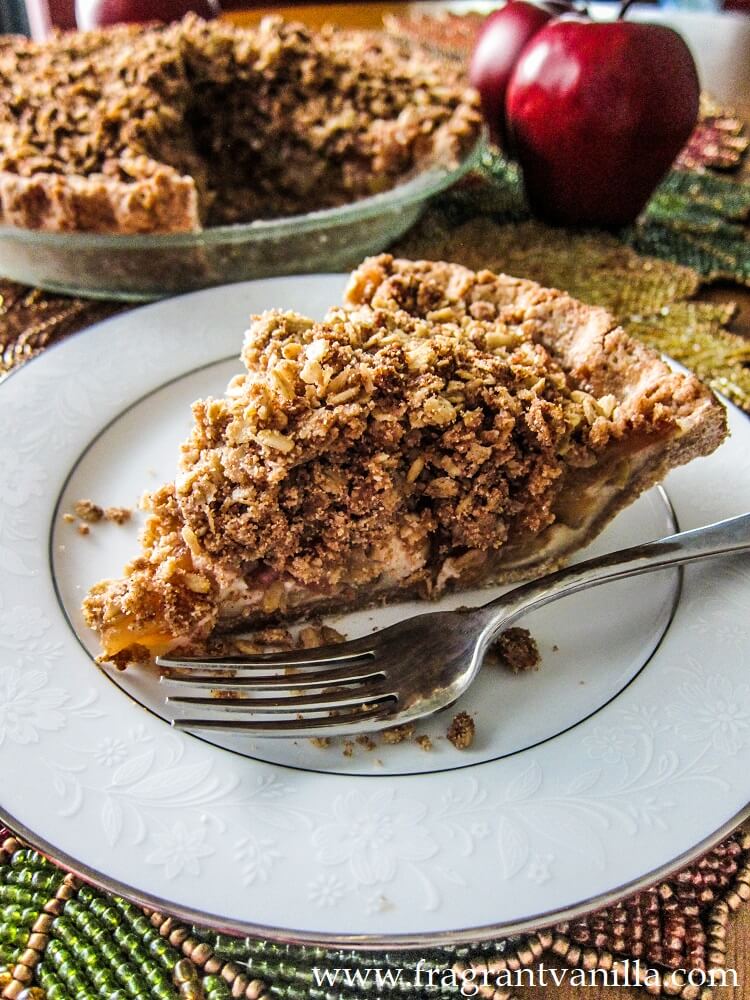 Vegan Dutch Apple "Cream Cheese" Pie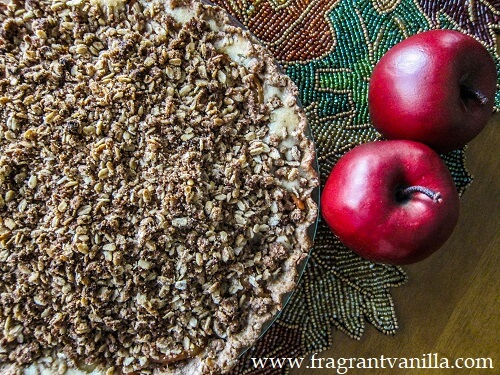 My Mom used to make the best apple pies.  She would always use tart sweet apples like Haralson, which is a Minnesota apple.  Not only that, her pies had just the right amount of spice and sweetness and she always topped them off with a crunchy streusel topping.  So, that is what I have come to love best, even over just a regular double crust pie and what I make most often.  She would bring her pies to family gatherings and everyone was always impressed. I learned from her the perfect balance in a pie as far as flavorings went, always adding a little lemon juice for tartness and just the right amount of sugar to enhance the apples but not overpower them.  Local apples usually don't require too much.  Apple season has finally rolled around, and I was craving some apple pie last weekend.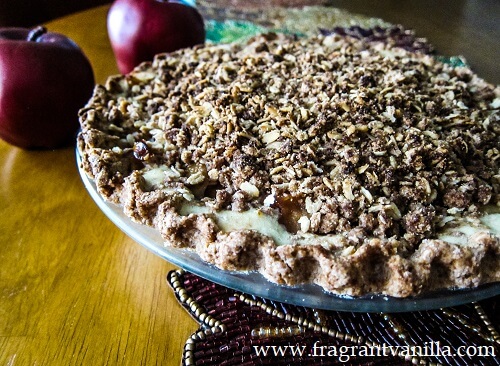 So of course, it had a streusel topping. But this wasn't just your run of the mill plain apple pie.  I made it a Dutch "cream cheese" apple pie.  This restaurant I used to go to as a kid had a Dutch apple pie with cream cheese, and I always thought that was awesome too, so I figured why not veganize it and apply my Mom's pie philosophies?  I mean, apple pie a la mode is amazing, but if you add the cream cheese to an apple pie, it becomes decadent and doesn't even need the ice cream.  This coming from someone who always has some ice cream with their fruit desserts, because I always think they need a creamy element.  But the cream cheese does that here.  It is really quite simple to create a crave worthy cream cheese layer in vegan baked goods if you have raw cashew butter on hand. Raw cashews are not just for raw cheesecakes.  I combine the cashew butter with some coconut milk for a luscious cream cheese filling that bakes up and sets up beautifully in this pie.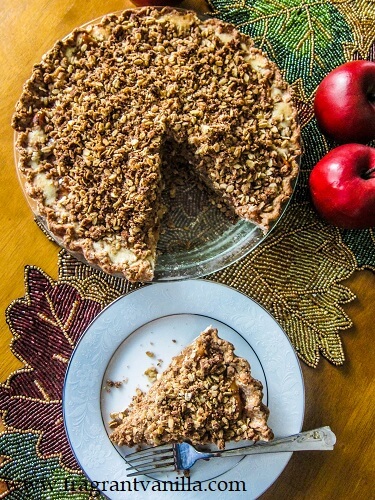 I admit this pie has a few steps, but it is so worth it.  Things like pre-cooking the apples before you put them on the cream cheese layer so that they don't get too watery.  It makes all the difference, and you can taste them to see if they have the right amount of sweetness before adding them, since apples of different varieties vary.  I topped the pie off with a crunchy streusel, and I could not wait until it was all baked and ready to devour.  Yes, I said devour, nut simply eat, because that piece I had was devoured after I took the photos.  I shared this pie with my family and they loved it as well!  If you are craving a rich apple dessert, give this pie a try!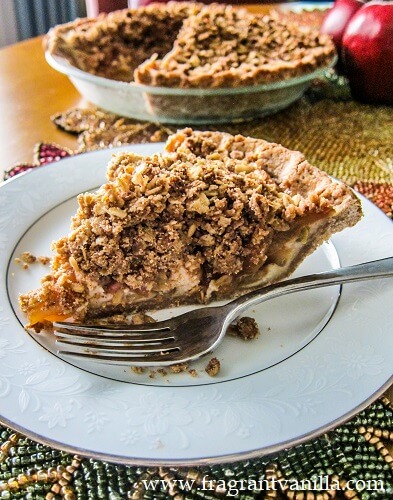 Vegan Dutch Apple "Cream Cheese" Pie
Makes one 9 inch pie
Crust:
2 Tbsp coconut sugar or maple sugar
1/4 tsp sea salt
1/4 cup plus 2 Tbsp coconut oil in its solid state
about 3-6 Tbsp cold water
Filling:
4 large organic tart-sweet apples (such as honeycrisp or pink lady), sliced
2 Tbsp maple syrup
1 tsp cinnamon
1 Tbsp lemon juice
1 Tbsp arrowroot starch or cornstarch
Cream Cheese:
3/4 cup thick organic coconut milk (from the top of a chilled can)
3/4 cup cashew butter
2 Tbsp maple syrup
1/8 tsp sea salt
1 tsp pure vanilla extract
1/2 tsp cider vinegar
2 Tbsp arrowroot starch or cornstarch
Topping:
1/4 cup Bob's Red Mill all purpose gluten free baking flour
2 Tbsp coconut sugar
1 1/2 Tbsp melted coconut oil
1/4 cup plus 2 Tbsp gluten free rolled oats
pinch sea salt
Instructions:
To make the crust, in a large bowl, mix together flour, sugar, sea salt, and spices. Cut in coconut oil with a pastry blender or 2 knives until it is in pea sized pieces. Mix in  just enough water to create a smooth dough that holds together but isn't too sticky. Add more water if needed, and knead slightly until a smooth dough is created. Roll out into a 10 inch circle on a sheet of parchment paper, then use the paper to help you transfer it to an 9 inch pie dish.  Flute the edges, and set aside in the refrigerator.
To make the apples, combine the apples, maple syrup, and cinnamon in a saucepan, and cook covered over medium heat, stirring often for about 15 minutes, or until the apples are soft and starting to turn translucent.  Dissolve the arrowroot starch in the lemon juice, and add it to the apples.  Stir until thickened, and remove from heat and set aside.
Pre-heat the oven to 375F degrees.
To make the cream cheese, whisk together all ingredients until smooth and set aside.
To assemble the pie, pour the cream cheese layer over the crust, then scatter the apple filling over that.
Meanwhile, mix together the topping ingredients in a bowl and squeeze with your hands to form clumps.
Scatter the topping over the pie, place in the oven and bake for about 45 minutes until the edges of the crust are lightly brown, and pie is set.  Remove from the oven to a wire rack.
Allow to cool completely before serving.
(Visited 516 times, 1 visits today)