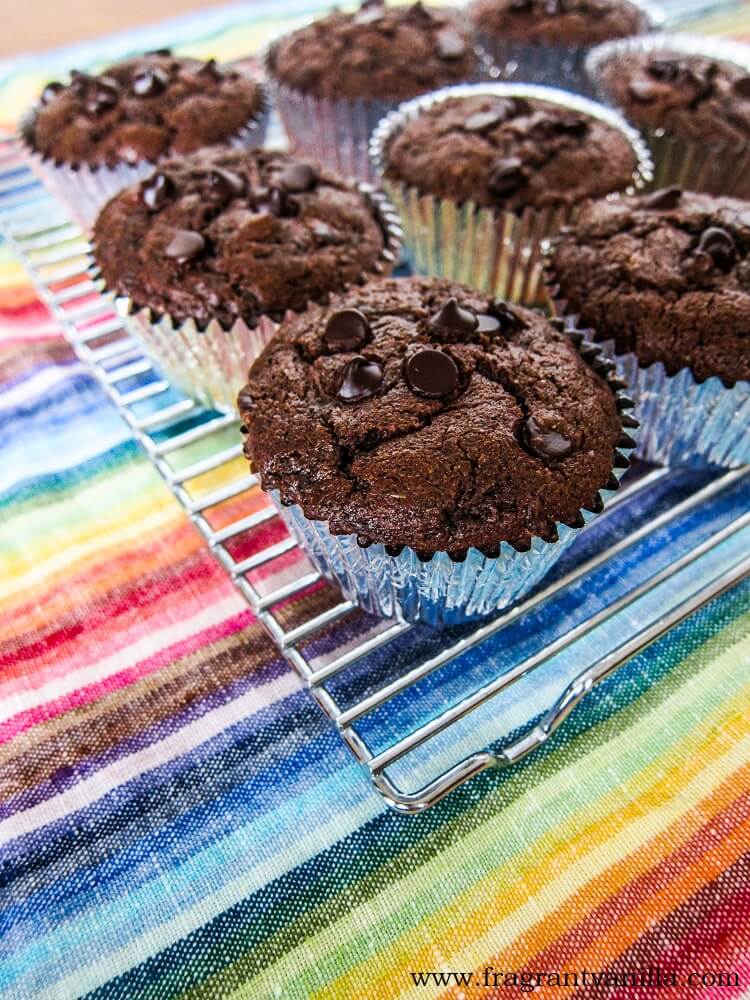 Vegan Double Chocolate Zucchini Muffins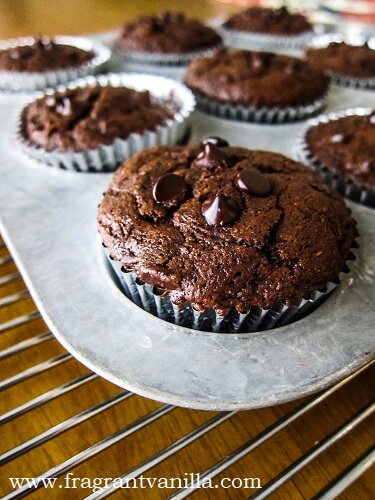 The other day at work I was cutting up some zucchini for a recipe, and I thought to myself, chocolate zucchini bread or zucchini muffins sound really good.  I haven't made any zucchini desserts for a really long time, I think since I was writing my cookbook "Just Vegan Cakes" and I made a chocolate zucchini cake.  That one is really good by the way, but I didn't want a whole cake just for myself this week, so I made muffins instead.  Plus, who doesn't like muffins?  Especially when they involve chocolate and you can have them while they are still warm and the chocolate chips are still gooey.  Plus they are super easy to make.  You just need a bowl, a whisk and muffin tins, no special equipment or complicated things.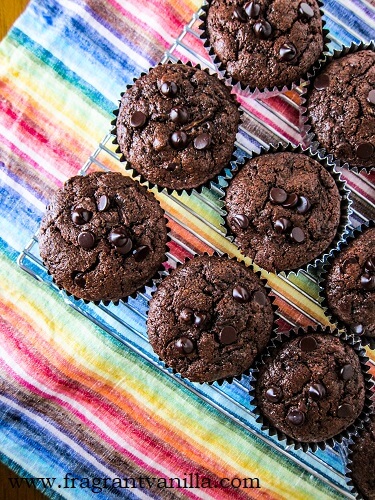 I already had a zucchini on hand just begging to be used in a recipe, so it was meant to be.  I love it when I don't have to buy things for recipes, and I have them in my kitchen.  I veganized and tweaked a chocolate zucchini bread recipe from one of my Grandma's old church cookbooks and turned it into muffins.  For the batter, I used coconut sugar to sweeten them, and avocado oil instead of the butter.  If you have never used avocado oil in baking, it is amazing.  It has a buttery mild flavor and it stays soft when it cools down unlike coconut oil.  I made these muffins gluten free as well, with Bob's Red Mill gluten free all purpose baking flour.  If you don't have that on hand though and you don't care if they are not gluten free, you may use whole wheat pastry flour or regular all purpose flour instead swapped 1:1. The batter was rich and delicious.  Yes, I had to taste it of course.  The best part of the process of baking stuff like this besides the finished product is licking the batter from the bowl.  I know I sound like a little kid right now, but yeah I am not ashamed.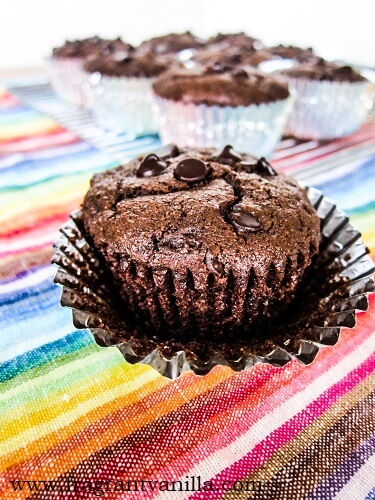 As if they didn't have enough chocolate goodness to them, I decided to add some vegan dark chocolate chips as well.  Because the gooey chocolate chips while they are still warm is one of my favorite things.  They smelled amazing while baking, like really good chocolate cake or brownies!  And once they were cool enough to try, they were sooo good!  They were moist, light and soft, with an intense rich chocolate flavor.  You can't really tell that they have zucchini in them, but I love that it is in there.  I am one of those people who likes to hide veggies in things.  Why not?  If you can't tell it is there, it is a good way to get some veggies.  If you are in the mood for something rich and chocolaty, make a batch of these!  You can enjoy them in less than an hour!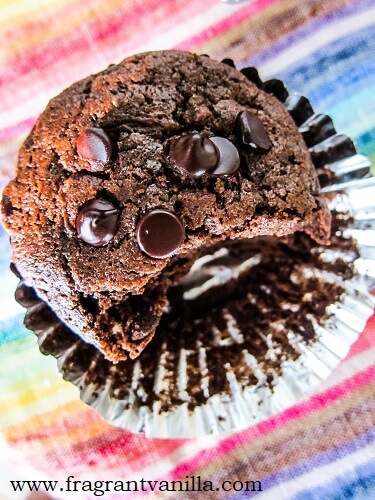 Vegan Double Chocolate Zucchini Muffins
Makes 12
Ingredients:
1 cup coconut sugar
1/2 cup avocado oil
1 1/2 Tbsp ground flax seed mixed with 4 1/2 Tbsp filtered water
1 1/4 cups gluten free all purpose flour
1/4 cup cacao powder or cocoa powder
1/2 tsp sea salt
1/2 tsp baking soda
1/8 tsp baking powder
1 cup peeled and shredded zucchini
3/4 cup vegan chocolate chips
Instructions:
Preheat the oven to 350F degrees, and line 12 muffin tins with liners.
Whisk together the coconut sugar, avocado oil and flax and water mixture in a large bowl.
Add the flour, cacao powder, sea salt, baking soda and baking powder, and whisk until smooth.
Add the zucchini and chocolate chips and mix until blended.
Spoon the batter into the prepared muffin tins.
Place in the oven, and bake for about 25 minutes until a toothpick inserted into the center comes out almost clean with a few moist crumbs attached.
Let cool on a rack for at least 20 minutes before enjoying.
(Visited 278 times, 1 visits today)