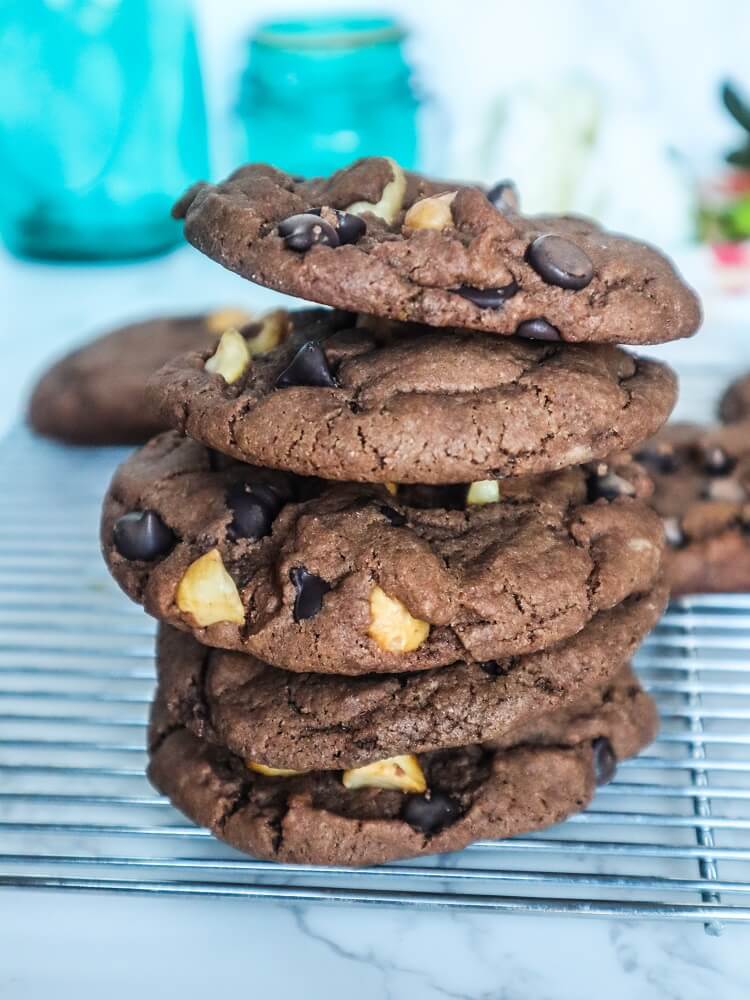 Vegan Double Chocolate Macadamia Cookies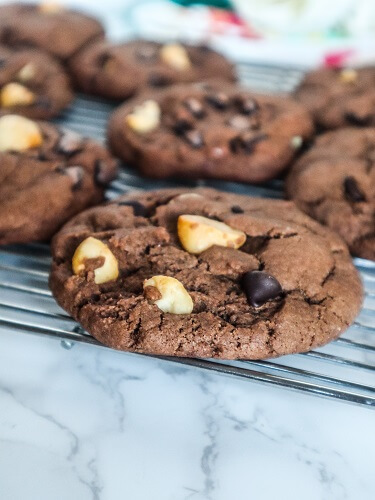 When I was little, I thought white chocolate macadamia cookies were fancy!  After all, they are not something that everyone makes often so whenever I got one I thought it was a treat!  I mean macadamia nuts are a bit spendy after all, so I guess that might a good reason to call them fancy.  A few years back I remember seeing a bulk bin of them in the store I worked at and they were like $34/lb even back then (they are probably more now).  I decided to buy some at Aldi last weekend and I wanted to make cookies with them.  But switch it up from the white chocolate macadamia cookies to Vegan Double Chocolate Macadamia Cookies with dark chocolate.  Because I really actually prefer dark chocolate as delicious as white chocolate is.
I used my chocolate chip cookie base, which I have perfected to come out just right every time and added cocoa powder to make it a chocolate base.  It has apple sauce in it to make the cookies chewy (the way I like my chocolate chip cookies)!  For the fat I use coconut oil, as it behaves kind of similarly to butter in these cookies and gives them just the right amount of richness.  This dough is so heavenly and delicious!  I did have to enjoy some while making them, that is the best part, right?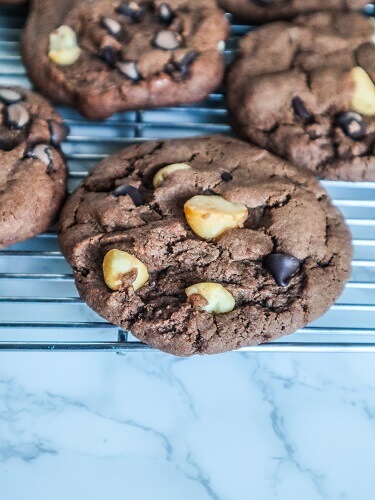 I added in vegan dark chocolate chips, because those are my favorite and of course the macadamia nuts.  Which were toasted and salted to make them already delicious.  As I mentioned earlier I found them at Aldi, and be warned they are quite addicting when you start to snack on them.  I ate almost the rest of the bag while making the cookies. These cookies smelled absolutely amazing while baking, like chocolaty brownies!  I could not wait to taste them!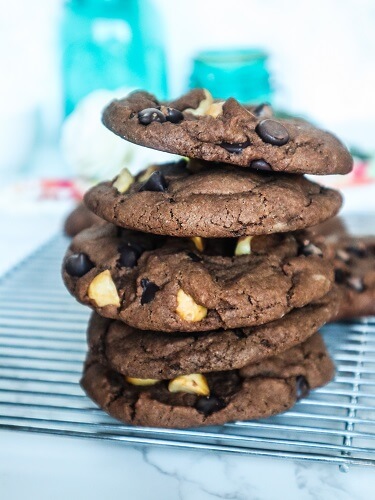 I had to sample one warm while the chocolate chips were still gooey and it was so heavenly!  They were chewy and rich with chocolate flavor, sweet with a hint of vanilla and the decadent dark chocolate and crunchy salty macadamias were the perfect pairing!  If you are in the mood for something chocolaty and delicious, definitely make a batch of these Vegan Double Chocolate Macadamia Cookies!
Vegan Double Chocolate Macadamia Cookies
Makes 16
Ingredients:
3/4 cup melted coconut oil
1 1/2 cups granulated sugar
1/2 cup applesauce
1 tsp pure vanilla extract
1 tsp sea salt
1 tsp baking soda
1/2 tsp baking powder
2 1/4 cups whole wheat pastry flour or all purpose flour
1/4 cup cocoa powder
1 cup vegan chocolate chips
1 cup toasted macadamia nuts
Instructions:
Preheat the oven to 350F degrees, and line two sheet pans with foil.
In a large bowl, mix together the coconut oil, sugar, apple sauce and vanilla extract until well blended.
Mix in the salt, baking soda and baking powder then the flour and cocoa powder until smooth.
Mix in the chocolate chips and macadamia nuts
Form the dough into 1 1/2 inch balls, and place on the cookie trays about 2 inches apart.
Press the dough balls down slightly.
Place the pans in the oven and bake for about 7 minutes, then rotate them and bake another 7 or so until the cookies are done and lightly brown at the edges.
Remove from the oven and let cool at least 15 minutes before enjoying.
(Visited 491 times, 1 visits today)