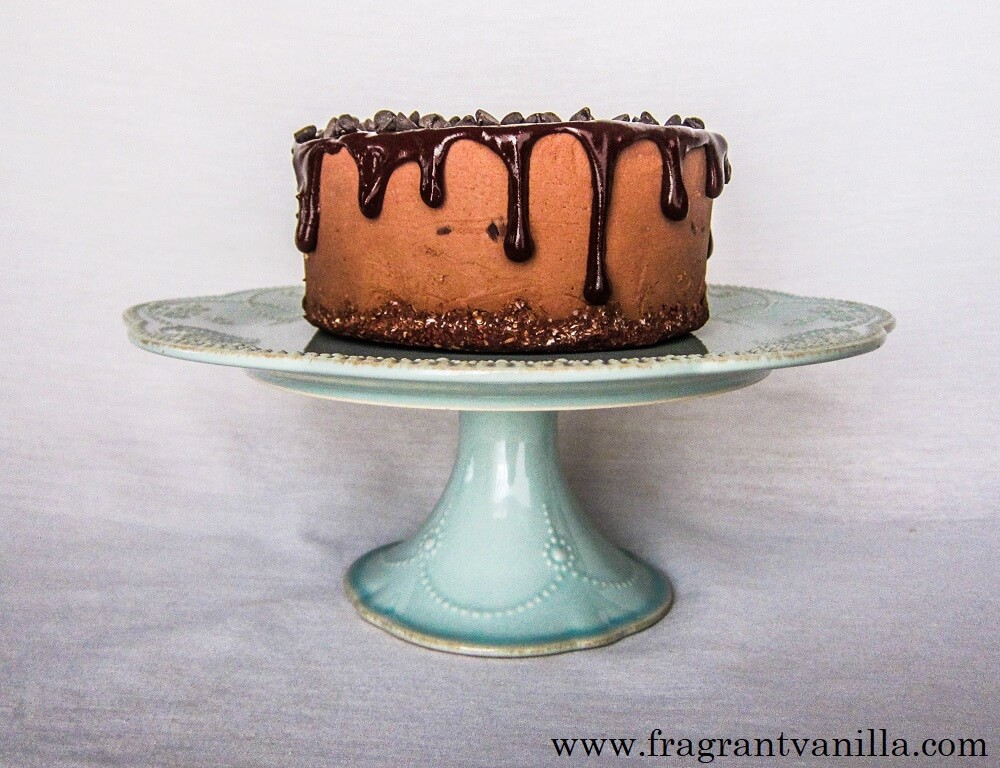 Vegan Double Chocolate Cheesecake (Nut Free)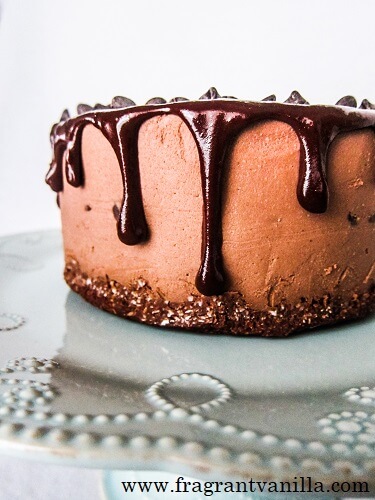 Since that nut free Vanilla Raspberry Swirl Cheesecake I made last weekend turned out so good, I decided that this weekend I needed to make a chocolate one for all of you chocolate lovers out there.  You know who you are, the people who can never resist anything chocolate, and always choose it over vanilla.  Eric (my boyfriend) is like that.  In fact, the first dessert I ever made for his Birthday was a raw Mexican chocolate cheesecake. I don't hate on chocolate just because I usually have a thing for vanilla.  In fact this week I have been craving something decadent and chocolaty so it is a win for everyone me making the chocolate cheesecake this weekend.  I didn't want to make anything that was too difficult either, and vegan cheesecakes are usually pretty straight forward.  What mattered to me here was that the cheesecake be rich, decadent and still be healthier than traditional cheesecake.  I think I achieved all of that.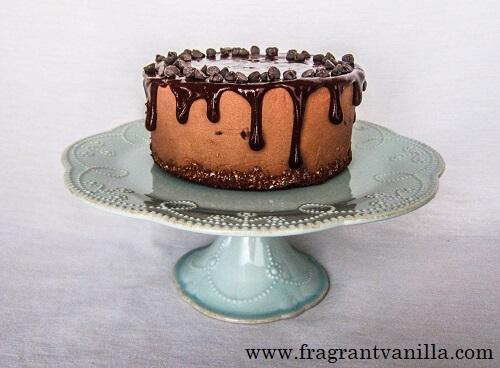 For the crust, I my usual go to crust of oats, coconut and dates but with cacao powder this time to make it rich and sort of raw brownie like.  It was the perfect base for the richness to come.  The filling is a little unusual.  Like the other nut free cheesecake I made last weekend, I included chickpeas in this one for the creamy filling instead of my usual go-to cashews.  And you know what?  You can not even tell the difference once it is all blended up.  Once you add in the cacao powder you would never even know that they are in there!  Also, this cheesecake is completely fruit sweetened as well as an added bonus, because I used dates this time instead of maple syrup.  Dates are nature's candy, and I love using them in desserts.  Anyways, back to that cheesecake filling...it was delicious even before I poured it into the crust.  Like a dreamy chocolate mousse that I could eat out of a bowl.  I decided to stir vegan chocolate chips into it to make it even more delicious!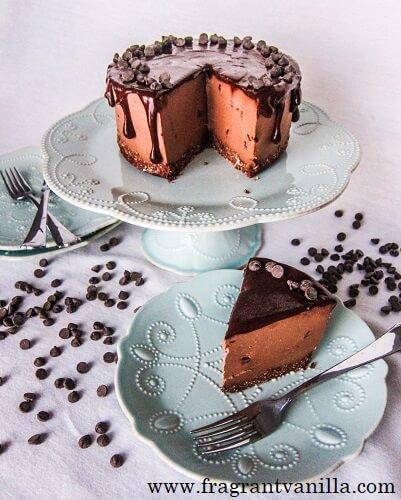 Since I made the cheesecake at night, I had to wait until the next day for it to set, but it was well worth the wait!  I topped it off with a gooey chocolate ganache, and I could not wait to dive in!  It was rich, delicious and everything I imagined it to be!  Perfect for all of you chocolate lovers out there.  I think this might be the perfect Valentine's dessert if you and your significant other love chocolate.  So if you are going out to dinner, skip the dessert and make your own, because it is much more fun to make your own, and then you will have leftovers for later too!  And, nothing beats cheesecake leftovers!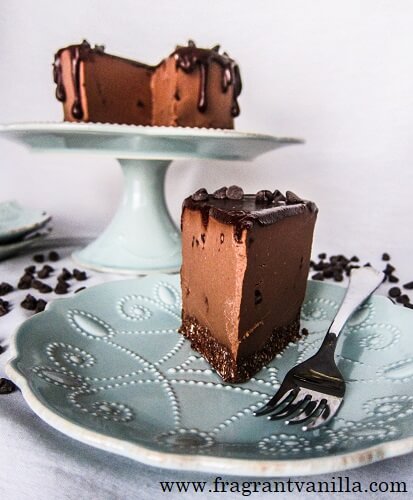 Vegan Double Chocolate Cheesecake (Nut Free)
Makes one 8 inch cake
Crust:
Filling:
Ganache:
Instructions:
Oil an 8 inch spring form pan, and line the bottom with parchment paper.
To make the crust, place all ingredients in a food processor, and process until crumbs and starting to hold together (if they are not holding together when squeezed, add a few tsp filtered water and blend). Press into the bottom of the prepared pan.
Meanwhile, to make the filling, combine all ingredients but the chocolate chips in a high speed blender or food processor and blend until smooth.  Stir in the chocolate chips.
Pour the filling over the prepared crust.
Place cheesecake in the freezer to set for about 4-5 hours (or overnight in the refrigerator if you are not in a hurry).
Remove from the freezer, un-mold and set in the refrigerator while you make the ganache.
In the top of a double boiler, melt the dark chocolate and whisk in the coconut milk until smooth.  Pour over the top of the cake, and let it drip down the sides. Place in the refrigerator until it is more set, about 30 minutes.  Enjoy!
Store any leftover cake in the refrigerator.
*I use Thai Kitchen full fat coconut milk.  If you are using a different brand, just make sure it is the thick type, 2/3 of the can at least should be very thick.
(Visited 772 times, 1 visits today)