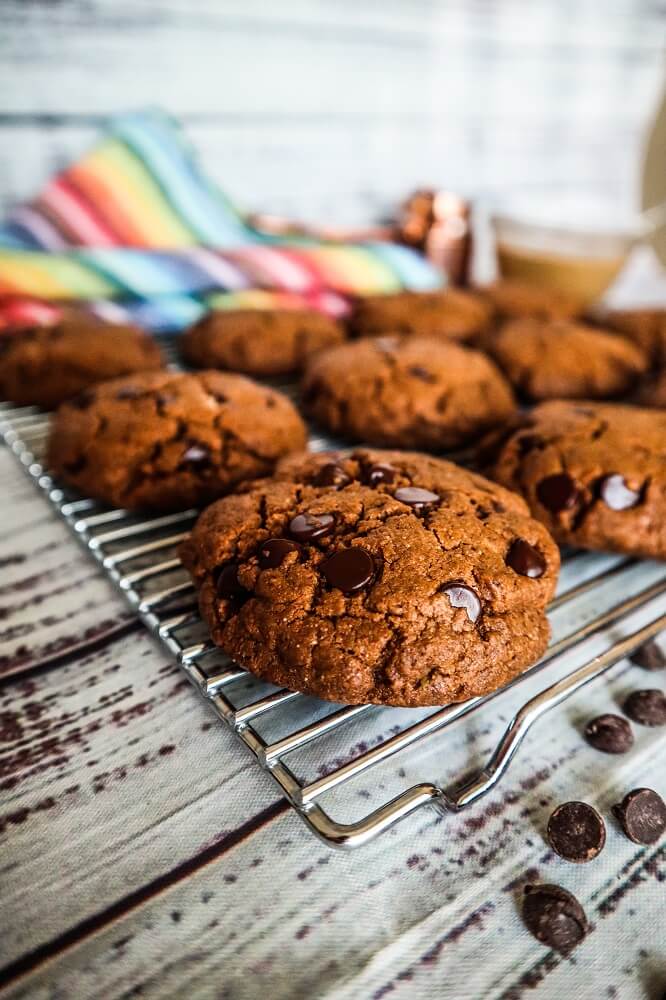 Vegan Double Chocolate Almond Butter Cookies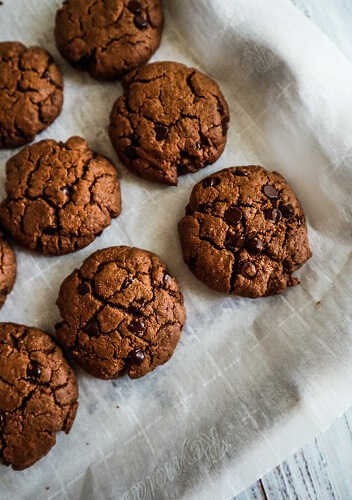 A while back, in the deli I work in, we got almond butter shipped to us instead of tahini.  Since we were unable to return it, and I am the vegan baker there, I suggested we make some almond butter cookies with it!  We didn't really have any other recipes that we could use it in so it was perfect!  I thought it would be a short term thing, but they sold so well, they ended up being a permanent item that I now make. They are really good, like a more grown up peanut butter cookie.  I have made them at home before, and I felt like making some last weekend.  But with a twist, with chocolate added.  Because I was in a chocolate sort of mood. 
Also, I had been gifted some almond butter, and Raw Guru recently sent me some of their coconut sugar, so it was perfect!  These cookies are really simple and easy to make, which I love.  Nothing complicated like chilling dough, or rolling them out or anything.  If it is a week day, I am not wanting to make anything that requires a lot of time. I want to be enjoying those cookies fast, you know?! 
I pretty much used my peanut butter cookie base for these, but added in cacao powder to make them chocolate.  The cookies are rich and delicious from the large amount of almond butter plus a little bit of coconut oil. If you wanted them to be oil free, you could swap the coconut oil for more almond butter instead, and they would still work out, they just wouldn't brown as much. I also added in chocolate chips to make these double chocolate.  The dough was sooo good!  I could not stop sampling it!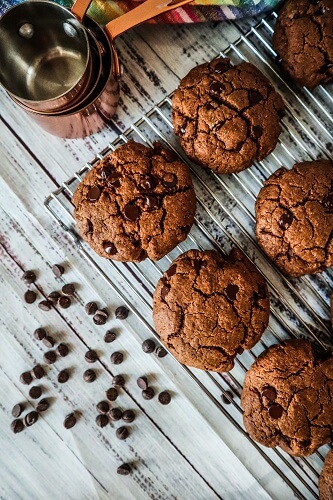 They baked up beautifully, and my kitchen smelled amazing. I could not wait to try them! Luckily they didn't have to cool completely and I could enjoy them while still warm.  They were sooo good!  Soft and chewy, with a nutty chocolate flavor, and the gooey chocolate chips made them even better!  If you are an almond butter fan, definitely give these a try!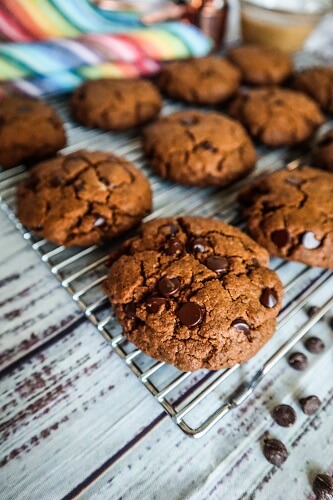 Vegan Double Chocolate Almond Butter Cookies
Makes 12 cookies
Ingredients:
1 Tbsp ground flax seed
3 Tbsp filtered water
1 cup Raw Guru coconut sugar
1 cup smooth roasted almond butter
¼ cup coconut oil, warmed to liquid
1 cup whole wheat pastry flour
3 Tbsp cacao powder
¾ tsp baking soda
½ tsp baking powder
½ tsp sea salt
¾ cup vegan dark chocolate chunks or chips
Instructions:
In a small bowl, whisk together the flax seeds and water. Set aside for 15 minutes.
Preheat the oven to 350F degrees, and line a sheet pan with parchment.
In a large bowl, with a wooden spoon, mix together the coconut sugar, almond butter, coconut oil, vanilla and the flax seed mixture until smooth.
Mix in the flour, cacao powder, baking soda, baking powder, and sea salt and stir until completely combined.
Mix in chocolate chips.
Shape the cookie dough into 12 balls, and spread out evenly on the pan. Flatten them slightly with your hand.
Place in the oven and bake for about 15 minutes until they are starting to brown slightly and are just set.
When they are done baking, remove the pan from the oven and let cool on a rack.
Enjoy!
(Visited 748 times, 1 visits today)