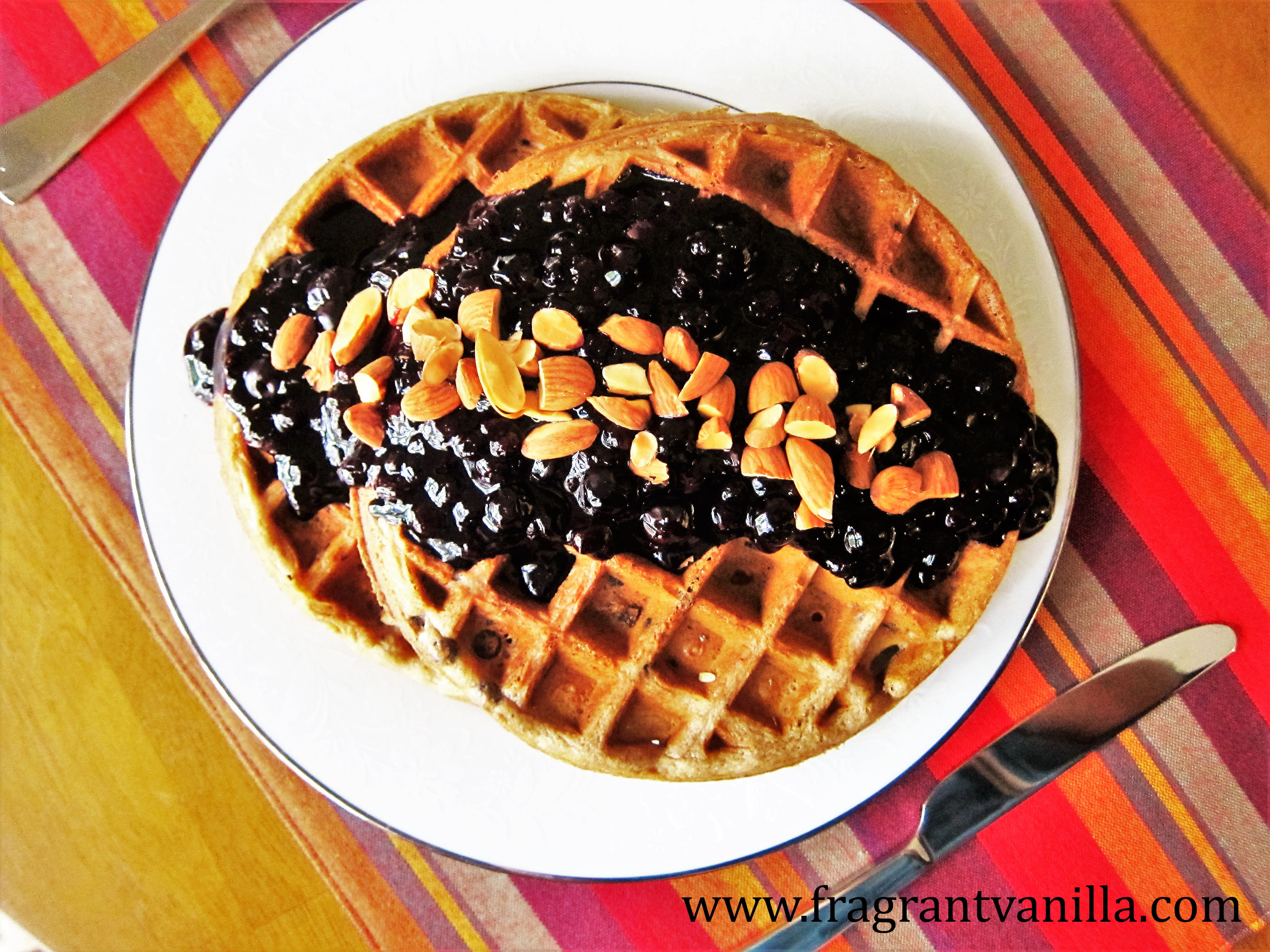 Vegan Double Blueberry Almond Waffles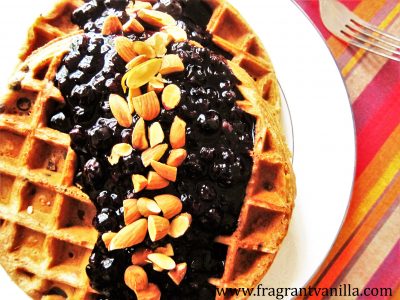 I don't think I have made waffles since last year. So I thought it was about time. The funny thing is, most of the time when I was growing up waffles were for dinner instead of breakfast or brunch in my house. I mean, Mom would occasionally make them after church, but it was weeknight dinners that I remember having them for most. I remember I was quite excited when we got a Belgian waffle maker. We found a recipe we liked which was light and fluffy, and it was our staple, a pretty plain recipe that could be topped off with anything, essentially a blank palate. I thought my days of making fluffy waffles that were crispy on the outside and fluffy in the middle were over once I went vegan. Because the old ones required whipping egg whites to make them fluffy with the yolks added back in later, and of course milk and butter.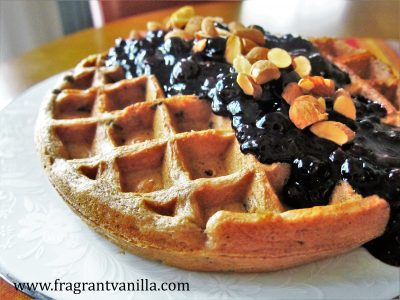 I didn't make waffles for a few years to be honest because I feared they would not turn out. But then I discovered aquafaba (the greatest vegan egg substitute made from chickpeas), and there was hope. It behaves like eggs, and it worked perfectly in waffles! So, that is what I use now whenever I want to make waffles which are fluffy. This time, I had some fresh organic blueberries, so I decided to make blueberry almond waffles. For the waffle base, I used my usual recipe, but with almond milk instead of coconut and a touch of almond extract because I love the taste and aroma of it. I stirred freeze dried blueberries into the batter, to make these double blueberry waffles. Why dried? Well, the fresh ones tend to gum up my waffle maker, and the dried ones pack a lot of flavor as well. Plus I was going to top it all off with a fresh blueberry sauce.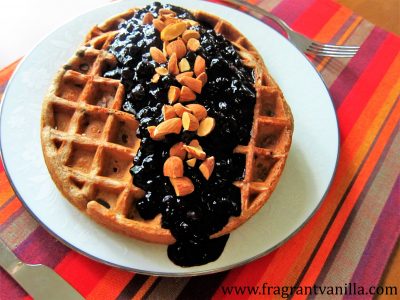 They smelled amazing while I was making them. I love the way waffles fill your kitchen and home with the most heavenly aroma. I topped them off with a fresh blueberry maple syrup, and topped them off with toasted almonds. They were heavenly. This is the type of thing I imagine being served at a classy little bed and breakfast for brunch. If I had the money to go to one. But they are good for dinner as well of course, since that is what I made them for. Waffles are good all times of the day as far as I am concerned! If you have blueberries on hand, give these a go!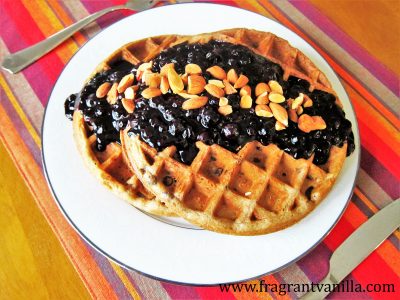 Vegan Double Blueberry Almond Waffles
makes 10-12 depending on your waffle maker
Batter:
2 cups gluten free all purpose flour
1/4 cup coconut sugar
1/2 tsp baking soda
1 tsp baking powder
1/2 tsp sea salt
1/2 cup plus 1 Tbsp aquafaba*
2 Tbsp melted coconut oil
1 tsp almond extract
2 cups almond milk
1 cup freeze dried blueberries
Sauce:
1 1/2 cups organic blueberries
1/4 cup maple syrup
pinch sea salt
Whisk together all of the dry ingredients, then whisk in the wet ingredients and the blueberries.  Pre-heat waffle iron. Once it is heated, add about 1/3 cup waffle batter to the iron and close it (the size of the scoop of batter you need may change if you have a larger iron, mine is smaller).  Cook according to waffle iron package directions.  Keep warm in an oven at low heat (150F degrees).
Meanwhile, to make the sauce, combine all ingredients in a saucepan and bring to a simmer. Simmer for about 20 minutes, stirring often until the blueberries have burst and it has thickened.
*Aquafaba is chickpea liquid.  You may used canned, or if you are using the liquid from home cooked chickpeas, reduce it to the consistency of egg whites.  Alternatively, you may use 3 flax eggs for the recipe (3 Tbsp ground flaxseed, whisked together with 1/2 cup plus 1 Tbsp filtered water).
(Visited 141 times, 1 visits today)