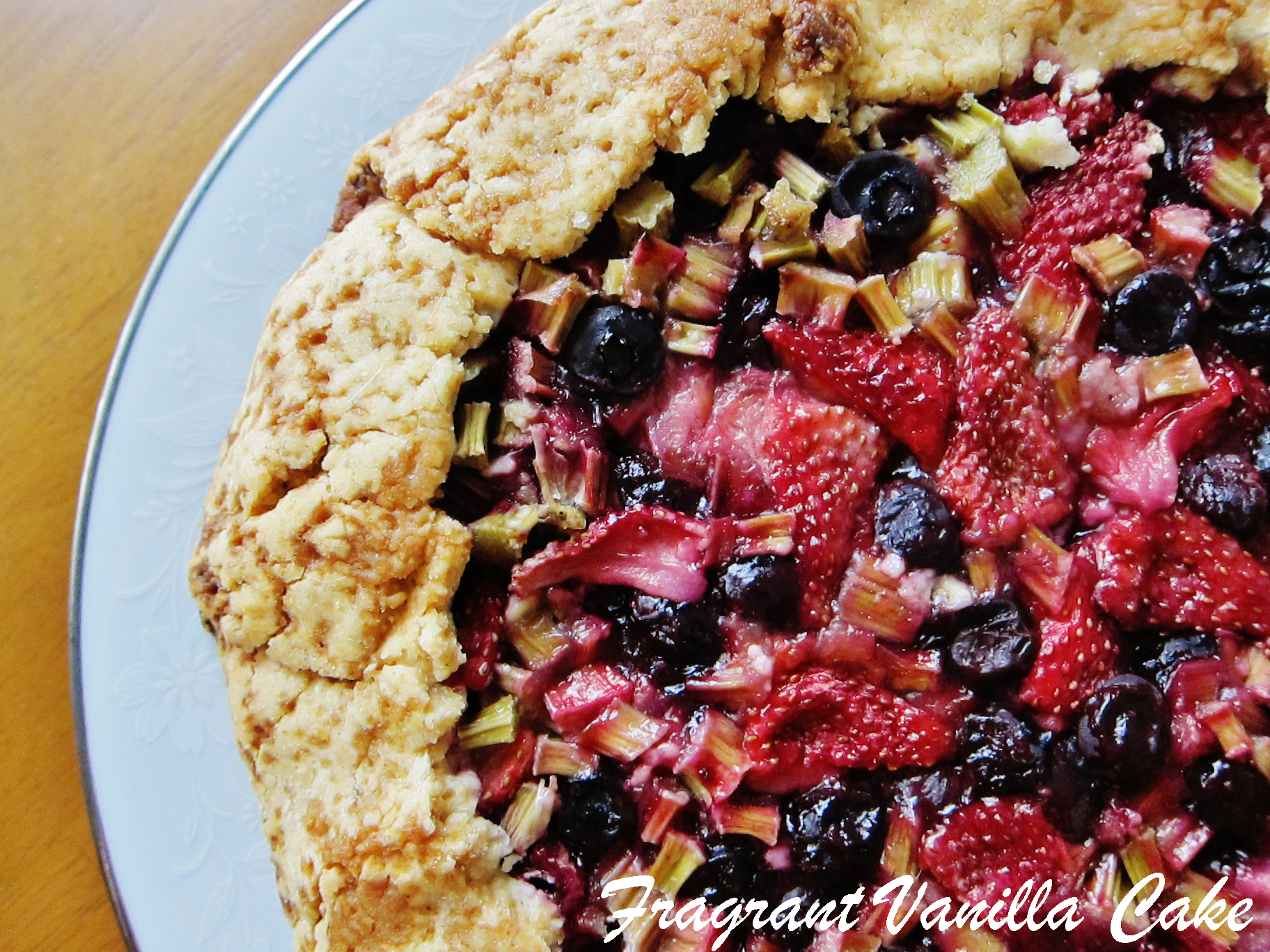 Vegan Double Berry Rhubarb Galette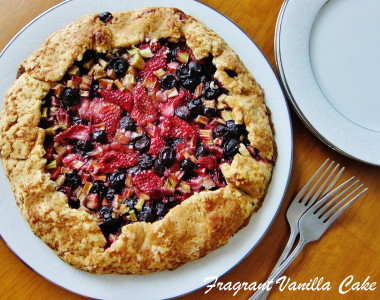 I have been really craving pie lately.  A delicious fruit pie with a jammy filling, crisp rich crust, and sweet fruit inside.  I'm not very picky when it comes to the fruit.  It is all good...peaches, cherries, berries.  They all are amazing in a pie in my opinion.  So, I made a sort of pie last weekend.  A lazy person's pie.  A galette.  So, a tart and a pie made free form, not picky at all and perfect for the mood I was in and the time frame I had.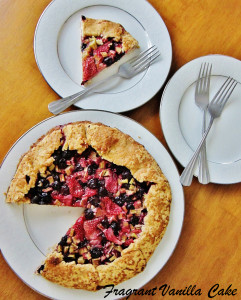 I had about an hour after work to make it, so a non fussy free form crust was ideal. Only rolling out one circle and not having to do anything cutesy with it (not that there is anything wrong with cutesy, I love cutesy but not when I have little time).  I used my gluten free pie crust, and enclosed inside was the most delicious filling combination. Sweet blueberries, tart rhubarb from my Dad's garden, and some flavorful, jammy strawberries.  Once it had baked and the aroma had permeated the air in my home and it was all bubbly and delicious looking, I was quite excited.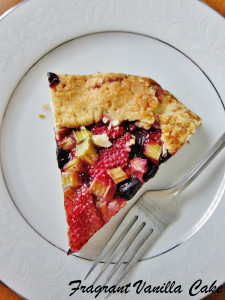 It was pure delicious goodness.  The first day I enjoyed it unadorned and I was reminded of how wonderful galettes are.  and the second day, I served some of it with some coconut whipped cream and it was the perfect accompaniment.  I am one of those people who usually always has to have ice cream or whipped cream with their fruit pie, but I was a little lazy the first day.  It was wonderful anyhow even without it.  If you want a delicious pie, but not all the fuss, you must try this.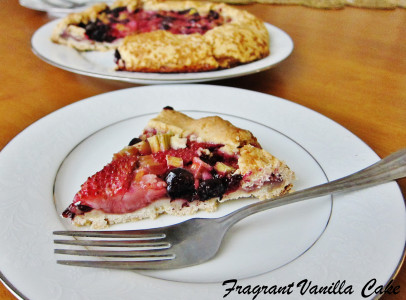 Vegan Double Berry Rhubarb Galette
Crust:
2 1/2 cups all purpose gluten free flour*
1/4 tsp sea salt
1/4 cup coconut sugar
7 Tbsp coconut oil in solid state, cut into chunks
1 Tbsp organic lemon zest
1 tsp pure vanilla extract
5-6 Tbsp ice water
Filling:
2 cups organic rhubarb, sliced
1 cup organic strawberries, quartered
1 cup organic blueberries
2 Tbsp lemon juice
1 Tbsp organic lemon zest
2 tsp pure vanilla extract
1/4 cup arrowroot starch
1/2 cup coconut sugar
pinch of sea salt
Coconut sugar for sprinkling
To make crust, combine flour, sea salt, sugar and coconut oil in a bowl, and use a pastry blender to cut into the mixture until it resembles pea sized chunks (you can also use your hands).  Add zest, and vanilla and water and mix into the dough.  Knead a few times until it comes together (you may need to add an additional Tbsp more water).  Shape into and roll out into a 1/4 inch thick circle on a sheet of parchment (you will want to dust the parchment underneath with a little flour and dust the rolling pin too to avoid sticking. If the dough has gotten too warm, place in the refrigerator).  Preheat oven to 375 degrees.
Place rhubarb and berries, lemon juice, zest, vanilla, arrowroot, sugar and sea salt in a large bowl and toss to combine. Arrange fruit mixture on top of dough on each round, leaving a  1 1/2-inch border all the way around. Fold border over the fruit mixture, overlapping where necessary and pressing gently to adhere the folds (it doesn't have to be perfect, it is rustic). Brush edges of dough with water, sprinkle with sugar, and bake until crust is deep golden brown and juices are bubbling, 45 minutes or so. Transfer baking sheet to a wire rack to cool the galette. Serve warm or at room temperature.
*You may use whole wheat pastry flour if you do not wish to make this gluten free.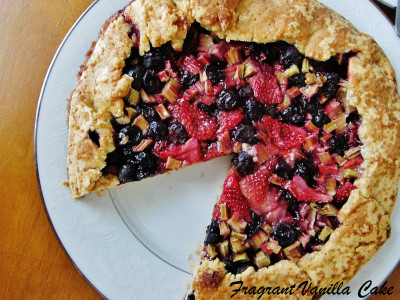 (Visited 107 times, 1 visits today)