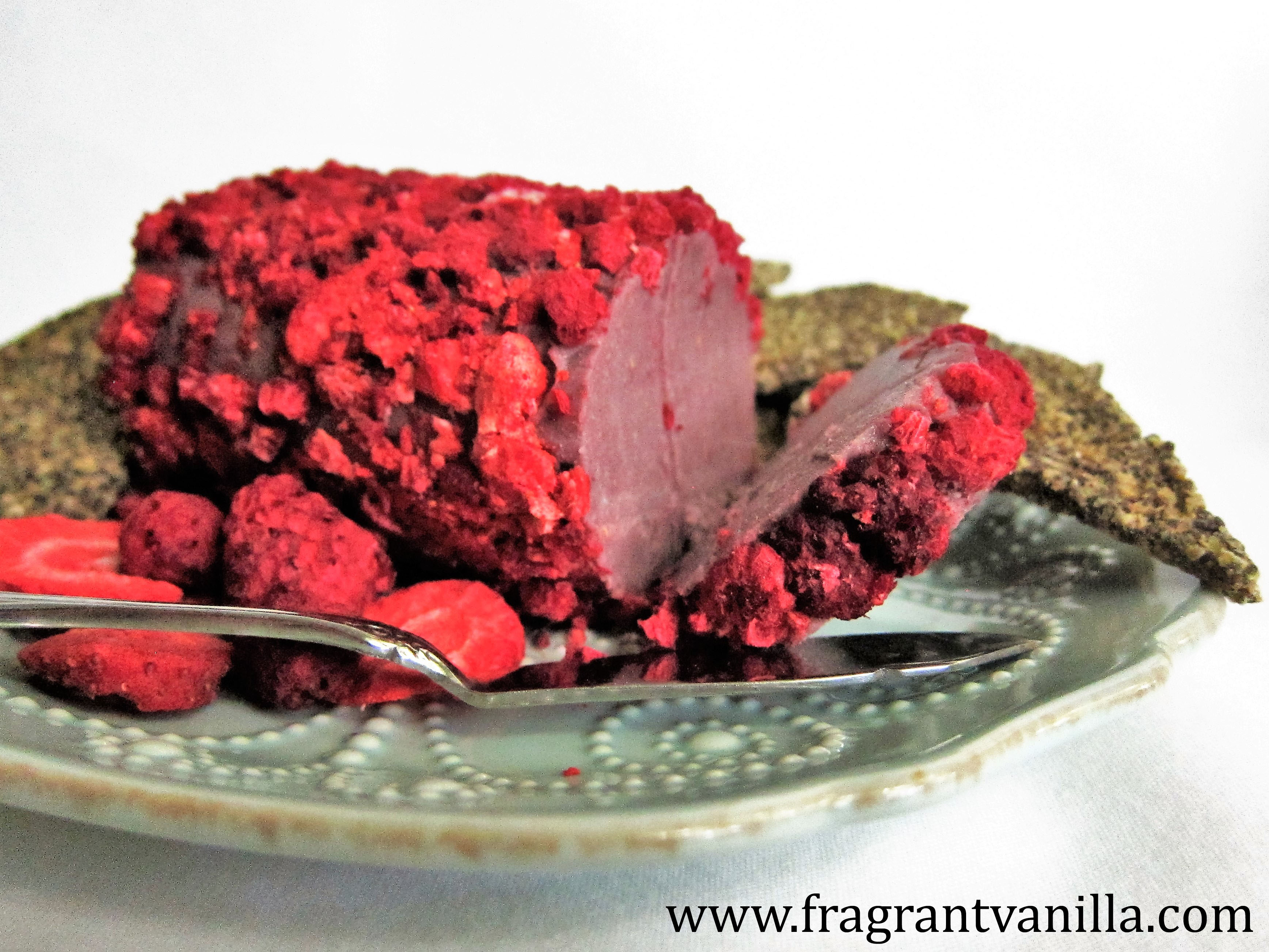 Vegan Double Berry Chevre
One of the most popular things I hear from people when I tell them I am vegan is that they could never do it, because they could never give up cheese.  Well, guess what?  I used to think the same thing.  When I was vegetarian I actually ate loads of cheese making things like pizzas, French onion soup topped off with cheese, lasagna, and cheesecake.  I never thought I could give it up.  But I did...and it really wasn't hard once I realized that there are so many great vegan options to replace it with, most of them that can actually be made in my own home!  Although I love melty cheese, and I have come up with a replacement for that, chevre used to be another favorite of mine.  In fact, I ate it ever day at one point in my life.  I loved it with fresh berries or on top of baked pears or apples for dessert or sprinkled over salads.  Every time I went to the local co op I would stock up, so much so that they actually remembered me and my cheese habit and teased me about it.  I would buy a lot at a time to get me through the week.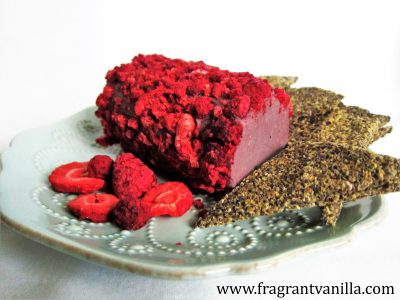 Well, I luckily I can make a vegan version of chevre that is pretty bomb and just as good as the dairy stuff.  I use a base of either cashews or macadamias (if I feel like splurging), and it tastes rich and delicious!  It is actually one of Eric's favorite things, even though he isn't vegan.  He has asked me many times, when are you making that cheese stuff again???  Well, I decided to make some a few days back, but I was in a little bit of a sweet mood, so I added berries to it.  Berry cream cheese was one of my absolute favorite things as a kid.  I begged my Dad to buy blueberry bagels and strawberry or raspberry cream cheese because that was my favorite combo.  This cheese ended up kind of tasting like that.  But better of course.
I didn't load this up with sweeteners, throwing in a few dates along with the berries did the trick because the berries were plenty sweet.  I used freeze dried berries in this because that is what I happened to have on hand, and I wanted this cheese to be firm enough to cut (real berries would have made it too soft, but if spreadable cream cheese is what you are going for you can use fresh, just use less).  It tasted delicious!  Now, if only I had some vegan blueberry bagels...I would be set!  This is actually awesome served with fruit though or crackers.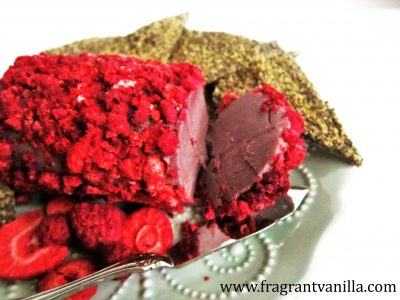 Vegan Double Berry Chevre
Serves 8-10
Ingredients:
½ cup raw cashew butter
½ cup full fat organic coconut milk*
¾ cup freeze dried raspberries and strawberries
3 Tbsp raw coconut butter, warmed to liquid
2-3 soft, pitted medjool dates
¼ tsp sea salt
2 tsp lemon juice
1/2 cup crushed freeze dried raspberries and strawberries for coating the cheese
Directions:
In a high speed blender, combine the cashew butter, coconut milk, 3/4 cup dried berries, coconut butter, dates, sea salt, lemon juice, and blend until smooth.
Pour into a bowl, and place in the freezer for about 30 minutes until more firm, them scoop onto a piece of plastic wrap and roll into a log.  Place in the refrigerator until firm, a few hours.
Once chilled enough, roll in the dried berries, and serve!
*If you want to make this raw, you may use raw coconut milk.
(Visited 27 times, 1 visits today)