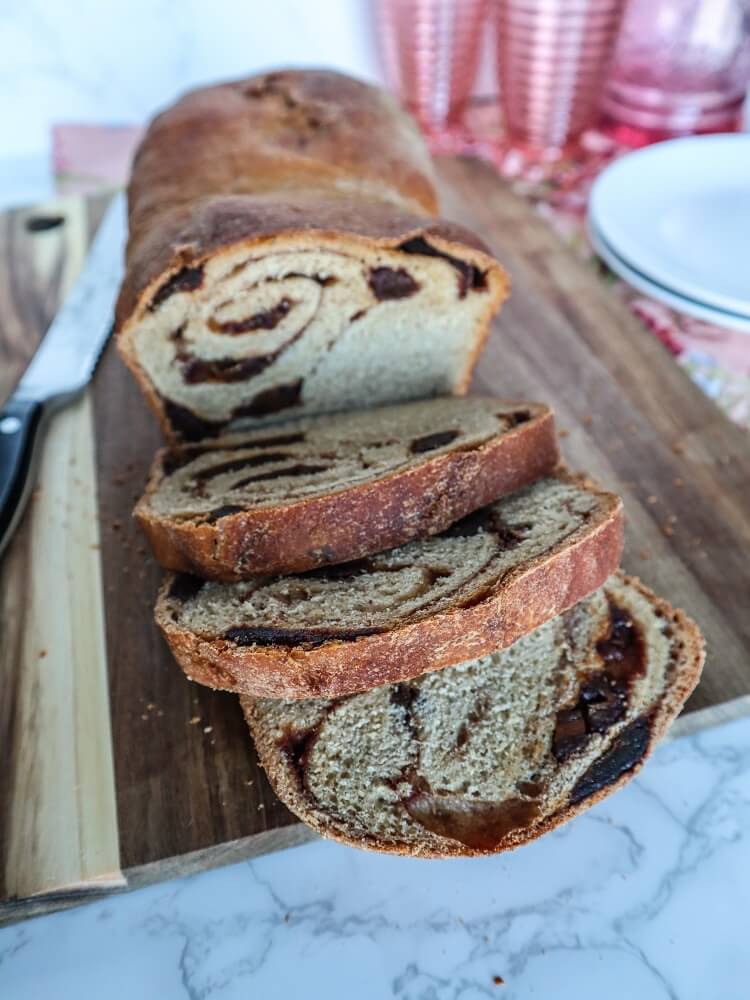 Vegan Date Cinnamon Swirl Bread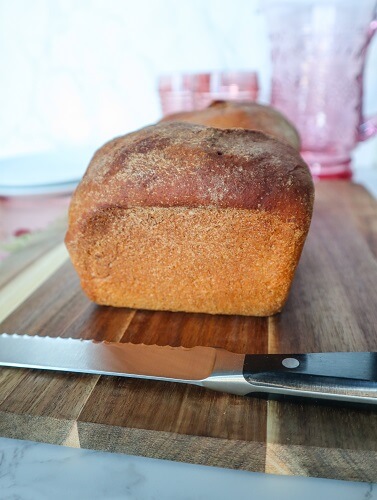 I always loved cinnamon bread growing up, especially for toast!  It was amazing with some butter on it for a breakfast treat!  I preferred the plain cinnamon, not the cinnamon raisin because I am not a big raisin fan.  But I was thinking recently, you know what would make cinnamon raisin swirl bread better?  If you replaced the raisins with dates and made Vegan Date Cinnamon Swirl Bread!  So I decided to make some and try it out, and it ended up being a wonderful idea!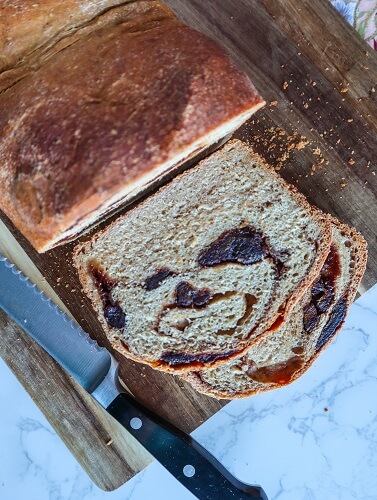 I love baking bread, it is so relaxing kneading the dough!  I haven't made much sandwich style yeast bread, in the past I usually just make things like baguettes that are free form.  But I have been on a sandwich style bread kick lately making a strawberry swirl bread and then this one!  For this one I used a mixture of whole wheat flour and white flour to give it a bit more heartiness and I enjoyed the result!  This dough is sweetened with a bit of maple syrup and vanilla and it is just enough to give it a hint of sweetness but not make it overly sweet.  For the swirl I used a mixture of cinnamon, maple, and gooey dates and it worked out perfect!  This bread smelled so amazing while baking!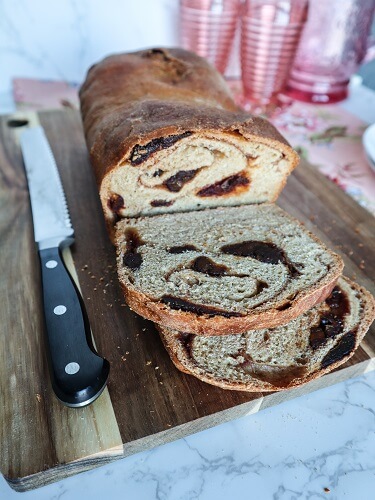 If you don't have time to bake this bread after making the dough, you are in luck!  After placing it into the pan you can refrigerate it overnight and let it rise slowly, then bring it up to room temperature the next day for 1 hour and bake it then!  How convenient is that?!  I sometimes do this because if I am making something after work I just have time for half the process and it works great.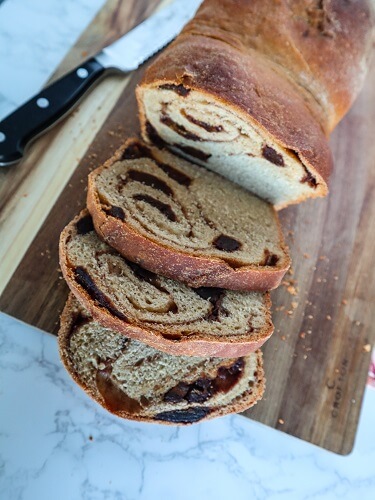 I could not wait to try the bread!  It was so delicious, the dates baked into gooey little caramelly pockets and the maple sugar caramelized with them to create deliciousness!  This bread is so good I can eat it plain!  But it is even more delicious with some vegan butter.  It is waaayyy better than cinnamon raisin bread!  If you are a cinnamon bread fan, give this Vegan Date Cinnamon Swirl Bread a try!  It makes the perfect Saturday morning treat!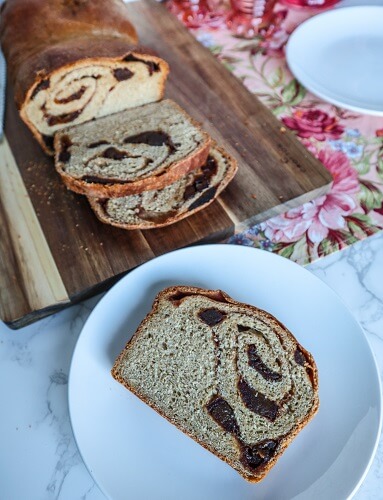 Vegan Date Cinnamon Swirl Bread
Makes 1 loaf
Dough:
1/2 cup warm water ( 105-110F degrees)
1 packet active dry yeast (1/4 oz)
3/4 cup warm full fat coconut milk (I warmed it up on the stove)
1/4 cup maple syrup
1 tsp pure vanilla extract
1 tsp sea salt
1 Tbsp ground flax seed, mixed with 3 Tbsp filtered water
1 1/2 cups organic all purpose flour
2 cups whole wheat flour
coconut oil for brushing
Filling:
1 cup chopped pitted dates
1 Tbsp cinnamon
2 Tbsp maple syrup
1 1/2 Tbsp coconut sugar or brown sugar
Instructions:
To make the dough, combine the yeast and the warm water (about 110F degrees, you don't want to kill the yeast) plus a pinch of maple sugar and stir to dissolve. Let sit 5-10 minutes until it starts to foam.
In a large bowl, combine the coconut milk, sugar, vanilla extract, salt and flax mixture and mix together to combine.
Add the yeast, and 2 cups of flour and mix to combine.
Add the remaining 1 1/2 cups of flour and mix until you have a smooth dough (you may need to use your hands at the end to mix it in).
Turn out onto a lightly floured surface, and knead for 5-10 minutes until smooth and supple. If it is too sticky add a little flour but you want to add as little as possible because if you add too much the dough gets tough.
Place in an oiled bowl, and cover. Let rise for about 1 1/2 hours until doubled in size.
When it is ready, turn out onto the counter or a board and roll out into a 16x20 inch rectangle.
Mix together the cinnamon and maple syrup.
Spread the mixture evenly over the dough, leaving a 1 inch boarder.  Then sprinkle with coconut sugar.
Sprinkle the dates over that randomly.
Roll it up, starting with the short end, then pinch the ends shut and the seam along the side.
Place seam side down into an 8 1/2 x 4 1/2 inch greased loaf pan.
Cover and let rise for 45 minutes.
Meanwhile heat the oven to 350F degrees.
When the bread has risen for 45 minutes, brush it with coconut oil, and place it in the preheated oven and bake for about 1 hour until the internal temperature is 190F degrees or higher and the bread is cooked through.  You may need to tent it with foil partway through if it gets too brown, I tented mine at 30 minutes because it was just right.
Remove from the oven and let cool.
Enjoy!
This bread keeps covered at room temperature for up to 3 days, or refrigerated for up to 1 week. You can also freeze it, tightly wrapped or in an airtight container for a few months.
(Visited 232 times, 1 visits today)