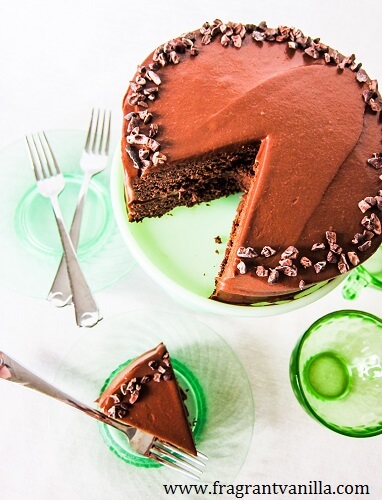 Vegan Dark Chocolate Stout Cake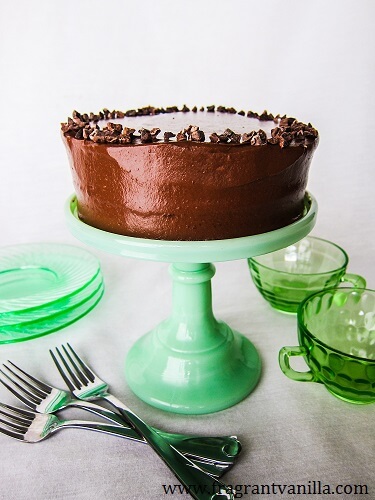 I never liked dark beer when I was younger.  I would always go for the lighter stuff like ale.  But now as I am older and I have actually had a chance to try many different types of beer my tastes have changed.  Eric and I like to go to local taprooms and sample what they have to offer.  Always making sure the beer is vegan in advance of course.  But what I have found, is that I prefer stouts, porters, and IPAs above all else.  Eric shares this sentiment with me.  I like the hoppiness and fruitiness that many IPAs have and I have always liked those.  But I never thought I would get into dark beer, but porters and stouts are rich and delicious!  Almost like dessert, and I treat them as such.  My Mom suggested I make a vegan chocolate stout cake a few weeks back, and it sounded wonderful, so I was all for it!  But I wanted to wait until March, because chocolate stout cake sounds perfect for St. Patrick's Day!  It would not contain Guiness though unfortunately because it is not vegan.  To check if a beer is vegan or not, check out Barnivore.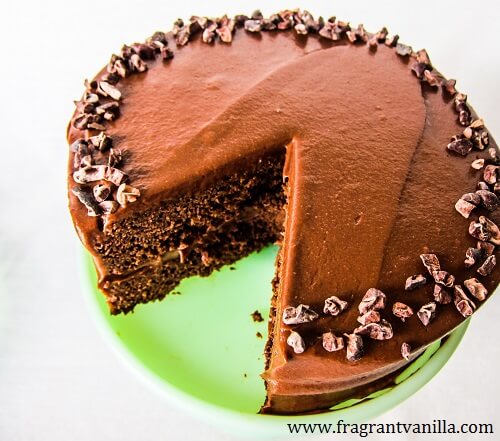 I wanted a rich dark chocolate cake with fudgy frosting.  I have seen different types of chocolate stout cake, some bundts with a glaze, some with a white frosting just on top, but I wanted a decadent layer cake, chocolate through and through.  For the cake, I used my classic date sweetened chocolate cake with a good 2 cups of stout, because I wanted to be able to taste it in the cake.  The one that I used had coffee notes, which went perfect with the chocolate in the cake!  The batter was so good!  Of course I had to lick every last bit from the bowl!  The cake baked up beautifully, soft and moist as chocolate cake should be.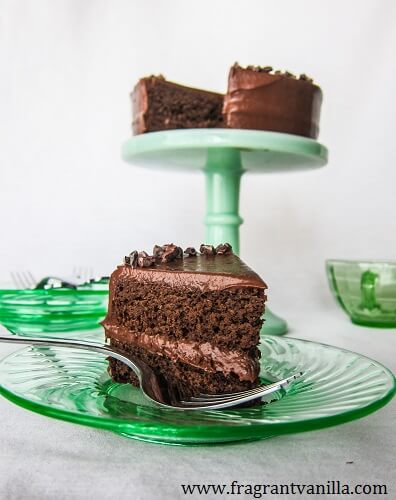 I topped it off with a fudgy chocolate frosting made from a few secret (well not so secret anymore since I am telling you, but don't tell anyone you feed it to) healthy ingredients.  Sweet potatoes for one to make a luscious creamy frosting without extra nut butter, and dates to sweeten it.  That's right, this cake is completely sweetened with dates! They are my favorite sweetener when it comes to cakes, making them the perfect texture. This cake was yummalicious once it was all assembled! Rich decadent chocolate cake with a hint of stout, smooth creamy chocolate fudge frosting...just as I imagine the perfect chocolate cake to be!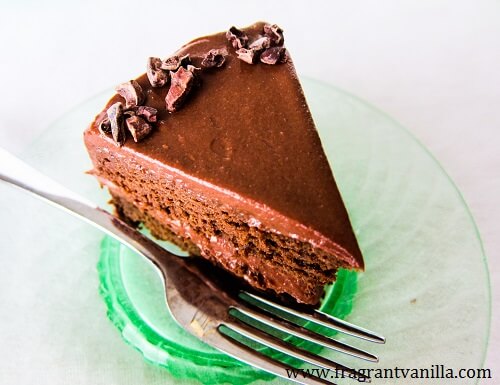 Vegan Dark Chocolate Stout Cake
Makes one 2 layer 6 inch cake
Ingredients:
2 6 inch cake pans
Cake:
1 1/2 cups Bob's Red Mill Gluten Free All Purpose Flour
1/4 cup cacao powder or unsweetened cocoa powder
1 1/2 tsp baking soda
1 tsp baking powder
1/2 tsp sea salt
1 cup packed soft medjool dates, pitted, soaked in water for 30 minutes and drained
1/4 cup almond butter
2 tsp pure vanilla extract
2  cups stout beer (make sure it is vegan on Barnivore)
2 Tbsp apple cider vinegar
Frosting:
1 1/4 cups mashed Japanese sweet potatoes*
1  cup soft pitted medjool dates (soaked in water for 30 minutes and drained before using if not soft)
1/3 cup almond butter
1/2 cup filtered water (or as needed)
1/2 cup unsweetened cocoa powder
1 tsp pure vanilla extract
1/4 tsp sea salt
Directions:
Preheat the oven to 375F degrees and position rack in center of oven.
Oil two 6 inch round cake pans with coconut oil and line the bottom with parchment.
Whisk flour, cocoa powder, baking powder, baking soda, sea salt in a large bowl to blend well.
Place dates, beer, almond butter, and vanilla extract into a blender, and blend until smooth, then whisk this blended mixture into the flour mixture until well blended. Whisk in the cider vinegar until bubbles form.
Pour the cake batter into prepared pans, and place in the oven.
Bake cakes until set and a toothpick inserted into the center comes out almost clean, about 25-30 minutes.  Remove from oven, let cool completely, then unmold onto a plate.
To make the frosting, combine all ingredients in a blender and blend until smooth (adding water a little at a time if you think it is too thick).  Set aside.
To frost the cake, place one layer on a plate, then spread about 3/4 cup of the frosting on top of it to cover it.  Top with the next cake layer, and spread the frosting over the top and down the sides of the cake.
*I like to roast my sweet potatoes in the oven. To do so, cut them in half, and place them cut side down on a parchment lined tray.  Roast at 400F degrees for about an hour or until they are tender.  Let cool before pureeing.
(Visited 905 times, 1 visits today)