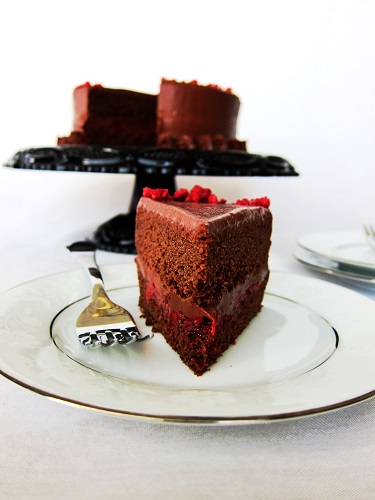 Vegan Dark Chocolate Red Wine Cake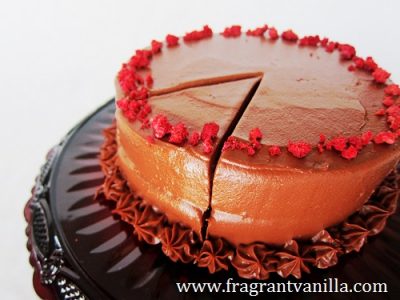 Last week was kind of a stressful one for me.  Including my computer breaking and losing most of my photos and everything because the hard drive was toast.  There were other things that happened too that I won't go into but my point is that by the end of the week, I was sooo ready for the weekend.  Like go home and put my PJs on and bake something really good with some wine ready. I was a little crabby, but at least I could admit it, and the introvert in me just wanted to be alone.  After a stress relieving walk with Eric which helped a little, because we both had a lot to vent about, I baked a cake.  In my PJs in the kitchen while listening to some good music, with some wine and I was feeling relaxed and happier in no time.  I am a vanilla girl, but I was in a chocolate mood.  I also wanted something for Valentine's Day weekend to share with my man on Sunday (which is when we celebrated Valentine's Day because we both were going to be working on the actual day and opposite shifts).  So I made a dark chocolate red wine cake.  I had made one before years ago, but I wanted to make a new recipe that was even better.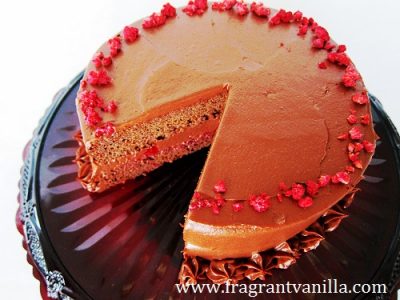 I had to use a good wine in the cake that I would drink, so I used some of the red wine that I had open.  A good smooth Italian red.  I used my usual chocolate cake batter made with dates as a sweetener, and I have to say, the batter tasted really good.  Kind of like that red wine hot chocolate that is so popular right now, but not hot.  I always taste my cake batter to make sure it is good.  Because if it is not good before baking, it probably won't be any better after.  My kitchen smelled amazing while it baked.  I love the smell of chocolate cake, it makes me very happy.  For the cake filling, I decided on a little bit of raspberry jam.  Because dark chocolate, wine, and berries are a match made in heaven.  I frosted the cake with a delicious fudge frosting.  It was like really good rich chocolate mousse.  I used a special ingredient in it, some sweet potatoes.  It may sound weird, but honestly, they make the most luscious frosting!  Think avocado chocolate frosting, but lower fat.  I still added some but butter though, because I wanted a little bit of fat to give it that rich mouth feel.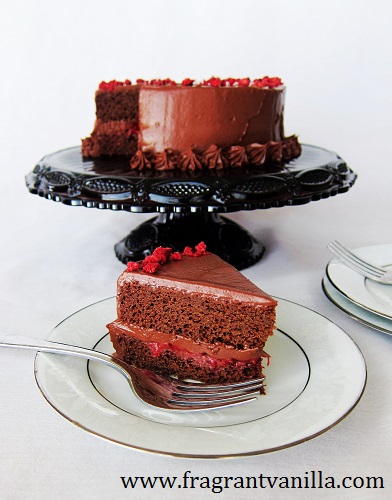 The completed cake was amazing!  I saved it to enjoy with Eric on our Valentine's date, and it was super delicious and rich.  You would never guess it was vegan if I served it to you and didn't tell you.  The cake was perfectly moist, the bright jammy berries a good match for the dark chocolate fudge frosting and sweet cake.  A hint of red wine all the way through.  I hope you all have a lovely Valentine's Day!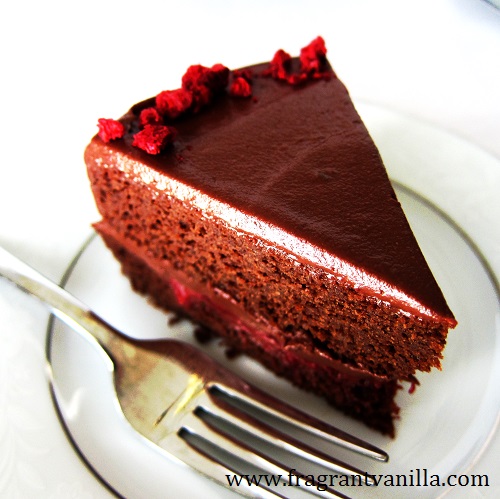 Vegan Dark Chocolate Red Wine Cake
Makes one 2 layer 6 inch cake
Ingredients:
2 6 inch cake pans
Cake:
1 1/2 cups Bob's Red Mill Gluten Free All Purpose Flour
1/4 cup cacao powder or unsweetened cocoa powder
1 1/2 tsp baking soda
1 tsp baking powder
1/2 tsp sea salt
1 cup packed soft medjool dates, pitted, soaked in water for 30 minutes and 1 cup of the water reserved
1/4 cup almond butter
2 tsp pure vanilla extract
1  cup red wine (one that you would drink, and enjoy the taste of)
2 Tbsp apple cider vinegar
Frosting:
1 1/4 cups mashed Japanese sweet potatoes*
1  cup soft pitted medjool dates (soaked in water for 30 minutes and drained before using if not soft)
1/3 cup almond butter
1/2 cup filtered water (or as needed)
1/2 cup unsweetened cocoa powder
1 tsp pure vanilla extract
1/4 tsp sea salt
Filling:
1 cup organic raspberries
2 tsp date paste or maple syrup or as needed
pinch sea salt
Directions:
Preheat the oven to 375F degrees and position rack in center of oven.
Oil two 6 inch round cake pans with coconut oil and line the bottom with parchment.
Whisk flour, cocoa powder, baking powder, baking soda, sea salt in a large bowl to blend well.
Place dates, reserved water, almond butter, wine, and vanilla extract into a blender, and blend until smooth, then whisk this blended mixture into the flour mixture until well blended. Whisk in the cider vinegar until bubbles form.
Pour the cake batter into prepared pans, and place in the oven.
Bake cakes until set and a toothpick inserted into the center comes out almost clean, about 25-30 minutes.  Remove from oven, let cool completely, then unmold onto a plate.
To make the frosting, combine all ingredients in a blender and blend until smooth (adding water a little at a time if you think it is too thick).  Set aside.
To make the raspberry filling, put the raspberries, maple syrup, and sea salt in a food processor or blender and pulse until a jam consistency.
To frost the cake, place one layer on a plate, pipe some of the frosting around the outside of the cake layer, then spread the raspberry filling inside the circle, followed by about 3/4 cup of the frosting on top of it to cover it.  Top with the next cake layer, and spread the frosting over the top and down the sides of the cake.
*I like to roast my sweet potatoes in the oven. To do so, cut them in half, and place them cut side down on a parchment lined tray.  Roast at 400F degrees for about an hour or until they are tender.  Let cool before pureeing.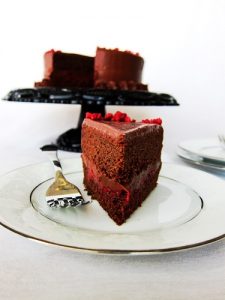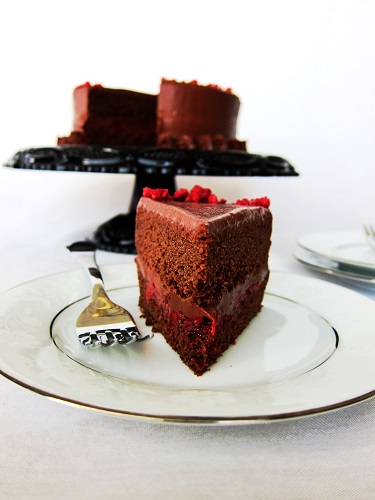 (Visited 1,580 times, 1 visits today)