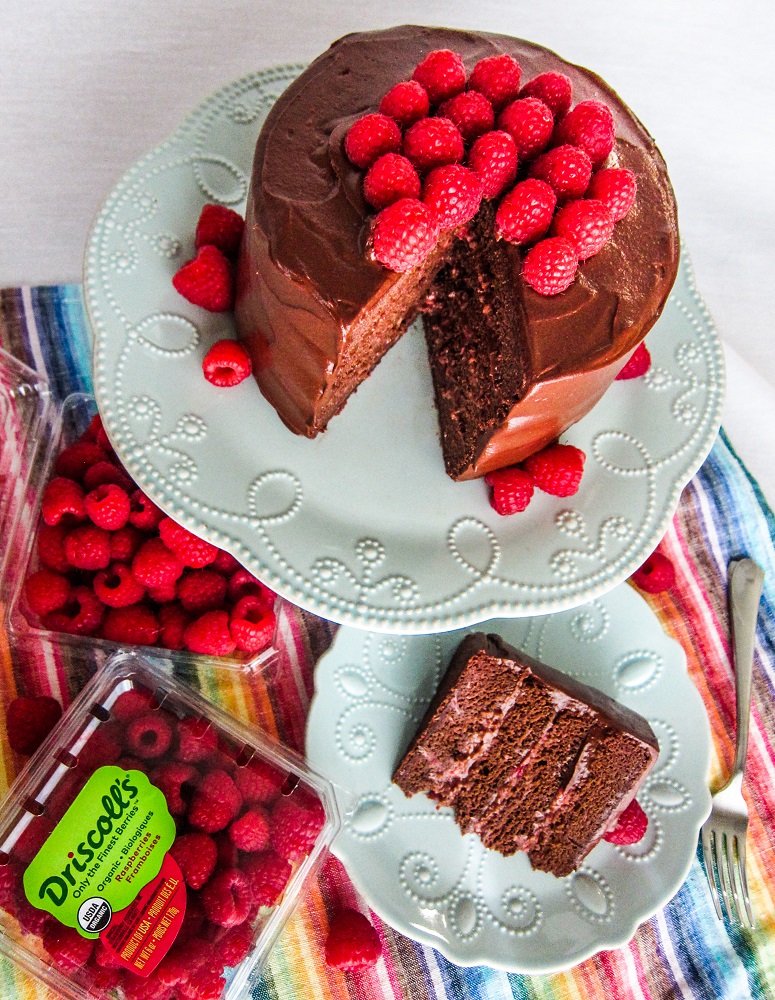 Vegan Dark Chocolate Raspberry Layer Cake featuring Driscoll's Berries
This post has been graciously sponsored by TheFeedFeed & Driscoll's! All opinions are my own.  Thanks for supporting the brands that support me!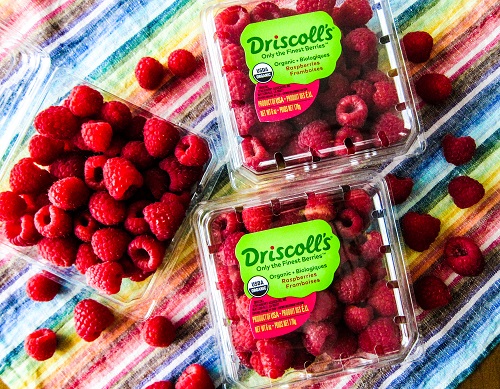 Did you know that the Minneapolis-St Paul metro area is the raspberry consumption capitol of the USA?  According to research by Nielsen Company, we consume more than 132% more fresh raspberries on average than the rest of the country.  Now that is something I am proud to be a part of.  Maybe it is because about half of the year we have cold weather here and are craving sunshine in the form of berries.  But it could just be because they are darn delicious, because I love them year round.  Especially organic Driscoll's berries.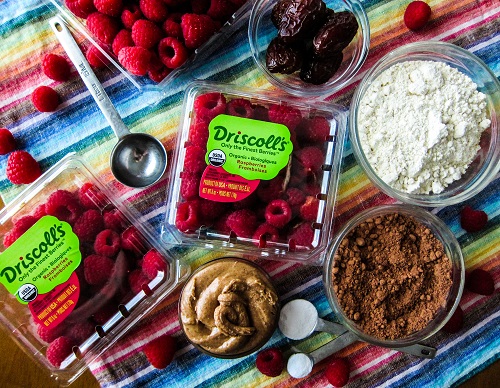 My love for raspberries started at a very young age.  My Mom would often buy fresh raspberries at the store, for just eating plain or to top off a delicious dessert.  They have always been my favorite fruit, and for as long as I can remember buying them, Driscoll's has always provided the most flavorful berries at the store.  I can always count on their berries to taste the best in anything I add them to, and when eating them plain, there is nothing that compares. They are simply heavenly.  The most memorable recipe that my Mom used to make with them was a cream cheese tart.  They were the star of the show, topping off the tart like beautiful red jewels.  So, I guess I think of them as kind of special, because they remind me of desserts and special occasions, even if I am just eating them for a snack or with breakfast.  Driscoll's raspberries taste the best because they have been developed through years of research using only natural breeding methods.  I think that is pretty cool, no GMOs here!  They grow their berries year round in regions where they can so that you can enjoy juicy flavorful berries all the time! Also, did you know that they are the leading brand to produce organic berries?  Well they are, and that is super important to me! It always factors in when I am at the store, which is why they are my top brand of choice.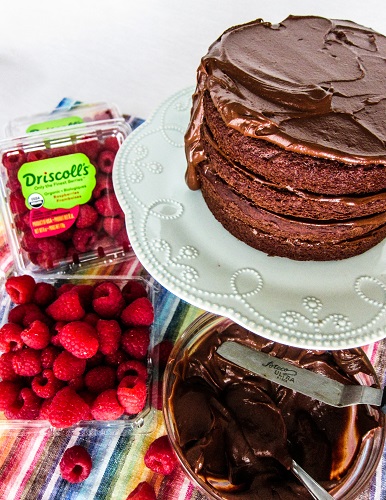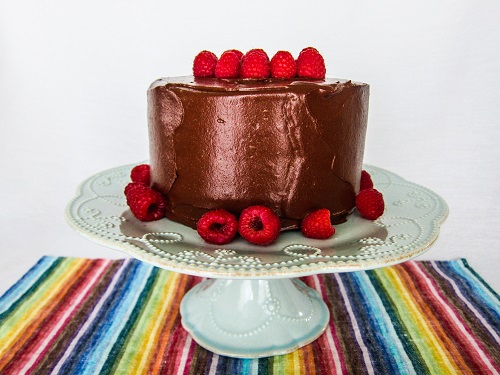 Driscoll's berries can dress up any dessert and make it feel special, which is why I used them in the delicious Dark Chocolate Raspberry Layer Cake  I recently made for my family.  You don't have to wait for a Birthday or anniversary to share good food with family, you can make any day special!  So I like to make something in the form of dessert often to enjoy with them. After all, there is nothing better than diving into a delicious cake filled with sweet jammy berries.  Many good conversations are had around the table while enjoying good dessert, at least at my house.  This cake had layers of rich chocolate cake sandwiched together with the fresh berries and a fudgy frosting to top it off.  It was simply heavenly.  What made it so good is the flavorful sweet berries.  Which is why it is important to choose a good brand like Driscoll's when shopping for organic berries.  My family loved this cake and I think you will too!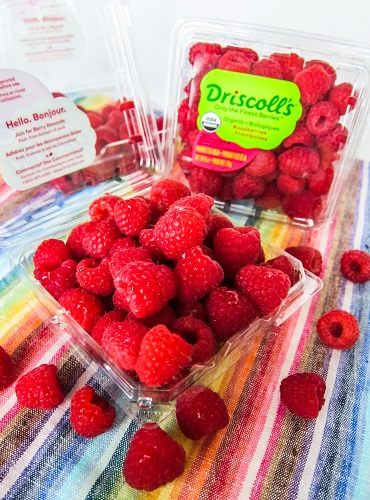 You know what I also think you will love?  An all expense paid trip to Madden's on Gull Lake in Minnesota though Driscoll's Berry Together Sweepstakes! Open exclusively for fellow Minnesota residents!  If you enter, it is a chance for yourself and 3 others to spend 4 nights at the resort, and who wouldn't want to, it is beautiful!  That is not your only chance to win though, four other people will win fresh Driscoll's berries for a year!  I don't know about you, but that would make me very happy.  So how do you enter to win?  You head over to the Driscoll's website HERE.  It is easy to enter, tell your friends too!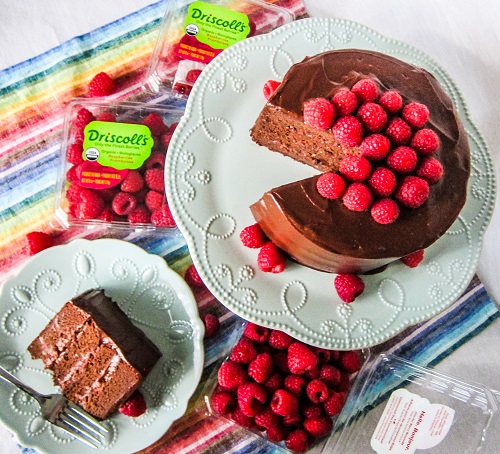 Thank you to Driscoll's and Feed Feed for sponsoring today's post! All opinions and views expressed are my own.
Vegan Dark Chocolate Raspberry Layer Cake
Makes one 4 layer 6 inch cake
Ingredients:
2 6 inch cake pans
Cake:
1 1/2 cups gluten free all purpose flour
1/4 cup unsweetened cocoa powder
1 1/2 tsp baking soda
1 tsp baking powder
1/2 tsp sea salt
1 1/4 cups packed soft medjool dates, pitted, soaked in filtered water for 30 minutes and drained before using
1/4 cup organic almond butter
2 cups filtered water
2 Tbsp apple cider vinegar
Raspberry Filling:
2 tsp maple syrup
pinch sea salt
Frosting:
1 1/4 cups mashed sweet potatoes*
1/2 cup maple syrup
1/3 cup organic almond butter
1/4 cup filtered water (or as needed)
1/2 cup unsweetened cocoa powder
1/4 tsp sea salt
Topping:
Directions:
Preheat the oven to 375F degrees and position rack in center of oven.
Oil two 6 inch round cake pans and line their bottoms with parchment paper.
Whisk flour, cocoa powder, baking powder, baking soda, sea salt in a large bowl to blend well.
Place dates, water, and almond butter into a blender, and blend until smooth, then whisk this blended mixture into the flour mixture until well blended. Whisk in the cider vinegar until bubbles form.
Pour the cake batter into prepared pans, and place in the oven.
Bake cakes until set and a toothpick inserted into the center comes out almost clean, about 25-30 minutes.  Remove from oven, let cool completely, the un-mold them onto two plates.
Slice cakes in half horizontally so that you have 4 layers. Set aside.
To make the raspberry filling, mash all ingredients together in a bowl with a fork until raspberries are the consistency of jam.  Set aside.
To make the frosting, combine all ingredients in a blender and blend until smooth (since yams may vary in moisture, if you think the frosting is a little too thick add a few Tbsp more water).  Set aside.
To assemble, place one cake layer on a plate, and spread a thin layer of frosting over it.  Then spread some of the raspberry filling over that (keeping it in the center of the cake and not more than 1/4 inch away from the sides).  Place the other cake layer over that, then spread more frosting, and berries over it like the last layer.  Repeat with another layer, and top off with last piece of cake.  Spread the remaining frosting on the top and down the sides of the cake.
Decorate the top of the cake with the fresh raspberries.
Serve!
*I like to roast my sweet potatoes in the oven. To do so, cut them in half, and place them cut side down on a parchment lined tray.  Roast at 400F degrees for about an hour or until they are tender.  Let cool before pureeing.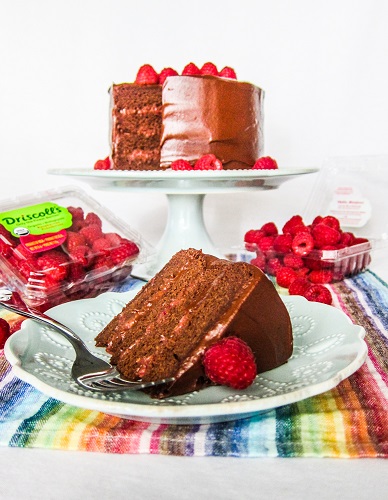 (Visited 752 times, 1 visits today)