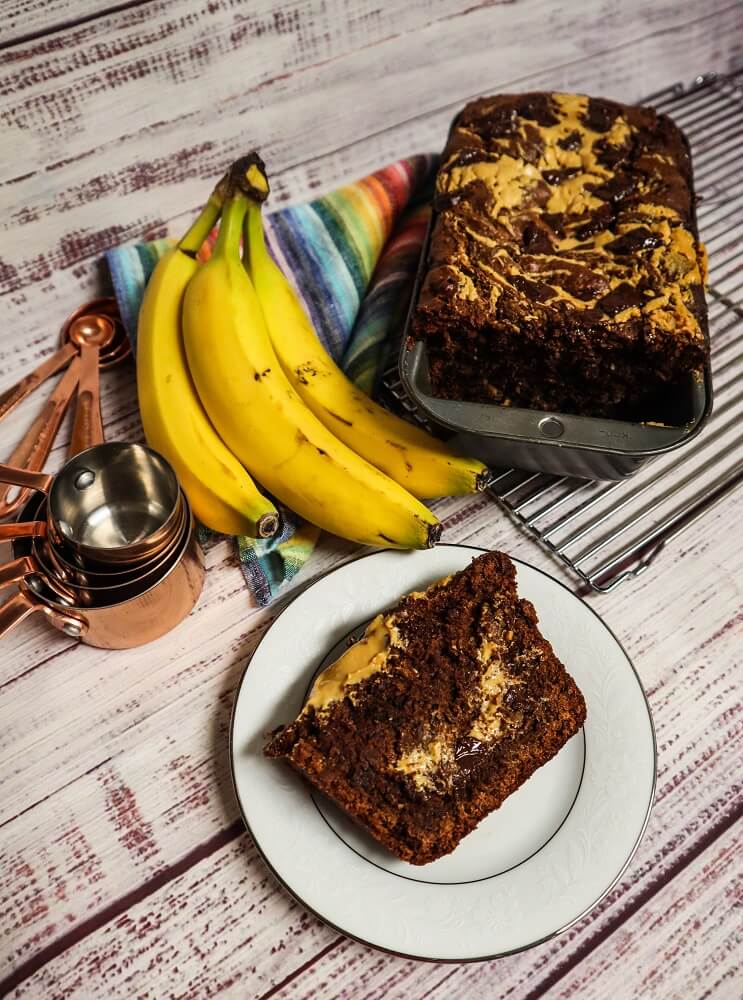 Vegan Dark Chocolate Peanut Butter Swirled Banana Bread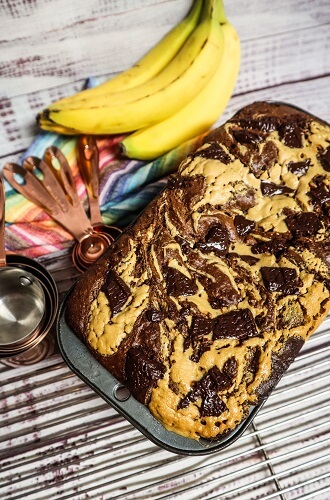 Banana bread was always one of my favorite baked goods growing up.  Whenever we had over ripe bananas on hand, my Mom would make my Grandma's banana bread recipe, and it was always so good. She would usually swap out the nuts for chocolate chips and that was my favorite way to enjoy it!  Now I like to switch up my recipes and try new things though, so last weekend when I decided that banana bread sounded good I made an extra delicious one.  Some dark chocolate peanut butter banana bread.  Ever since I finished off my Valentine's day peanut butter cups, I have been craving more PB and chocolate!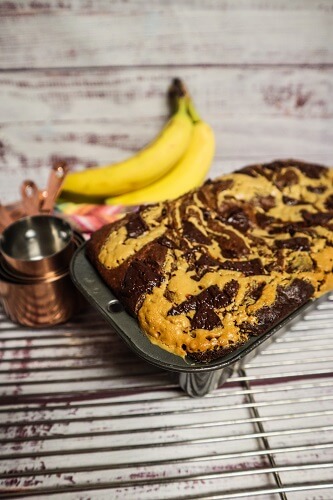 It was super easy to make too, which I appreciated since I wanted to spend a lot of time outside instead of just in the kitchen since the weather has been a lot nicer.  Before last weekend it was below freezing (and below zero a lot of days) for about 2 weeks, so it was hunker down weather.  Not anymore, but I enjoy coming back inside to enjoy delicious treats like this banana bread!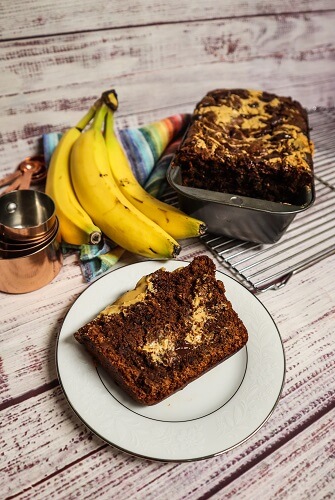 It actually contains no oil, since I use peanut butter in place of it for the richness in this recipe. The batter is amazing too even before baking!  Yes of course I had to taste it, wouldn't want to forget an important ingredient and I had to make sure the flavors were balanced.  I also had to lick the bowl though of course. I made the batter chocolate peanut butter, and also added dark chocolate chunks and peanut butter swirls to make this extra good.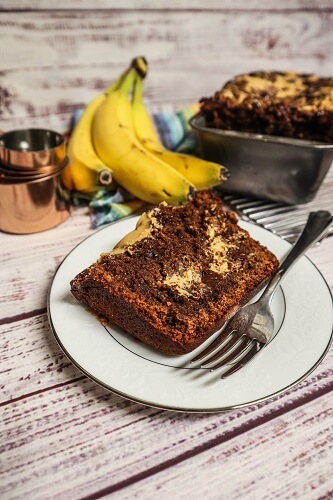 It smelled so heavenly while baking, I could not wait to try it!  Once it had finally cooled down enough to enjoy, I had to try a slice!  It was sooo good!  Moist and soft but light, with plenty of sweet banana flavor, rich dark chocolate and gooey chocolate chips so perfect with the smooth peanut butter!  This is not my Grandma's banana bread, but I know she would approve and love it if she were still around.  If you are a chocolate and peanut butter fan like me, definitely give this a try!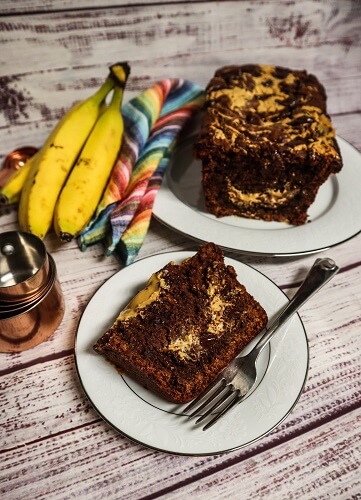 Vegan Dark Chocolate Peanut Butter Swirled Banana Bread 
Makes one loaf 
Ingredients:
1 cup coconut sugar
3/4 cup smooth peanut butter
1 cup mashed ripe organic bananas
1 ½ Tbsp ground flax seed mixed with 4 ½ Tbsp filtered water
1 ¼ cups organic whole wheat pastry flour
¼ cup cacao powder
½ tsp sea salt
½ tsp baking soda
1/8 tsp baking powder
¾ cup chopped vegan dark chocolate chips or chunks
1/2 cup smooth peanut butter
Instructions:
Preheat the oven to 350F degrees, and lightly oil an 8x4 inch loaf pan.
Whisk together the coconut sugar, peanut butter, banana and flax mixture in a large bowl.
Add the flour, cacao powder, sea salt, baking soda and baking powder and whisk until smooth.
Add the chocolate chips, and mix in until well distributed.
Pour half the batter into the prepared pan, then spoon half the peanut butter over it by the Tbsp.  Swirl with a knife. Pour the remaining batter over that, drop the remaining peanut butter over it, and swirl with a knife.
Place pan in the oven and bake for about 40 minutes or until a toothpick inserted into the center comes out almost clean with a few moist crumbs attached.
Let cool on a rack for at least 20 minutes before enjoying.
(Visited 623 times, 1 visits today)