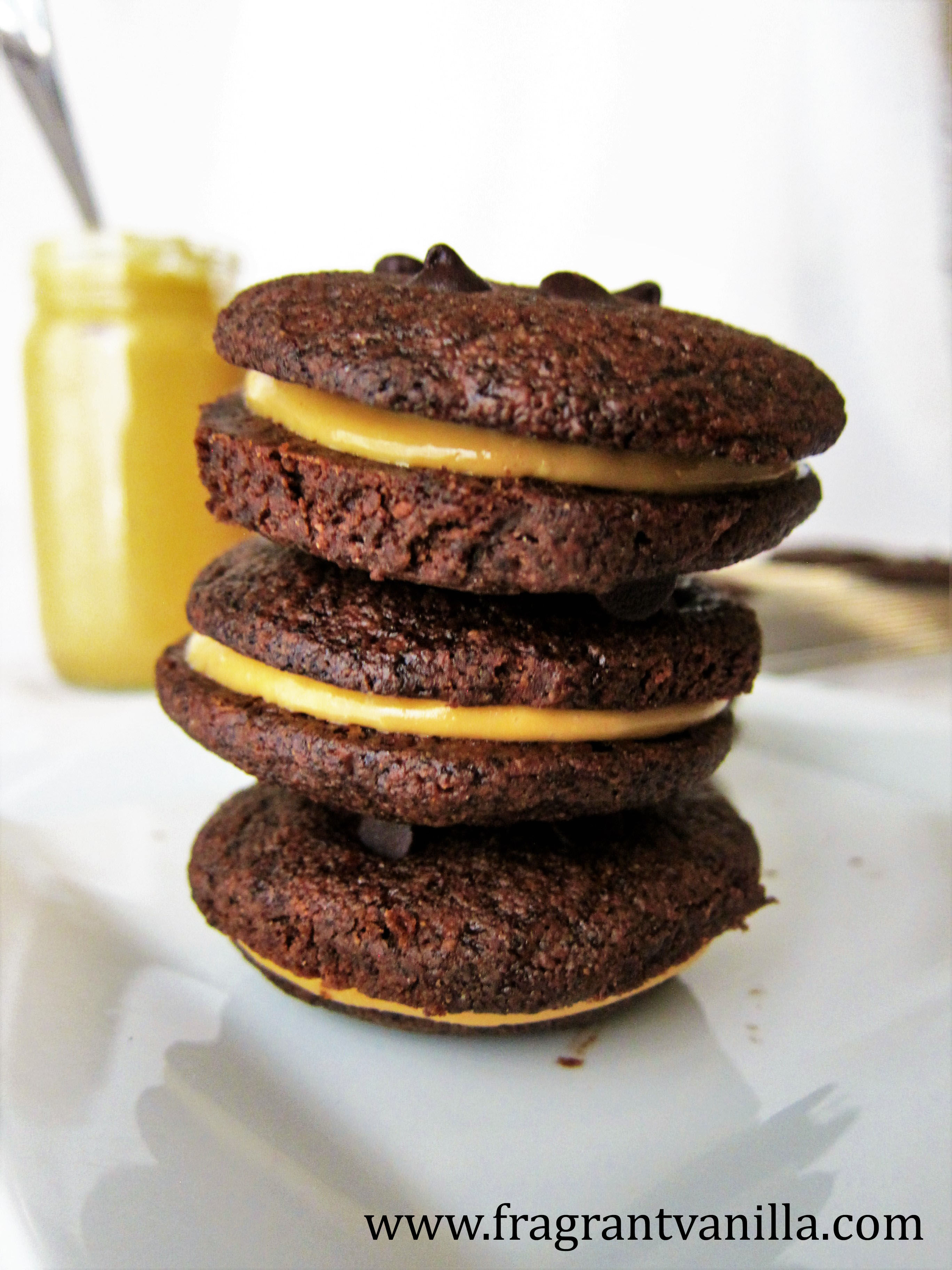 Vegan Dark Chocolate Peanut Butter Sandwich Cookies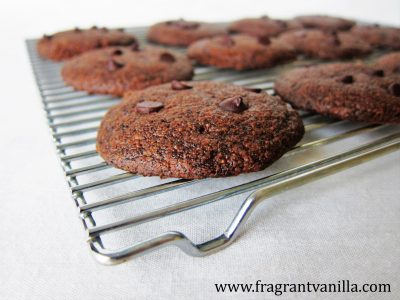 I am sure a lot of you might think I am crazy when I say this, but growing up, Oreos were never my favorite cookies.  Even as a kid, I could tell that they were not like my Grandma's delicious home made cookies.  Something tasted off about them.  I now know it is because there is artificial stuff and preservatives in them. If there was a buffet at a get together with cookies on plates, I always would seek out the home made items instead of the packaged ones.  Sorry Chips Ahoy, you didn't meet my standards either.  Anyways, that doesn't mean however I don't like sandwich cookies, I love them in fact, they just have to be home made!  I see all of these interesting new flavors of Oreos on the shelves at the store like birthday cake, mint, and peanut butter among others.  But the peanut butter particularly caught my eye.  Peanut butter Oreos could totally be home made!  So I decided that they were going to be my Monday project.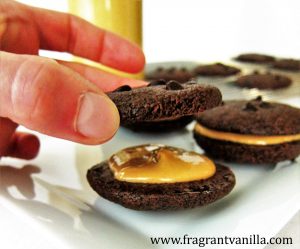 But, I didn't make cookies that were exactly like Oreos.  I made a veganized version of a dark chocolate cookie that used to be a favorite recipe of mine, and added peanut butter along with the coconut oil because why not?  Extra peanut butter never hurt anything.  I love peanut butter and could eat a whole jar if I could.  It is honestly one of my top 5 favorite foods. I added chocolate chips to the cookies as well to make them extra delicious.  The cookies baked up lovely, and there was even an extra one to try before slathering the peanut butter over them.  They had the texture of my Grandma's chocolate chip cookies but of course a chocolate base instead of vanilla.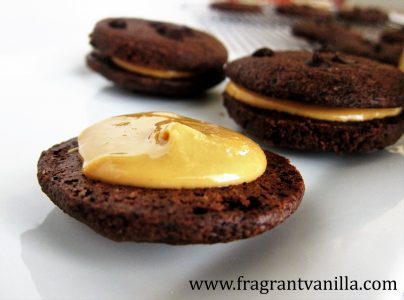 Once I sandwiched them together with the peanut butter they were simply heavenly!  Sooo much better than any Oreo could ever hope to be. I would even go as far as to say they were crave worthy. Then again, I am biased because chocolate and peanut butter is one of my top go to dessert combinations.  I could have hogged them all for myself, but I was nice and shared them with Eric because he is even more of a chocolate lover than I am.  If you are looking for a new recipe to make and are in the mood for something decadent, go for these.  They may be more work than going to the store and buying a pack of Oreos (yes, I know they are vegan), but they taste so much better and you will be so much  more satisfied and pleased with yourself if you make these.  I promise.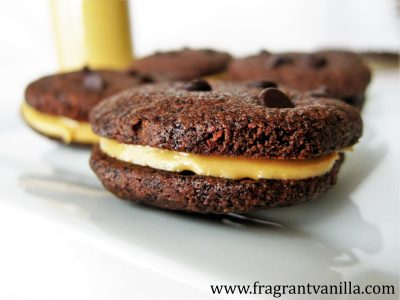 Vegan Dark Chocolate Peanut Butter Sandwich Cookies
Makes 12 sandwiches
Ingredients:
1 1/4 cups gluten free all purpose flour
1/3 cup unsweetened cocoa powder
1/2 tsp baking soda
1/2 cup coconut oil, softened but not liquid
3 Tbsp peanut butter
2/3 cup plus 1/4 cup maple sugar or coconut sugar
1 Tbsp pure vanilla extract
1/4 tsp sea salt
3/4 cup vegan chocolate chips
3/4 cup organic peanut butter
Directions:
Preheat oven to 350 degrees.  In a small bowl, whisk together flour, cocoa powder, and baking soda.
In a large bowl, beat together coconut oil, peanut butter, maple sugar, vanilla, and salt. Mix in dry ingredients until well combined, and then the chocolate until well incorporated.  Chill the dough slightly until it is not so sticky, about 15 minutes.
Scoop the dough into 1 Tbsp balls, and drop them onto a parchment lined cookie sheet. Place in the oven and bake for about 15-20 minutes until firm but not overbaked. Remove from the oven and let cool completely.
Flip half of the cookies over and spread about 1 Tbsp peanut butter over them (not spreading completely to the edges).  Top with the other cookies bottom side down to the peanut butter to form sandwiches.  Enjoy!
(Visited 203 times, 1 visits today)