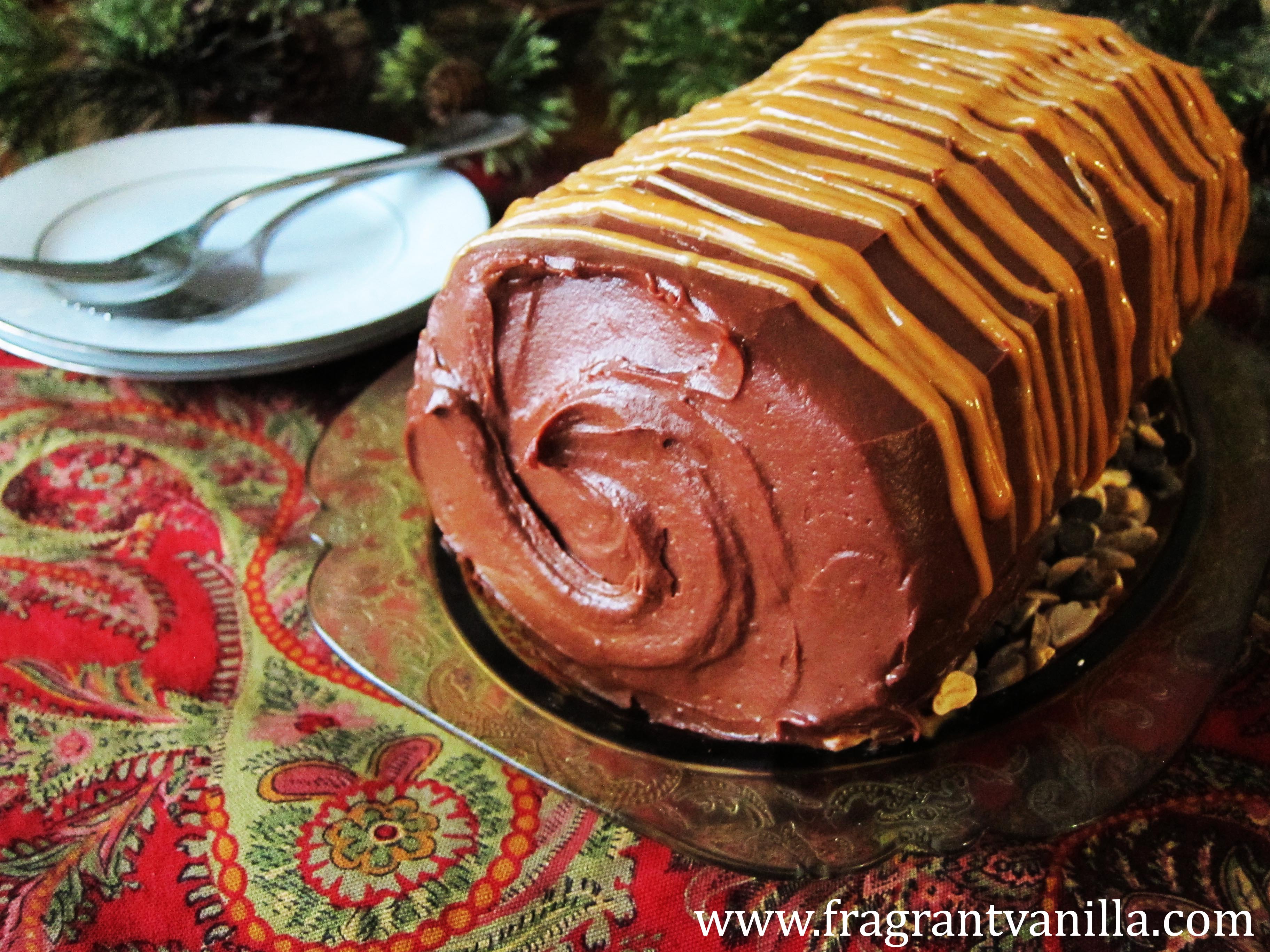 Vegan Dark Chocolate Peanut Butter Cake Roll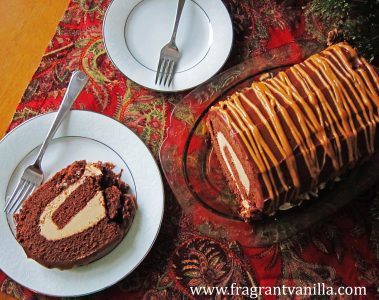 I hope you all had a wonderful Christmas!  I know I did, spending time with family enjoying good food and relaxing.  Despite the freezing rain on Christmas day, it was all in all a good Christmas!  This year for my dessert, I decided to make something that was traditional, yet non-traditional at the same time.  A yule log.  But, I am not calling it a yule log because I used a somewhat non-traditional flavor combination for Christmas in it.  Chocolate and peanut butter. Last year I made a chocolate yule log with chestnut cream, and it was wonderful!  But this year I thought chocolate and peanut butter sounded really good.  I can never resist that flavor combo, and I knew those that I shared with would appreciate it too!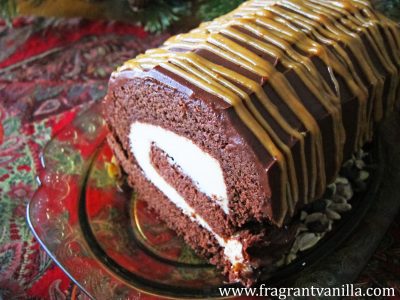 It was so yucky outside on Christmas day that I didn't even go out for my run, opting for the treadmill instead, so it was the perfect time to make this cake!  I made a decadent date sweetened cake which baked up beautifully.  It is actually oil free as well but tastes so rich you would never know.  I actually baked the cake part a day ahead of time to allow it to cool enough for me to assemble it (this is one of the tricks I often use to make it easier).  For the filling, I made a sweet, rich peanut butter cream that was so good I could have eaten it with a spoon. Lastly, it was topped off with a rich chocolate fudge frosting with a secret ingredient.  Japanese sweet potatoes.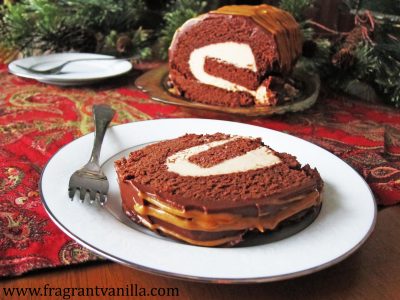 You do not notice that they are in there, but they add sweetness along with the dates, and make for a smooth fudgy frosting which doesn't need nearly as much nut butter.  Once the cocoa powder is added you would never know it is somewhat healthy!  Sooo luscious, sweet and gooey.  The cake rolled up nicely which is always a relief when making a dessert like this, since I always worry that it might fall apart when rolling.  But I have had good luck with all of the rolled cakes I have made thank goodness.  I think it is the moist nature of the cake that helps it not crack.  How did it taste?  Sooo good!  Talk about crave worthy!  I would not limit this cake to the Holidays, I would say you could serve it year round it being a favorite flavor combination and all!  Which is why I am sharing the recipe with you!  I hope you all had a wonderful Christmas!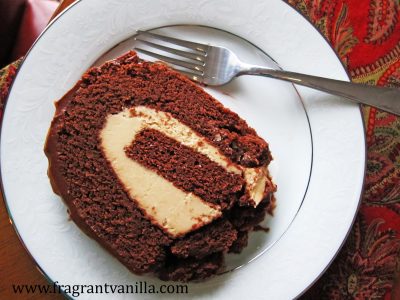 Vegan Dark Chocolate Peanut Butter Cake Roll
Makes one jelly roll style cake
Ingredients:
12 1/2 x 9 1/2 inch jellyroll pan
Cake:
1 1/2 cups Bob's Red Mill Gluten Free All Purpose Flour
1/4 cup cacao powder or unsweetened cocoa powder
1 1/2 tsp baking soda
1 tsp baking powder
1/2 tsp sea salt
1 cup packed soft medjool dates, pitted, soaked in water for 30 minutes and 1 cup of the water reserved
1/4 cup smooth organic peanut butter
2 tsp pure vanilla extract
1  cup filtered water
2 Tbsp apple cider vinegar
Filling:
1 15 oz can organic full fat coconut milk, chilled (the whole can)
1/2 cup organic peanut butter
1/4 cup plus 2 Tbsp raw coconut nectar or maple syrup
1/4  tsp sea salt
2 tsp pure vanilla extract
1/2 cup coconut butter, warmed to liquid
Frosting:
3/4 cup mashed Japanese sweet potatoes*
3/4 cup soft pitted medjool dates (soaked in water for 30 minutes and drained before using if not soft)
3 Tbsp organic peanut butter
3/4 cup filtered water
1/2 cup unsweetened cocoa powder
1 tsp pure vanilla extract
1/4 tsp sea salt
Directions:
Preheat the oven to 375F degrees and position rack in center of oven.
Line a 13 x 9 inch jellyroll pan with parchment paper.
Whisk flour, cocoa powder, baking powder, baking soda, sea salt in a large bowl to blend well.
Place dates, reserved water, peanut butter, water, and vanilla extract into a blender, and blend until smooth, then whisk this blended mixture into the flour mixture until well blended. Whisk in the cider vinegar until bubbles form.
Pour the cake batter onto prepared pan, and place in the oven.
Bake cake until set and a toothpick inserted into the center comes out almost clean, about 15-20 minutes.  Remove from oven, let cool completely.
Meanwhile, to make the filling, combine all ingredients but the coconut butter, in a high speed blender and blend until smooth.  With the motor running slowly, add the coconut butter and process a minute more (if it starts to get lumpy at all during the process it is just the fat separating because it is 2 different temperatures.  Just continue to blend until it is smooth, and it will get warm so it will just have to chill longer). Pour the frosting into a bowl and let sit in the freezer until the consistency of whipped cream, whisking every 15 minutes (this may take anywhere from 15 minutes to hour to an hour depending on how warm it has gotten).
Once the cream has chilled enough, spread over the top of the cake, then roll up jellyroll style starting with the short side and using the parchment to assist you in rolling.  Be careful because the cake is fragile, but if it cracks as you roll it no worries, keep rolling, you will be covering the outside in frosting anyhow.  Let chill in the freezer once rolled for a few hours.
To make the frosting, combine all ingredients in a blender and blend until smooth (adding water a little at a time if you think it is too thick).  Pour into a bowl.
Spread the frosting over the finished cake.
***If you want to make a rectangular layer cake and not a roll cake (which is easier), cut the cake into 3 rectangles, and stack them, frosting 2 of them with the filling, then frosting the outside with the frosting. Or, if you want to make a round layer cake, bake the cakes in 2 6 inch pans for about 25 minutes, then once the cakes are cooled completely, slice the cake layers in half horizontally, and fill the cake layers with the filling.
(Visited 334 times, 1 visits today)