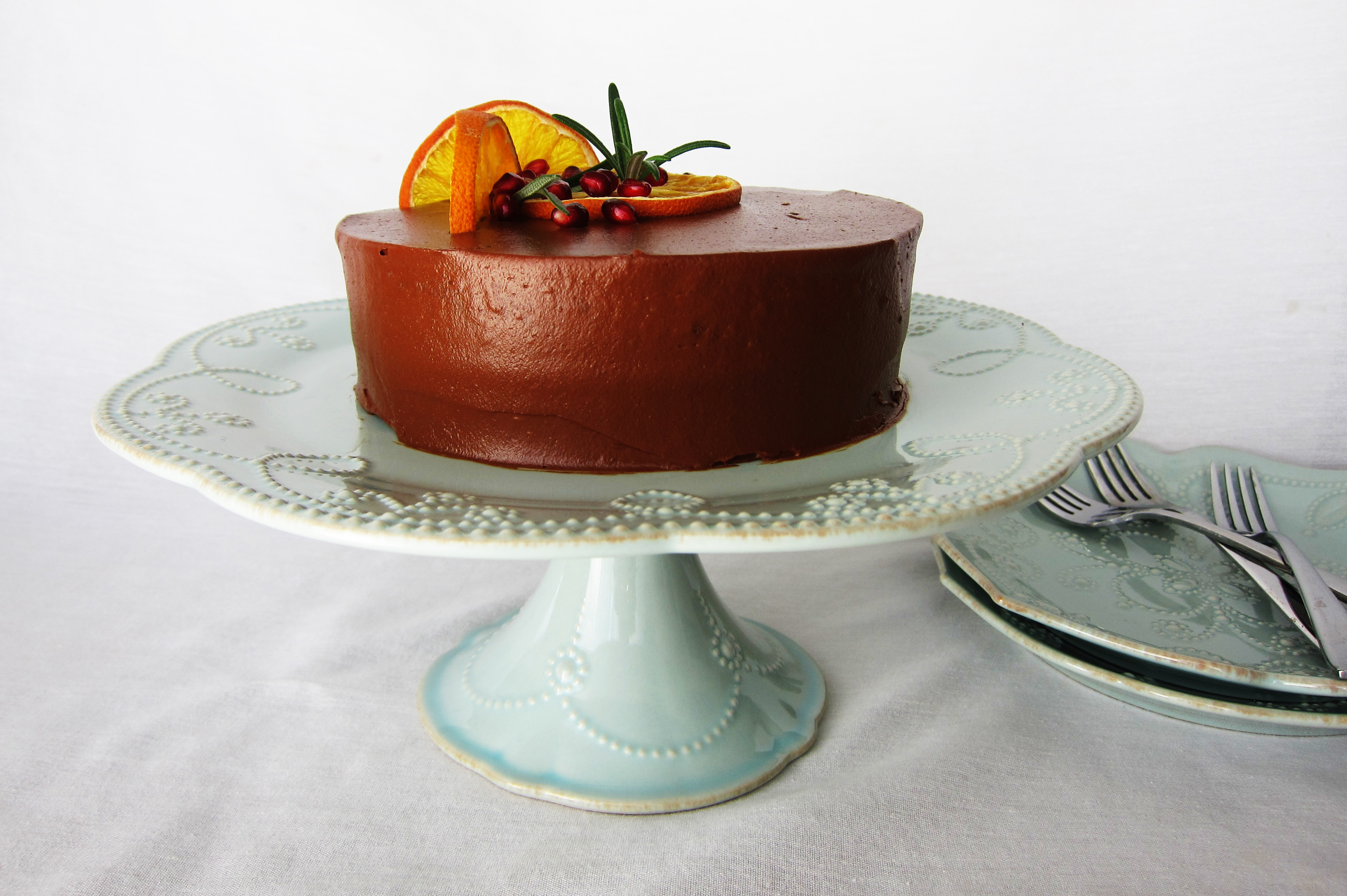 Vegan Dark Chocolate Orange Cake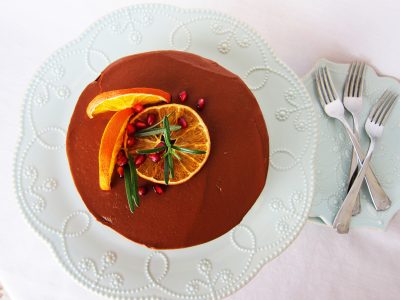 When I was little, one year I got a chocolate orange in my stocking.  If you have had one before, you know what I am talking about, but for those who don't it is a whole normal sized orange made out of chocolate that you whack on the counter to release the wedges.  The type of thing you could eat in one sitting if you are really craving chocolate if you are not careful.  It was delicious!  Ever since then I have appreciated the fact that chocolate and orange are a match made in heaven, especially in the Winter when citrus is plentiful.  Of course, I live in Minnesota where we have to have the citrus flown or driven in, since nothing grows here this time of the year, but I still enjoy it.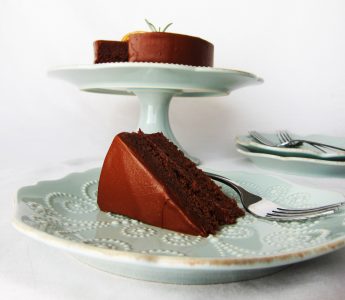 I decided last weekend that a chocolate orange cake sounded lovely.  I have never actually made one, so I gave it a go!  I wanted a classic chocolate layer cake with the aroma and flavor of orange.  Because you taste partly with your nose after all.  So, when I made the cake layers, I included plenty of orange zest.  If you have ever zested an orange, you know what I mean.  That amazing smell that fills your kitchen as you grate into the skin.  It is a happy smell.  I used my classic chocolate cake layers for this, the ones sweetened with dates and it worked perfect!  The batter tasted and smelled of orange, just as I had hoped and after it baked it none of the flavor was lost.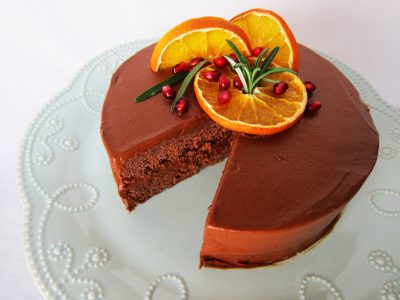 I frosted it with a fudgy chocolate frosting that you would swear was bad for you but it was actually pretty healthy!  I used sweet potatoes to replace some of the nut butter I usually use in my fudge frosting and it made it naturally sweeter without you even knowing they were in there!  It was honestly so good you would want to eat it with a spoon, but I resisted, because I wanted to have enough to frost the cake.  The cake was delicious once assembled!  Moist chocolate cake, gooey fudgy frosting and the aroma and flavor of orange! Sooo good!  This would be good all Winter while oranges are in season, so definitely put it on your to make list!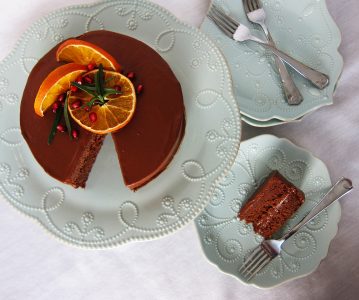 Vegan Dark Chocolate Orange Cake
Makes one 2 layer 6 inch cake
Ingredients:
2 6 inch cake pans
Cake:
1 1/2 cups Bob's Red Mill Gluten Free All Purpose Flour
1/4 cup cacao powder or unsweetened cocoa powder
1 1/2 tsp baking soda
1 tsp baking powder
1/2 tsp sea salt
1 cup packed soft medjool dates, pitted, soaked in water for 30 minutes and 1 cup of the water reserved
1/4 cup raw pecan butter (or almond butter)
2 tsp pure vanilla extract
2 Tbsp organic orange zest
1  cup orange juice
2 Tbsp apple cider vinegar
Frosting:
3/4 cup mashed sweet potatoes*
3/4 cup soft pitted medjool dates (soaked in water for 30 minutes and drained before using if not soft)
3 Tbsp raw pecan butter (or almond butter)
3/4 cup orange juice (plus filtered water as needed)
1/2 cup unsweetened cocoa powder
1 tsp pure vanilla extract
1/4 tsp sea salt
Directions:
Preheat the oven to 375F degrees and position rack in center of oven.
Oil two 6 inch round cake pan with coconut oil and line the bottom with parchment.
Whisk flour, cocoa powder, baking powder, baking soda, sea salt in a large bowl to blend well.
Place dates, reserved water, pecan butter, orange juice and zest, and vanilla extract into a blender, and blend until smooth, then whisk this blended mixture into the flour mixture until well blended. Whisk in the cider vinegar until bubbles form.
Pour the cake batter into prepared pans, and place in the oven.
Bake cakes until set and a toothpick inserted into the center comes out almost clean, about 25-30 minutes.  Remove from oven, let cool completely, then unmold onto a plate.
To make the frosting, combine all ingredients in a blender and blend until smooth (adding water a little at a time if you think it is too thick).  Pour into a bowl.
To frost the cake, place one layer on a plate, and spread with about 3/4 cup of the frosting.  Top with the next cake layer, and spread the frosting over the top and down the sides of the cake.  Serve!
*I like to roast my sweet potatoes (just prick with a fork to release steam) in a 400F degree oven set on a sheet pan for about an hour until softened.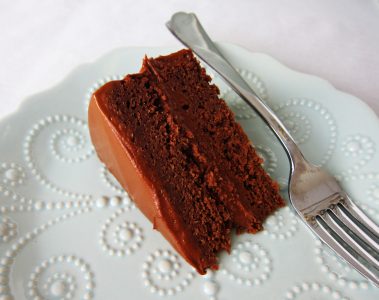 (Visited 653 times, 1 visits today)