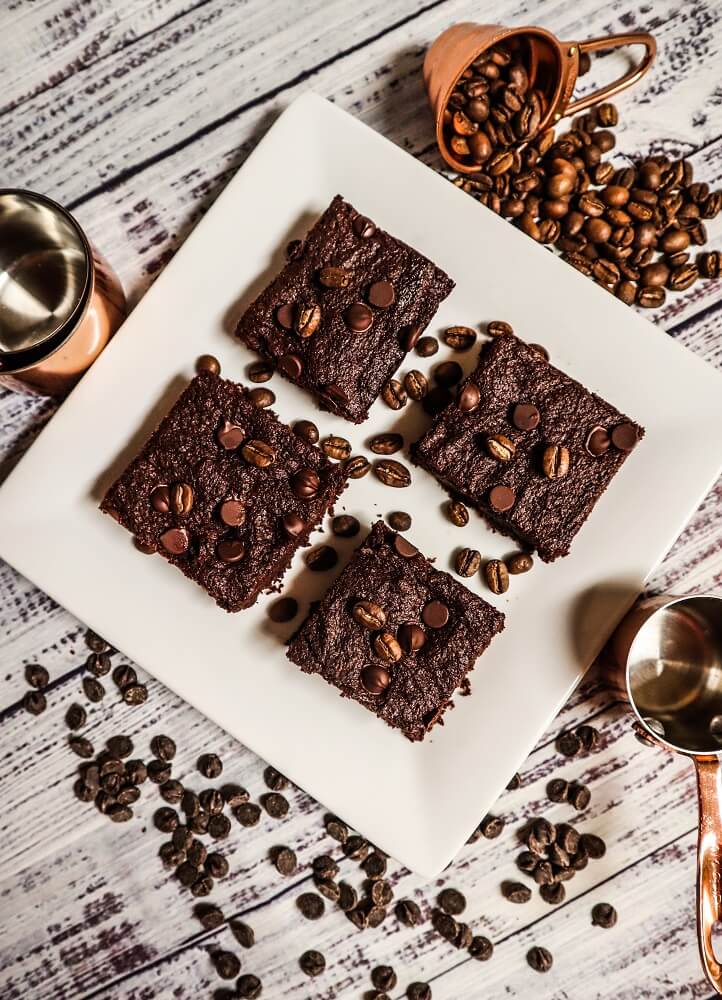 Vegan Dark Chocolate Mocha Brownies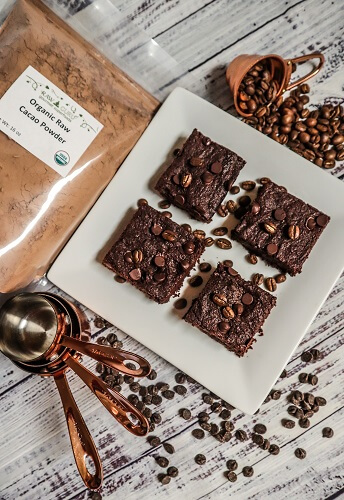 Nobody can be in a bad mood while baking brownies.  Which is why when I am feeling a bit out of sorts, I like to bake some.  Which is exactly what I did a few days back after work, because I needed a nice little pick me up. Plus they just sounded good. I have been in a bit of a chocolate mood lately.  Just being in the kitchen with that heavenly aroma radiating from the oven makes me happy.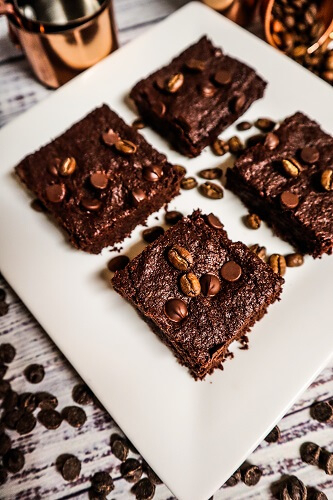 Raw Guru recently sent me a big container of their raw cacao powder and coconut sugar, so it was the perfect thing to make!  Some chocolate inspiration to get me going. I recently upgraded my brownie game, melting dark chocolate into the batter along with the other wet ingredients because it gives the brownies that fudgy texture that I love.  Get out of here with those cakey dry ones, I am not a fan of those at all. No, my brownies have to be rich, decadent and fudgy!  Plus I love those middle pieces with the most fudge above all else!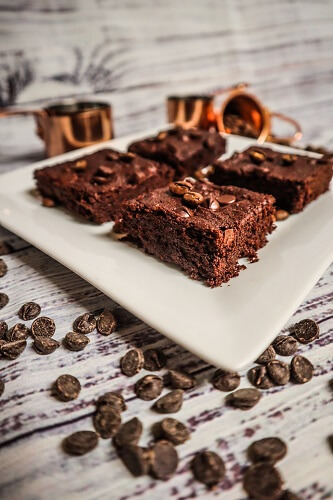 These are simple to make, once you take care of melting the chocolate and adding it to them, the rest just gets all mixed together.  I thought about making these plain classic brownies, but I decided that a hint of coffee would be heavenly in them, so I added that in as well, and it made the chocolate even more intense. Funny thing is, I didn't drink coffee for years, but just last year I fell back in love with it and now I am adding it to lots of stuff.  Oat milk lattes are my hot drink of choice lately!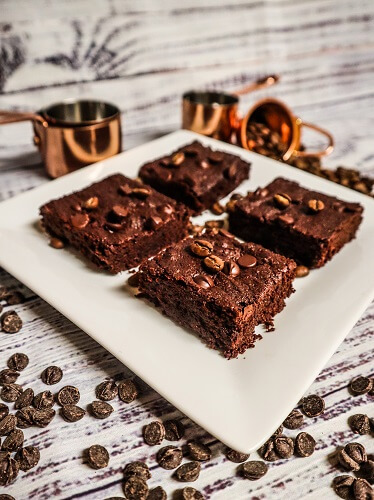 As much as I would have liked to have just dove into the pan of brownies soon after they came out of the oven (and I usually would) I had to wait for them to cool, because they may be delicious while still warm, but they are not very pretty then when you try to get them out of the pan, and I needed to take some pics for you all!  They turned out super delicious!  Nice and fudgy, rich chocolate flavor and that little hint of coffee!  If you are in a chocolate mood like I have been, definitely give them a try!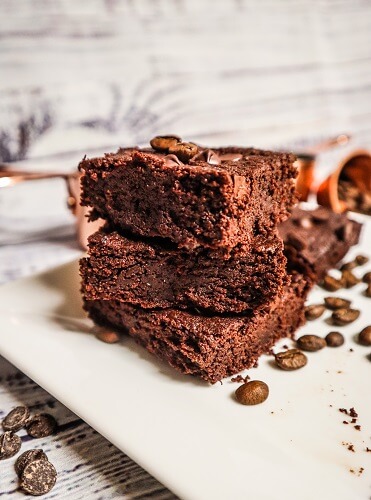 Vegan Dark Chocolate Mocha Brownies
Makes 16 brownies
Ingredients:
2 Tbsp ground flax seed mixed with 1/4 cup plus 2 Tbsp filtered water (allowed to sit 15 minutes to gel before using)
7 oz vegan dark chocolate (about 1 1/4 cups chopped chocolate or chips)
1 cup Raw Guru coconut sugar*
1/4 tsp sea salt
1/4 cup coconut oil, warmed to liquid
1/4 cup plus 2 Tbsp avocado oil or olive oil*
2 Tbsp Raw Guru cacao powder or unsweetened cocoa powder
2 Tbsp strong brewed coffee
2/3 cup organic whole wheat pastry flour *
3/4 cup vegan dark chocolate chips
Instructions:
Preheat the oven to 350F degrees, and line an 8x8 inch square pan with parchment at the bottom.
In a smaller bowl, whisk together the flax and water, and allow to sit for 10 minutes.
Meanwhile, melt the chocolate in the top of a double boiler, until it is smooth.  Set aside.
In a large bowl, combine the sugar, salt and oils, and whisk together until well combined, then add the flax and water mixture and whisk until blended.
Add the cacao powder, coffee and melted chocolate and whisk until smooth and well blended.
Add the flour and whisk until completely blended (if you don't mix well it could separate).  Stir in the chocolate chips.
Pour into the prepared pan, smoothing the top.
Place in the oven, on the center rack, and bake for 30 minutes until the brownies are set (but do not overbake).
Remove from the oven and let cool completely before cutting into 16 bars.
Brownies keep for up to 1 week in an airtight container on the counter, or 2 weeks refrigerated.  They can be frozen for up to 4 months.
*Notes:
*If you would prefer to use granulated sugar that would work as well in this recipe.
*If you would like to just use one type of oil in this recipe, you can use additional coconut oil instead of the avocado, just keep in  mind the brownies may be a little bit more hard at room temperature or at cooler temps.
*If you would like to make these gluten free, you can use Bob's Red Mill gluten free all purpose baking flour in place of the whole wheat pastry flour.  I have tried this brand and know it works well when used in brownies.
(Visited 706 times, 1 visits today)