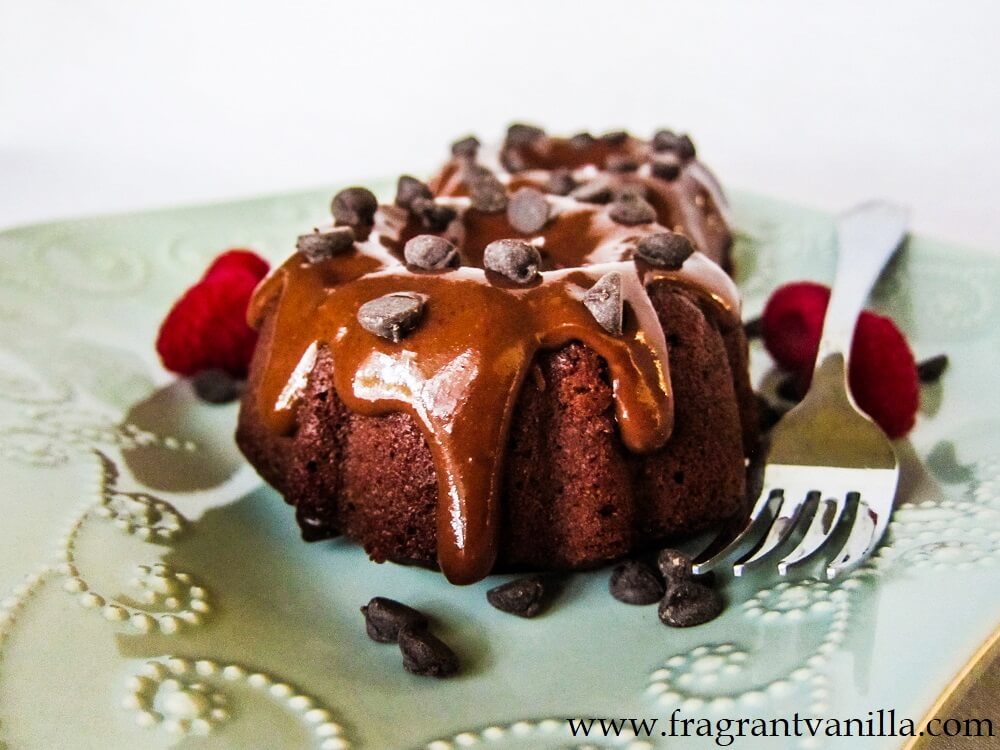 Vegan Dark Chocolate Mini Bundt Cakes
Last week was really kind of stressful for me, between being super short handed at work, and just being super busy. I felt like I was just mentally tired, physically tired, emotionally tired and I needed a hot bath, and a glass of wine, and a massage, and to sit and watch movies, or maybe all of it.  So, all I wanted for the weekend was for it to be relaxing and enjoyable.  I think I managed that pretty well, Eric biked with me on my long run on Sunday (which is my Saturday since I work on Saturday), and then we headed down to our favorite part of Minneapolis for a long walk outdoors and sunshine, and met up with my Dad for dinner.  Afterwards all I wanted to do was watch a movie and eat chocolate cake.  Some chocolate cake I had made on Saturday night in an attempt to unwind and relax after work. I just wanted a rich chocolate cake for some reason.  That is what I was craving.  Even though I usually go for the vanilla stuff first.  What I did not want was to make a complicated chocolate cake with lots of steps.  So I went for some simple dark chocolate bundt cakes.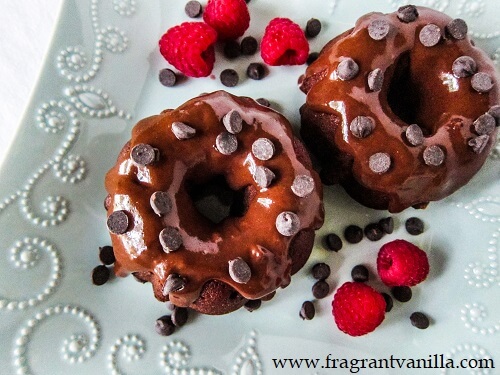 I started off with a date-sweetened chocolate cake batter, because it comes out super moist and delicious but not heavy when baked just the right amount of time.  It tasted wonderful even before baking.  Yes, I always taste my cake batter, or dough, or whatever I am making.  Not just because I am a pig sometimes, but because I have prevented myself from making mistakes that way.  Case and point, I was making some pie dough last week, and I grabbed a container of salt instead of xylitol and ended up adding it to the batter.  Needless to say that dough was super salty and disgusting and got tossed.  But I didn't waste my pie filling and more time because I had tasted it.  Sometimes you just have to laugh at yourself when stuff like that happens.  But luckily this chocolate cake batter was perfect.  I folded in some chocolate chips to make it extra decadent at the last minute.
It baked up quickly, in about 15 minutes and it smelled like brownies.  That aroma makes me happy.  I decided to glaze the cakes with a quick and easy simple chocolate fudge.  It was the perfect addition!  Man were they good.  And I say they, because I had more than one.  If you are craving chocolate cake but don't want to go through a whole lot of work, give these a try.  If you don't have a bundt pan, you may use mugs instead. Eric loved the cake as well, wishing there had been more.  Well, there would have been if I hadn't eaten them.  I hope you all have a wonderful stress free week, and if not, there is always this chocolate cake!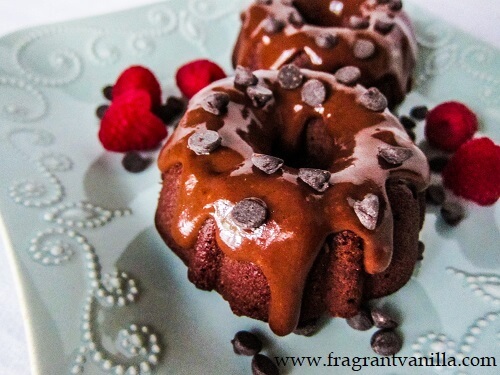 Vegan Dark Chocolate Mini Bundt Cakes
Makes four mini bundt cakes
Ingredients:
Cake:
2 Tbsp cacao powder or unsweetened cocoa powder
1/2 plus 1/4 tsp baking soda
1/2 tsp baking powder
1/4 tsp sea salt
2/3 cup packed soft medjool dates, pitted, soaked in water for 30 minutes and drained
2 Tbsp almond butter
1 tsp pure vanilla extract
1 cup filtered water
1 Tbsp apple cider vinegar
1/2 cup vegan chocolate chips
Fudge Glaze:
3 Tbsp almond butter
1 Tbsp maple syrup
1 Tbsp Tbsp cacao powder or unsweetened cocoa powder
3-4 Tbsp filtered water or as needed
pinch sea salt
Directions:
Preheat the oven to 375F degrees and position rack in center of oven.
Oil a four hole mini bundt pan with avocado oil (or another oil that you prefer or have on hand).
Whisk flour, cocoa powder, baking powder, baking soda, sea salt in a large bowl to blend well.
Place dates, water, almond butter, and vanilla extract into a blender, and blend until smooth, then whisk this blended mixture into the flour mixture until well blended. Whisk in the cider vinegar until bubbles form.
Fold in chocolate chips.
Pour the cake batter into prepared pans, and place in the oven.
Bake cakes until set and a toothpick inserted into the center comes out almost clean, about 15 minutes.
Remove from oven, let cool completely, the un-mold them onto a plate or cooling rack.
Whisk together the fudge glaze ingredients until smooth (adding a little more water if too thick), then spoon over the cakes and let it drip down the sides. Enjoy!
(Visited 835 times, 1 visits today)