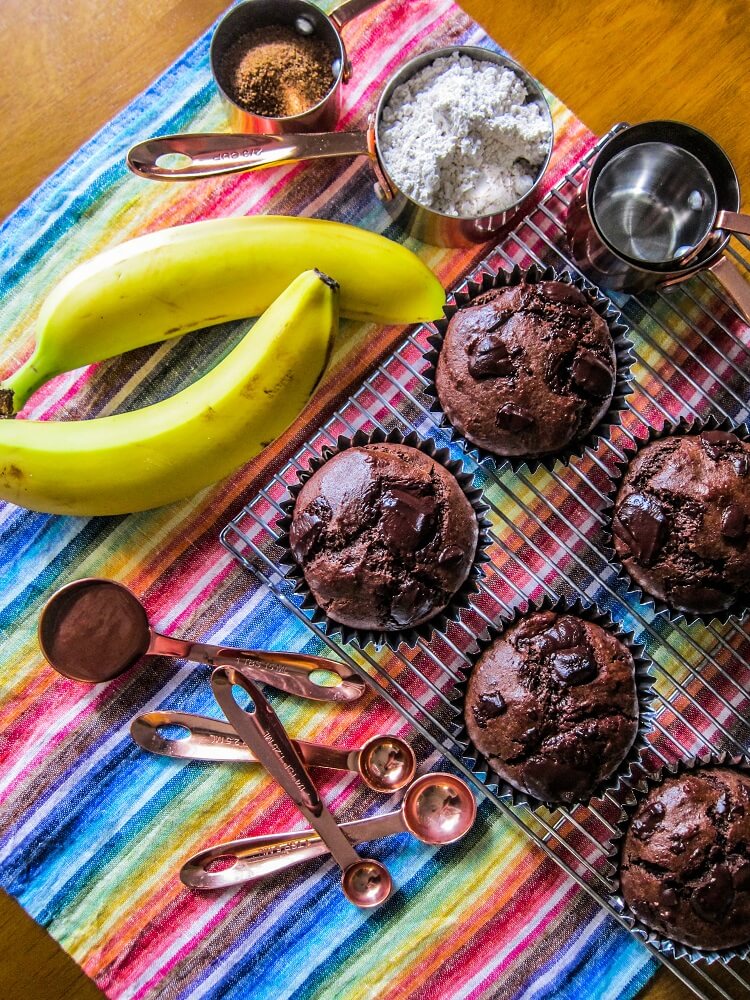 Vegan Dark Chocolate Hazelnut Banana Muffins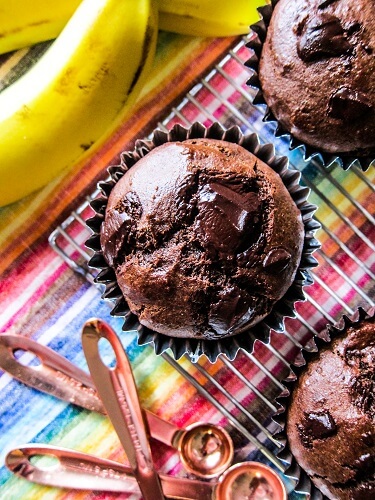 Last weekend we took a trip up north to Duluth and we had to stop at a couple of gas stations along the way. I don't usually pay attention to much in a gas station besides where the bathroom is on a road trip, but while I was in there some giant muffins caught my eye. They brought back memories of when I was younger and I used to go to the gas station with my Dad and beg him to buy me muffins and doughnuts. I loved those giant muffins! So, I said to myself as I was standing there, I need to make some muffins
soon. So, I made some later in the week. Raw Guru had recently sent me some Rawmio Hazelnut Chocolate Spread some of the most heavenly stuff ever, and rather than just eat it with a spoon like I usually do, I decided that it would be awesome in the muffins.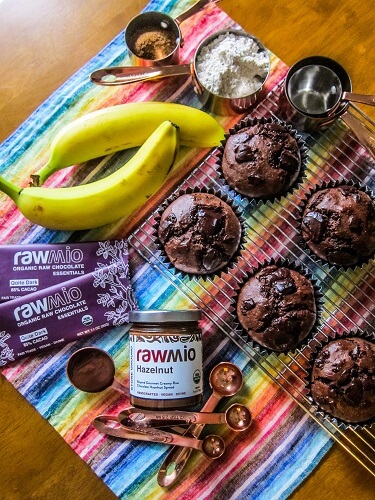 I was just going to make some chocolate hazelnut muffins, but since I had some bananas on hand, I decided that banana muffins sounded equally as delicious and I added those in there too. Plus, bananas give things a nice moist soft texture which is perfect in muffins! These were really simple and easy to make too, so perfect for when you don't have a lot of time, but still want to enjoy something delicious and sweet!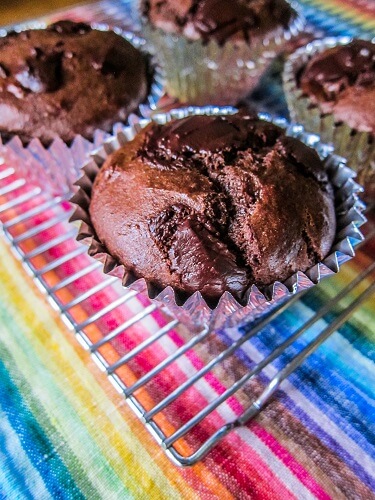 They actually happen to be oil free, because the bananas provide plenty of moisture and the nut butter provides a bit of richness. The batter was super delicious. Yes, I tested it and yes, I licked the bowl clean after I was done scooping the batter into the tins. It was even more delicious with the chocolate chunks I stirred into it. I just took some Rawmio dark chocolate bars and chopped those up and added them. Because one can never have too much chocolate in a chocolate dessert!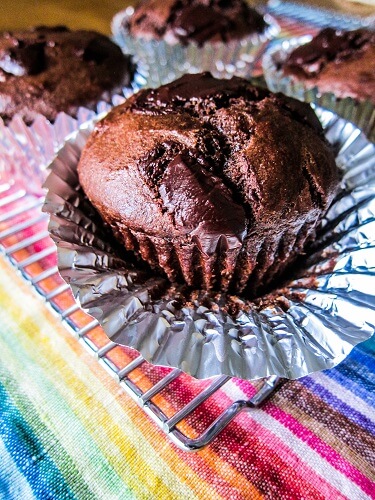 The muffins baked up beautifully! Nice and domed on top. I hate flat muffins. The muffin tops are the best part after all, and when they are flat there is no top! Also, I hate when I bake them and then they fall and they are all sunken. These ones maintained their height even as they cooled. I had to try one while they were still a little warm because those gooey chocolate chips in the sweet muffin batter make it even better. They were super delicious! They had a moist, light crumb, plenty of chocolate flavor and a hint of hazelnut and banana! If you are in the mood for something chocolaty, give these a try!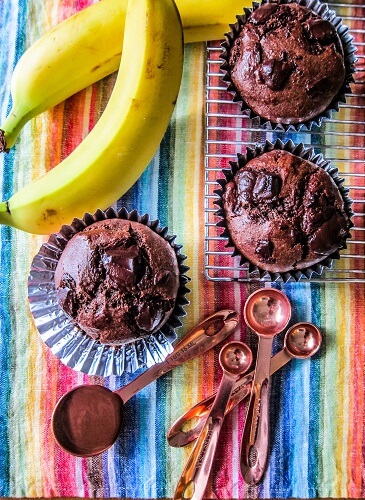 Vegan Dark Chocolate Hazelnut Banana Muffins
Makes 12
Ingredients:
1 cup coconut sugar
3/4 cup Rawmio chocolate hazelnut spread (or hazelnut butter)
1 cup mashed ripe organic bananas
1 ½ Tbsp ground flax seed mixed with 4 ½ Tbsp filtered water
1 ¼ cups organic whole wheat pastry flour
¼ cup cacao powder
½ tsp sea salt
½ tsp baking soda
1/8 tsp baking powder
¾ cup chopped Rawmio Essentials dark chocolate or vegan dark chocolate chips or chunks
Instructions:
Preheat the oven to 350F degrees, and line 12 muffin tins with liners.
Whisk together the coconut sugar, rawmio chocolate spread, banana and flax mixture in a large
bowl.
Add the flour, cacao powder, sea salt, baking soda and baking powder and whisk until smooth.
Add the chocolate chips, and mix in until well distributed.
Spoon into the muffin tins.
Place in the oven and bake for about 25 minutes or until a toothpick inserted into the center
comes out almost clean with a few moist crumbs attached.
Let cool on a rack for at least 20 minutes before enjoying.
(Visited 971 times, 1 visits today)