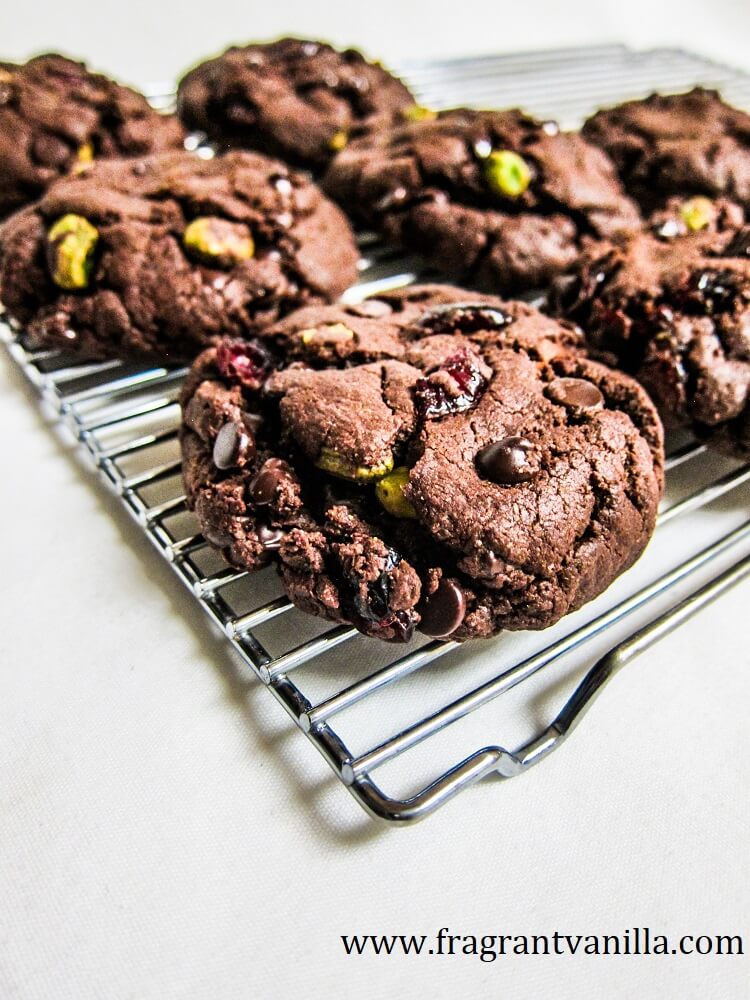 Vegan Dark Chocolate Cranberry Pistachio Brownie Cookies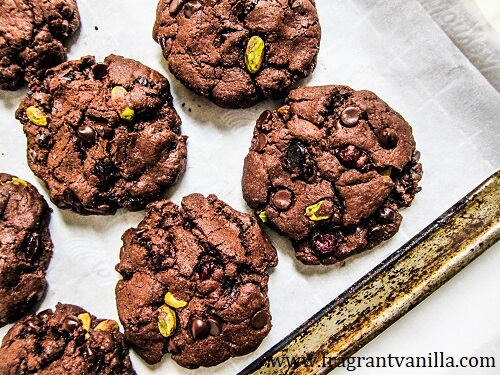 Making Christmas cookies with my Mom when I was little was one of my favorite parts of the Holidays.  We would have the old family favorites like the pfeffernusse cookies, or my Grandma's sugar cookie recipe (which was the most delicious I had ever tasted), or the pecan tassies, which were my Mom's favorite.  But often times we would try new ones as well.  We would check out cookbooks at the library filled with cookie recipes, or browse through old ones we had at home and find something exciting and new.  Some of the new cookie recipes were not so good or didn't turn out sometimes, so we never made them again. But other times they turned out awesome and we decided to add them to our list of things to make for the next year.  A couple of Martha Stewart's cookie recipes stuck, like her gingerbread and cranberry noels (which were little butter cookies with cranberries and pecans).  I still love trying new cookie recipes around the holidays, and there are just a few I make every year, like peanut blossoms, and molasses spice cookies, because those two are my favorites.  But now, instead of browsing cookbooks for new cookie ideas I come up with ideas in my head and then try to make them.  They usually turn out, and those are the ones I share with you.  I too have flops sometimes though that end up in the garbage and it makes me sad because I hate wasting ingredients, but I don't want to eat something that isn't good.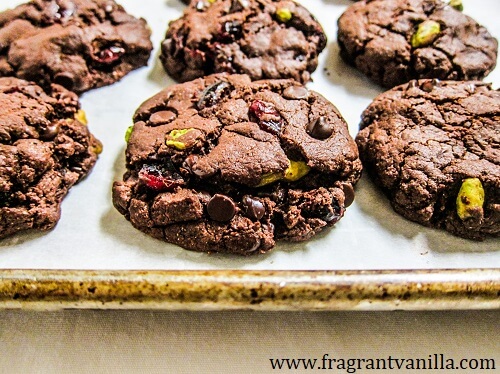 Well, luckily that hasn't happened to me for a while, and the cookies I made a few days back were a big success!  I always like to make something chocolaty too, so I decided to make some Vegan Dark Chocolate Pistachio Brownie Cookies!  They are like chocolate chocolate chip cookies basically, so soft and delicious, but a little crispy at the edges and definitely decadent.  I call them brownie cookies, because they taste like brownies, and if you don't over-bake them they have sort of a brownie like texture.  This dough contains plenty of cacao powder so it is intense and rich.  I sweetened it with coconut sugar and it gave it almost a caramel flavor too.  I stirred in dark chocolate chips too because I can not resist warm cookies with gooey chocolate chips.  But let me tell you the dough was delicious even before I baked them, and eating cookie dough is the best part of baking cookies as far as I am concerned.  Eating the warm cookies is second best.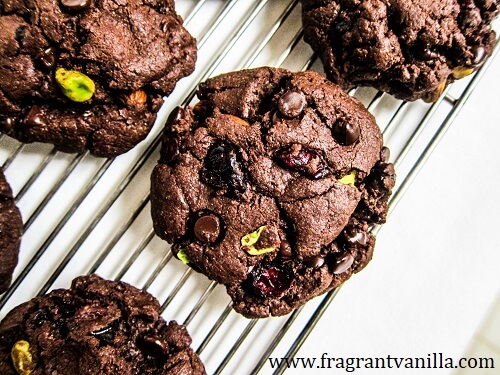 My kitchen smelled amazing while these baked, like the aroma of brownies or chocolate cake. It is such a happy smell!  These cookies are really easy to make, and in fact it took me only about 30 minutes to make them from start to finish not including cooling time.  Not that I let them cool long, because they are so good warm. These would make a great edible gift for anyone that loves chocolate, or as part of a Holiday cookie tray.  I hope you are all having a wonderful holiday season, and getting to enjoy baking some delicious things.  And, of course I hope you try out these cookies!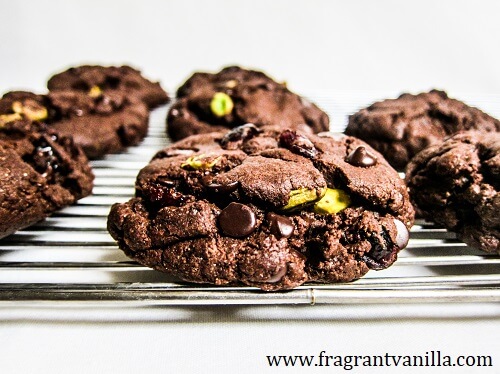 Vegan Dark Chocolate Cranberry Pistachio Brownie Cookies
Makes 2 dozen cookies
Ingredients:
2 Tbsp ground flax seed
1/4 cup plus 2 Tbsp filtered water
1 cup virgin coconut oil, warmed to liquid
1 1/2 cups coconut sugar
1 teaspoon vanilla extract
1 cup cacao powder
1 teaspoon baking soda
1/2 teaspoon sea salt
2 1/2 cups all purpose gluten free flour
1/2 cup pistachios
1/2 cup dried cranberries
Instructions:
In a small bowl, whisk together the flax seed and filtered water.
Meanwhile, in a large bowl, coconut oil with sugar and mix until well combined.
Mix in the vanilla extract and flax mixture until well combined.
Add the cacao powder, baking soda and salt then the flour, a cup at a time, mixing between each addition, until well combined.
Mix in the pistachios, cranberries, chocolate chunks.
To bake, Preheat your oven to 350 degrees. Line 2 large baking sheets with parchment paper. Roll balls into about 1 inch balls, and place on prepared cookie sheets a couple inches apart. Bake for about 10-12 minutes, until puffed and just starting to brown slightly.  Remove from the oven and let cool on the pan a few minutes, then remove to a wire rack to cool.  Repeat with remaining cookies and let cool completely.
(Visited 3,109 times, 1 visits today)