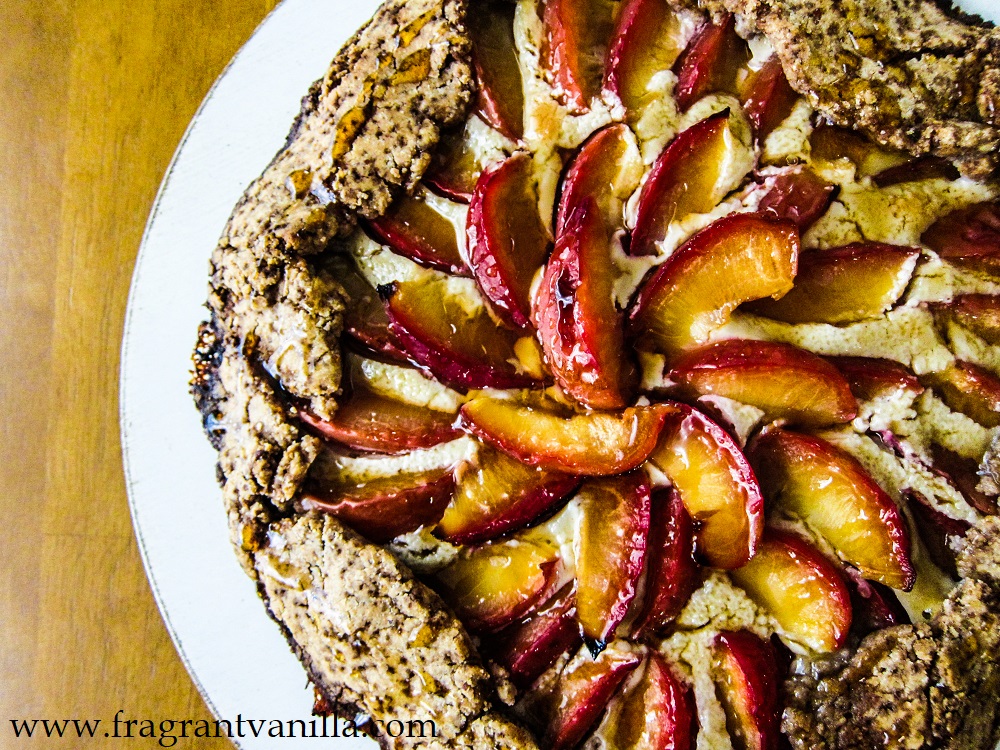 Vegan Cream Cheese Plum Galette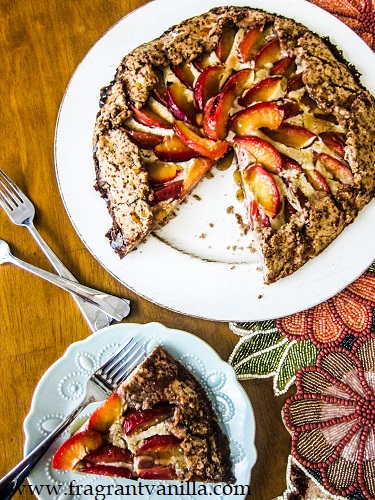 I love making (and eating mostly) fruit pies, but I am also lazy at times.  Don't get me wrong, I am a really hard worker when it comes to running, or work or things I said I would do for other people, but when it comes to pie, and it is a weeknight, I will make it easier if I can in any way.  That is where the galette comes on.  The lazy baker's pie.  It has all the flavors of the pie, and the good crust and filling, but it is so much less fussy than a double crust pie.  Also, if pie intimidates you, it is a good thing to start off with.  I only wanted to deal with one crust that night last week so it was perfect!  I had bought some lovely little red plums at the store and this would be the perfect use for them.  I could slice them thinly and arrange them on the galette in a pretty fashion.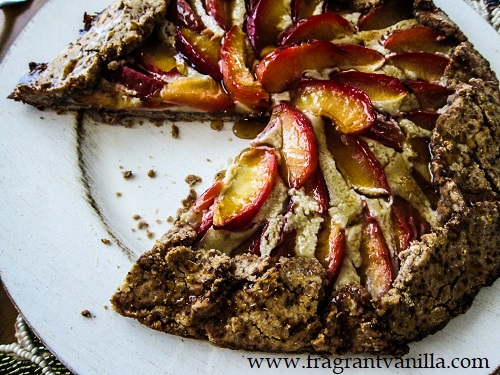 I always have to have a rich creamy element when it comes to pie too, whether it be serving it with coconut whipped cream or ice cream, or including it in the actual pie, like in the form of vegan cream cheese.  I went with the vegan cream cheese for this one.  It is just irresistible to have a layer of cream cheese along with the fruit and rich crust! For the crust, I included hazelnut meal because it makes it so good!  Trust me, I make all of my crusts with a little nut flour now because it is more melt in your mouth delicious especially when it comes to gluten free baked goods.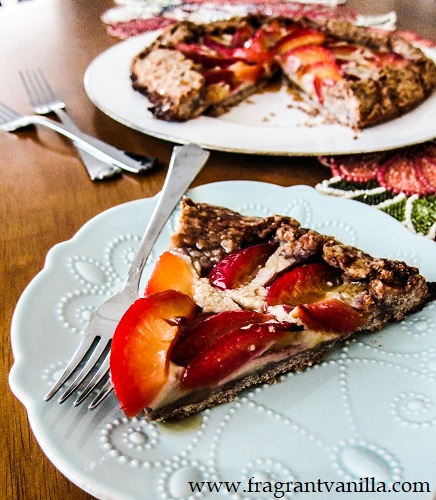 I topped the crust off with some delicious vegan cashew coconut cream cheese, then the sweet plums and popped it into the oven.  The plums were all jammy and delicious when it had finished baking and I could not wait to try it!  When it was cool enough, I dove in.  I did not have just one piece, but two because it was sooo good!  The rich cream cheese was amazing with the slightly tart jammy plums, and the rich hazelnut crust was perfect paired with it all!  If you have flavorful plums on hand, this is a must try.  I think sometimes plums don't get enough attention, but you can't go wrong with roasting them or baking them into something delicious!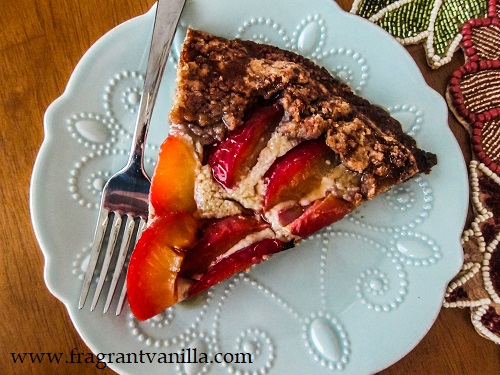 Vegan Cream Cheese Plum Galette
2 galettes
Crust:
filtered water as needed
Cream Cheese:
1/2 cup coconut milk
1/3 cup raw cashew butter
1 Tbsp maple syrup
1/4 tsp sea salt
1/2 tsp cider vinegar
Filling:
6-7 medium red plums, sliced 1/4 inch thick
1/3 cup coconut sugar
1 Tbsp pure vanilla extract
the seeds of one vanilla bean
juice of one small lemon
1/2 tsp cinnamon
a pinch of sea salt
coconut sugar, for topping
maple syrup for brushing
To make the crust, in a large bowl, mix together flour, meal, sugar, and sea salt.  Cut in coconut oil with a pastry blender or 2 knives until it is in pea sized pieces.  Mix in just enough water to create a smooth dough that holds together but isn't too sticky.  Add a touch of water if needed, and knead slightly until a smooth dough is created.  Divide into 2 pieces and shape into rounds (if it is too soft, refrigerate for about 15 minutes to firm it up slightly.  You want it pliable, but not super soft or it will be hard to shape).
Roll each out into a 14 inch round using parchment underneath and floured rolling pin.  If it tears, no worries, just press it back together and patch it up.
To make the cream cheese, whisk together all ingredients until smooth.  Set aside.
Preheat oven to 400F degrees.  To make filling, mix together all ingredients in a large bowl.
Spread the cream cheese over the crust leaving a 1 1/2 inch boarder.  Arrange the plums over the cream cheese, then carefully fold up edges to cover the edge of the fruit. Brush sprinkle with a little coconut sugar.  Place in the oven.  Bake for 45 minutes (checking after 20 and if they are very brown, if they are tent with foil) until bubbling and fruit is tender.  Remove from oven and let cool on a wire rack for at least an hour.
*You can also make your own hazelnut meal by grinding up your hazelnuts to flour consistency in the blender.  Just don't blend too much or you may get butter.  Also, you may substitute your favorite nut if hazelnuts don't do it for you.
(Visited 98 times, 1 visits today)