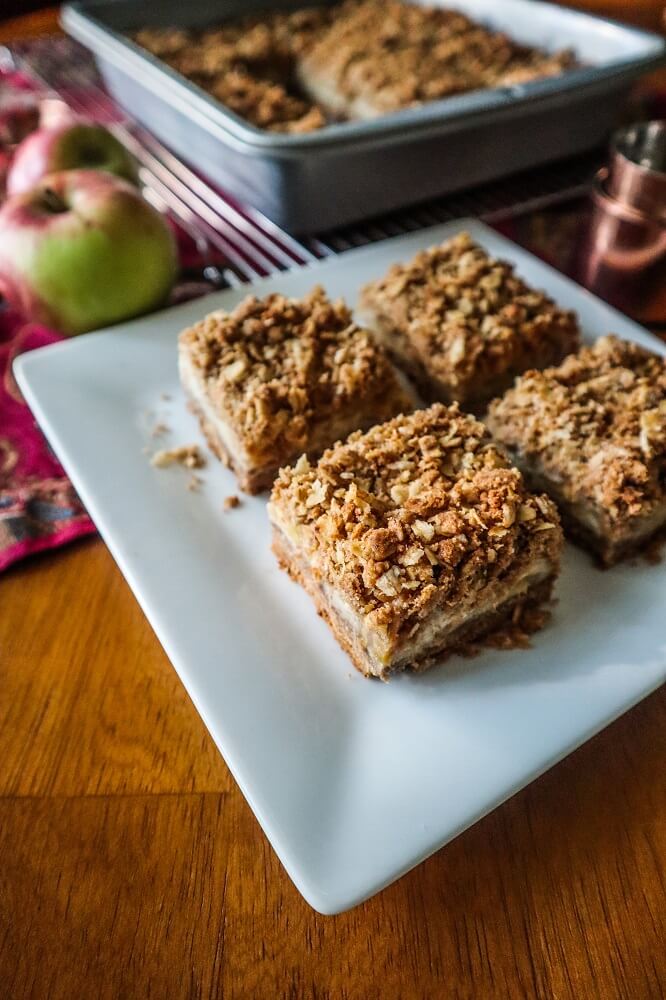 Vegan Cream Cheese Apple Pie Bars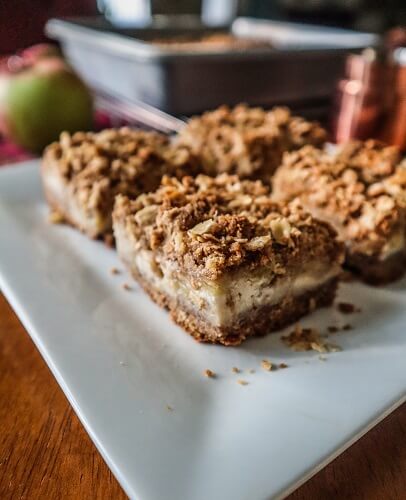 I know it isn't technically fall yet, but the weather has been feeling more like fall, and I am super excited about enjoying all of the delicious fall foods.  Especially the sweet ones involving pumpkin apples and spices.  I am looking forward to visiting the apple orchards soon!  I was gifted some apples and was in the mood for apple pie, but decided to make some apple pie bars instead because they can be shared more easily.  Also, I have been wanting to try making some apple cream cheese bars since last year.  I have made an apple cream cheese pie before, but I have been meaning to try making it in bar form.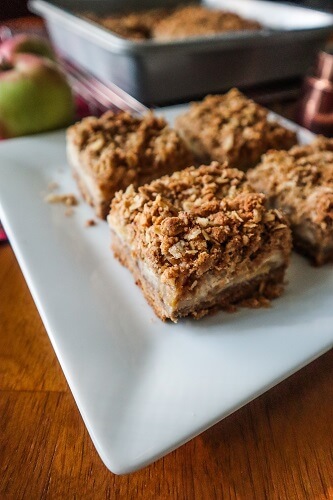 I decided to make these oil free, and use pecan butter instead of coconut oil in the crust and topping. It is one of the richest nut butters, so it works just as well plus gives these bars a nutty flavor. I make my own in a high speed blender.  If you don't have access to it don't worry you can use almond butter instead (or see the bottom for a coconut oil variation if oil free isn't your thing).  The apples in the filling werea local variety, the Haralson, so they were nice and tart and perfect for apple pie! I prefer the tart ones in baked desserts, because then once you add the sugar the flavor is nicely balanced.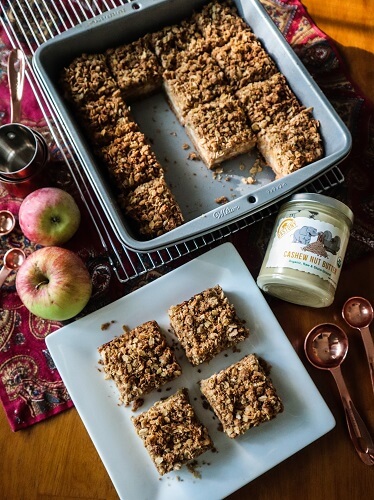 Raw Guru recently sent me some of their Dastony raw cashew butter and I knew it would be perfect in the cream cheese layer of the bars.  I combined it with coconut cream and maple syrup for a rich and delicious tasting vegan cream cheese that set up nicely once baked thanks to the cornstarch I added.  Lastly I topped the bars off with a crunchy oat streusel topping.  They smelled sooo delicious while baking!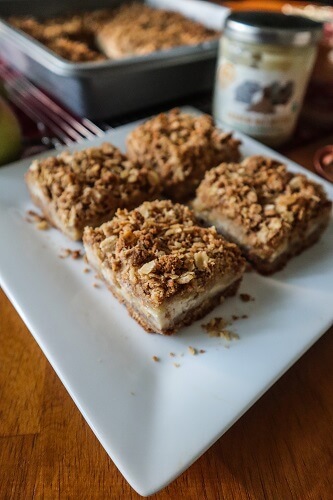 I could not wait to try them!  They were sooo good!  They had a crunchy buttery tasting crust, the cream cheese layer was smooth and rich, a perfect partner for the sweet tart cinnamon scented apples and the crispy streusel on top! My taste testers loved them as well!  If you are in the mood for apple pie, give these babies a try! They are completely heavenly!  Like the best apple pie ever but in bar form!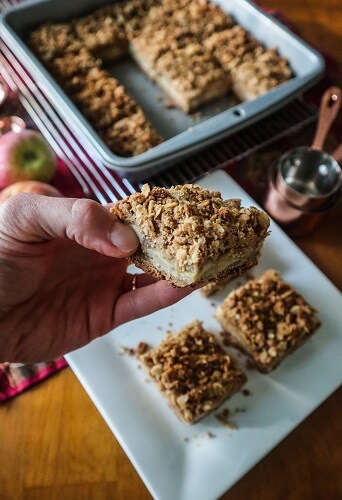 Vegan Cream Cheese Apple Pie Bars
Makes 16
Crust:
1/2 cup pecan butter or almond butter
1/4 cup coconut sugar
1/4 tsp sea salt
1 cup whole wheat pastry flour*
Cream Cheese Filling:
3/4 cup unsweetened coconut cream (the thick part from the top of a chilled can)
1/2 cup Dastony raw cashew butter
2 Tbsp maple syrup
2 Tbsp cornstarch
1/8 tsp sea salt
1 tsp pure vanilla extract
Filling:
3 medium or 4 small apples, sliced 1/4 inch thick
1/4 cup whole wheat pastry flour
2 Tbsp maple syrup
1 tsp cinnamon
1 tsp lemon juice
Topping:
1 cup gluten free old fashioned oats
1/4 cup coconut sugar
1/4 tsp ground cinnamon
1/4 cup whole wheat pastry flour
3 Tbsp pecan butter or almond butter
Instructions:
Preheat the oven to 350F degrees, and line a 9x9 inch square pan with parchment.
Mix together the crust ingredients, and press into the bottom of the prepared pan.  Place in the oven and bake for 15 minutes until set.
To make the cream cheese, combine all ingredients in a blender and blend until smooth, then pour over the crust.
Mix together the apple filling and arrange over the cream cheese layer so that the apples are flat.
Mix together the streusel filling in a bowl, and scrunch together with hands until it clumps up.  Sprinkle over the apples.
Place in the oven and bake for about 45-50 minutes until the streusel is lightly browned and apples are tender.  Note, since some ovens vary in temperature, check the bars after about 30 minutes and if they are starting to get too dark, tent them with foil so that they do not burn.
Once the bars have finished baking, remove them from the oven and allow to cool completely.
When the bars are cool, cut into 16 bars, and enjoy!
*Notes:
If you would like to make these gluten free, you can swap in Bob's Red Mill GF baking flour (or your favorite similar flour, I just have used this brand and know it works well) for the whole wheat pastry flour in this recipe 1:1.
If you would like these bars to be a little more rich, you can use coconut oil in the crust and crumble portions of this recipe in place of the pecan butter.
(Visited 1,033 times, 1 visits today)