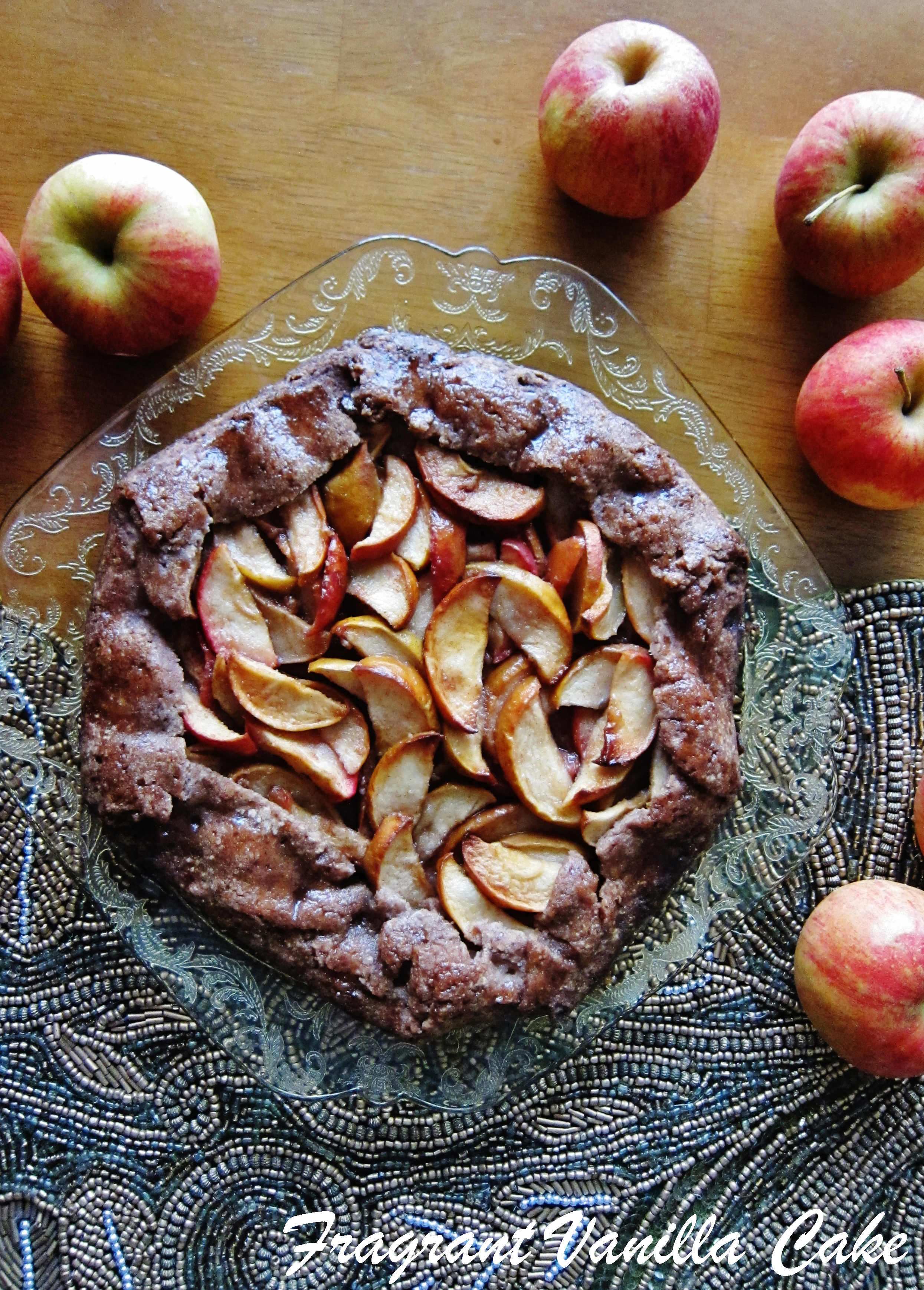 Vegan Crabapple Rustic Tart with Gingerbread Rye Crust
I was given a bag of organic sprouted rye flour which I have never had before.  I always thought rye flour was just for rye bread and so I never tried it since I have never tried to make rye bread.  But since I had a bag, I wondered if it would be good in other applications like desserts.  I decided to try it.  I didn't know what I was going to make yet, but I was going to use it.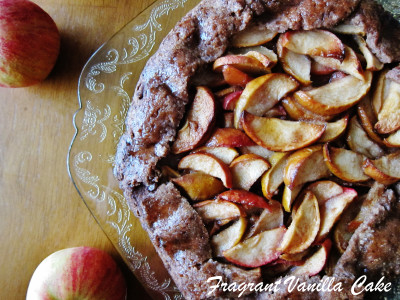 I was also given some chestnut crabapples. Eric and I were out for a walk a while back we came upon a some sort of fruit tree, and Eric who will try anything had to pick some of the fruit (which we thought looked like small apples) and eat them.  I looked them up on my phone, and turned out they were chestnut crabapples.  So, when I was given some this week I got a little excited since I knew they would be tasty.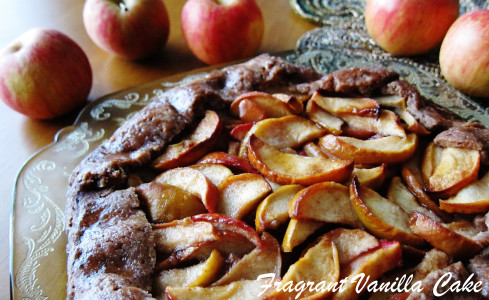 I decided to make a rustic tart with both of these things. Because I wasn't in the mood to make anything too complicated or time consuming, and because it had been kind of a stressful day so pie sounded good. Plus I had a nice long run that morning so I was extra hungry.  I didn't just make a plain crust for the tart, I made a gingerbread crust.  It was sooo good even just the dough. I am one of those people that tastes throughout the whole process to make sure it is good before composing my dessert.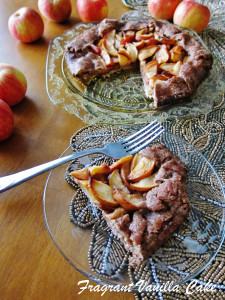 I made the filling simple, with a hint of cinnamon and not too much sweetener since the crabapples were pretty flavorful and sweet. It smelled amazing while baking.  The type of aroma that you always wish you could come home to.  It tasted even better.  That spiced crust was awesome with the sweet tart crabapples.  If you have a stressful day...make dessert, because stressed is desserts spelled backwards and you want to flip that stress mentality back to something positive.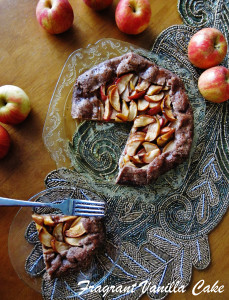 Vegan Crabapple Rustic Tart with Gingerbread Rye Crust
Makes 2 tarts
Crust:
2 1/2 cups organic sprouted rye flour
2 tsp cinnamon
1 tsp dried ginger
1/4 tsp nutmeg
1/4 tsp allspice
1/4 cup coconut sugar or maple sugar
1 tsp sea salt
seeds of one vanilla bean
3/4 cup coconut oil in its solid state
about 6-7 Tbsp cold water
Filling:
8 chestnut crabapples, sliced
1/4 cup coconut sugar or maple sugar
2 tsp cinnamon
1 tsp pure vanilla extract
juice of one lemon
a pinch of sea salt
3 Tbsp organic sprouted rye flour
coconut milk, for brushing
coconut sugar, for topping
To make the crust, in a large bowl, mix together flour, sugar, sea salt, and spices. Cut in coconut oil with a pastry blender or 2 knives until it is in pea sized pieces. Mix in  just enough water to create a smooth dough that holds together but isn't too sticky. Add more water if needed, and knead slightly until a smooth dough is created. Divide into 2 pieces and shape into rounds. Cover and refridgerate until workable at least 30 minutes. Roll each out into a 12 inch round using parchment underneath and floured rolling pin. Preheat oven to 400 degrees. To make filling, mix together all ingredients in a large bowl. Pour filling over the rolled out dough rounds, leaving a 1 1/2 inch boarder at the edge. Brush crust with a little coconut milk, and sprinkle with sugar. Bake for about 45 minutes to 1 hour until bubbling and crabapples are tender. Remove from oven and let cool on a wire rack until warm. Serve with ice cream!
(Visited 272 times, 1 visits today)