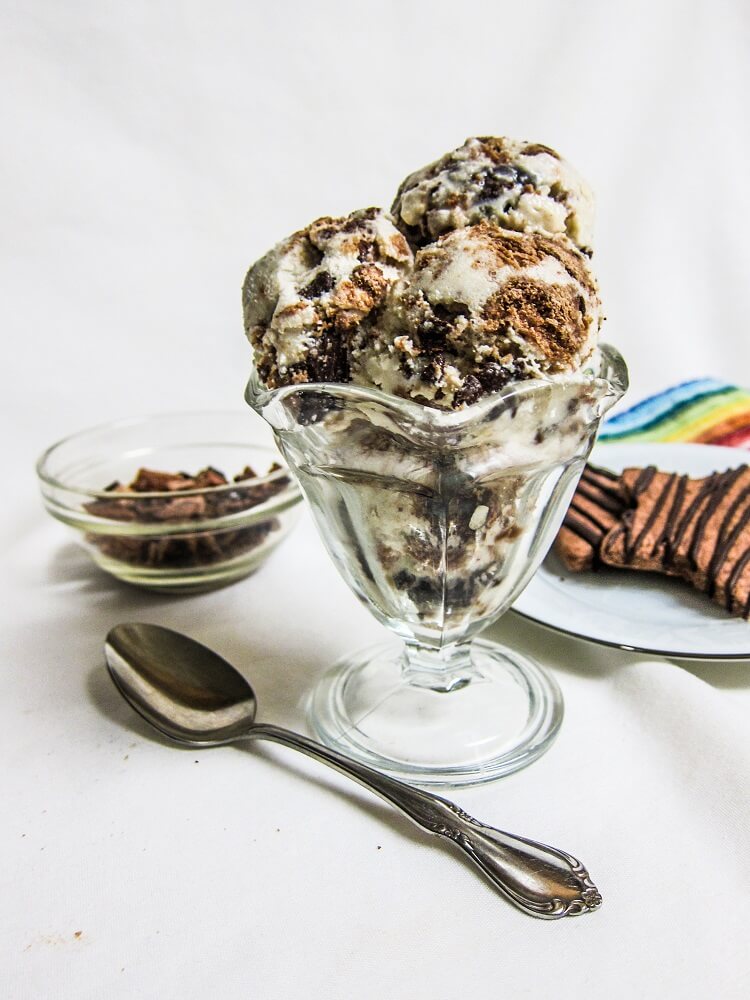 Vegan Cookies and Cream Ice Cream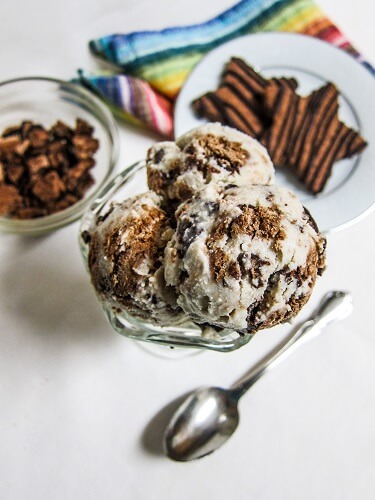 Cookies and cream ice cream was one of my favorites when I was a kid. My Dad usually had it on hand in his refrigerator and it was perfect for layering up with the other flavors for a giant sundae. He used to let me make whatever I wanted, no matter the sugar content or the size of the dessert so I usually went with the cookies and cream, peppermint bon bon, and moose tracks or something else similar plus a topping of fudge and caramel, and whipped cream. Sounds like an odd combination but I thought it was pretty darn good. That is also probably why I was so hyper sometimes.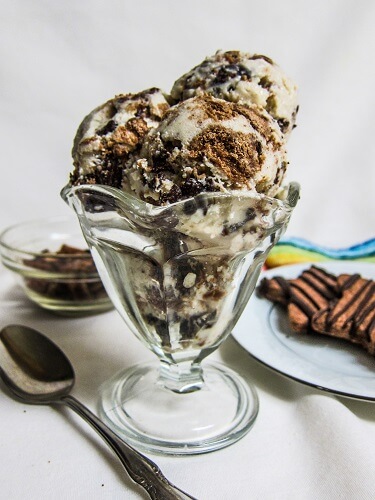 I have to admit I haven't had any cookies and cream ice cream as an adult, since I am not really a big fan of Oreos now. I know that they are technically vegan but I try not to eat processed packaged foods with artificial ingredients. So, I thought I would make my own cookies and cream ice cream, with my own home made cookies, since I haven't had any of that ice cream in so long!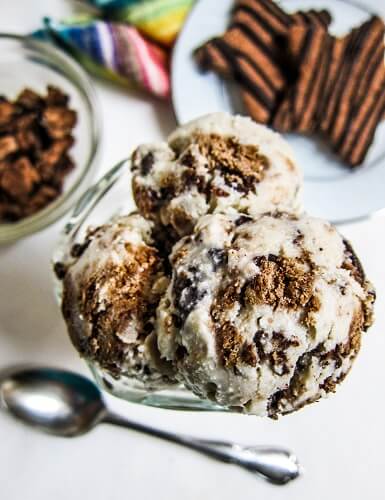 I made some chocolate shortbread cookies, which were also drizzled in chocolate (because why not?!), broke those up and stirred those into my ice cream base. They don't taste exactly like Oreos, but I like them better. They taste like real cookies. For the ice cream base, I used a mixture of coconut milk and cashew butter to make it extra creamy and just added some maple syrup, vanilla and dash of sea salt (because it makes flavors even more intense) and it was perfect!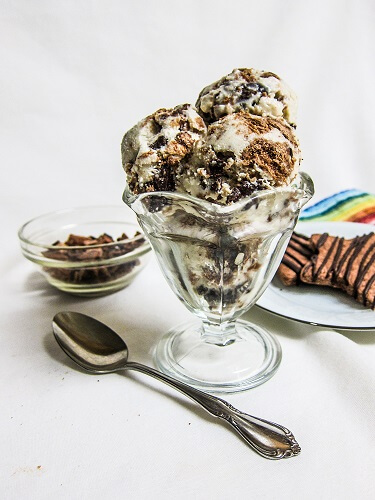 This was not the ice cream I ate as a kid, it was better. I went a little overboard on adding cookie chunks (I have adjusted the recipe so you will have just the right amount), but it was ok, it was amazing tasting. The cookies stayed nice and crunchy, with plenty of chocolate flavor and the ice cream was rich and creamy with a nice mellow vanilla flavor. You would never guess that it was vegan! It tasted just as creamy as dairy ice cream! I am so happy ice cream season is now here.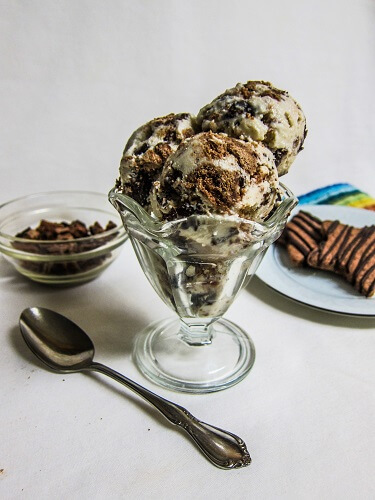 Vegan Cookies and Cream Ice Cream
Makes about 3 cups
Cookies:
3/4 cup plus 1 Tbsp organic whole wheat pastry flour*
3 Tbsp cacao powder or unsweetened cocoa powder
3 Tbsp coconut sugar
1/8 tsp sea salt
2 Tbsp melted coconut oil
2 Tbsp avocado oil (or other neutral oil liquid at cool temperatures)
1 Tbsp filtered water
1/4 cup melted vegan dark chocolate
Ice Cream:
2 15 oz can full fat organic coconut milk
1/2 cup maple syrup (or to taste)

1 cup raw cashew butter

1/2 tsp sea salt

2 tsp pure vanilla extract
Instructions:
Preheat the oven to 325F degrees, and line three baking sheets with parchment.
To make the dough, mix all ingredients but the chocolate together in a bowl until combined and smooth (it may be slightly crumbly, and that is ok, just squeeze it back together), then place on a piece of parchment paper and roll out 1/4 inch thick. Cut into circles with a medium sized cookie cutter and place them onto two of the prepared pans. Re-roll any scraps squeezing them back together and rolling them out, and cutting into more shapes until all of the dough is used.
Place the pans in the oven and bake for 15-20 minutes or until set and just barely beginning to brown at the edges.
Remove the pans from the oven and let cool completely on wire racks.
Drizzle with the dark chocolate then place in the freezer until the chocolate is set.
Break up some of the cookies until you have 1 cup of cookie pieces and set aside. (reserve the rest for eating)
For the ice cream, combine all ingredients in a high speed blender and blend until smooth.
Pour into an ice cream maker and process according to package directions.
Once the ice cream is done churning, stir in the cookie pieces and pour into a freezer safe container with a lid. Place the lid on, place in the freezer and freeze for about 4 hours or until firm enough to scoop. Enjoy!
*Note: If you wanted to make these gluten free, you could use Bob's Red Mill AP baking flour in the cookies instead of the whole wheat pastry flour subbed 1:1.
*Note, if you do not have an ice cream maker you may also freeze it this way. Pour into a bowl, and place in the freezer. Whisk once every half hour until it has frozen to the consistency of soft serve. Then continue to pour into your freezer safe container as the above directions state.
*If your ice cream gets hard after freezing, let sit out about 15-20 minutes before scooping.
(Visited 337 times, 1 visits today)