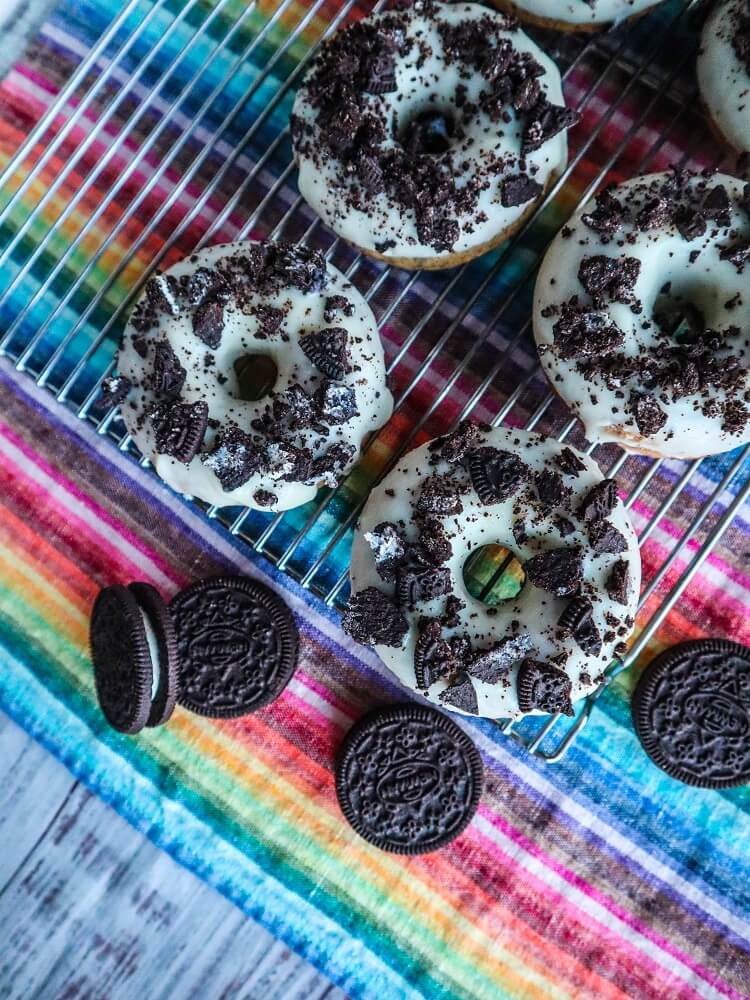 Vegan Cookies and Cream Doughnuts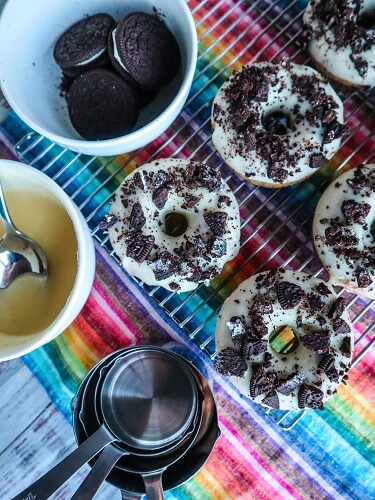 I don't normally buy store bought cookies, but since I was gifted a more "natural" version of some Oreo type cookies, and they tasted good, I decided it would be the perfect opportunity to make something cookies and cream with them!  It was funny, because I had the unopened package sitting in the cupboard and was planning on making something with them, but then I discovered Eric had eaten half of them, so I knew there probably wouldn't be enough for a recipe with a crust and the cookies mixed in, so I was thinking cupcakes or doughnuts.  I have been wanting doughnuts a little more so that is what I went with.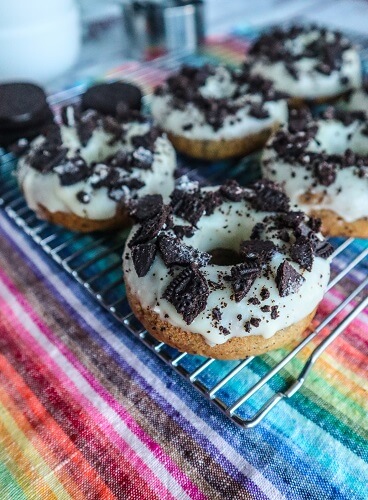 I was debating whether or not to make the cake base chocolate or vanilla (or maybe swirl the two together), but I ultimately decided that a vanilla batter would be best because it would showcase the cookie crumbles in the batter.  I made a batter similar to my usual vanilla cake batter, and whisked in crumbled cookies for a cookies and cream flavor.  The batter was super delicious!  Yes, I had to sample it (a few times wink wink).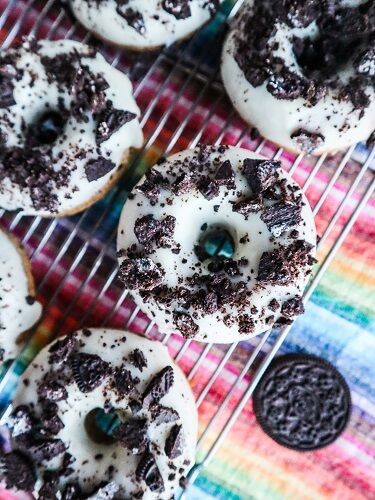 They baked up nicely in my doughnut pan, and took less time than most other cupcakes or cake I make so that was a plus.  I didn't know if I would get much use out of my doughnut pan when I bought it, but it has been nice to be able to make vegan cake doughnuts whenever I want at home so it was worth it!  I have a silicone pan so it makes it a lot easier to get them out than a metal one. They smelled so good while baking!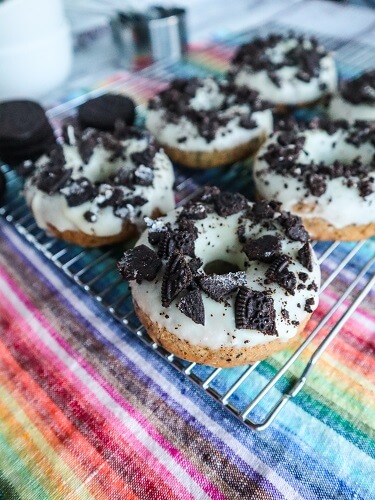 I couldn't wait to try them, but first they needed a glaze.  So I whipped up a white chocolate vanilla glaze, and sprinkled it with more crushed up cookies.  They were sooo good!  I enjoyed one with my coffee and it was the perfect pairing!  If you have chocolate sandwich cookies on hand, definitely give these a try!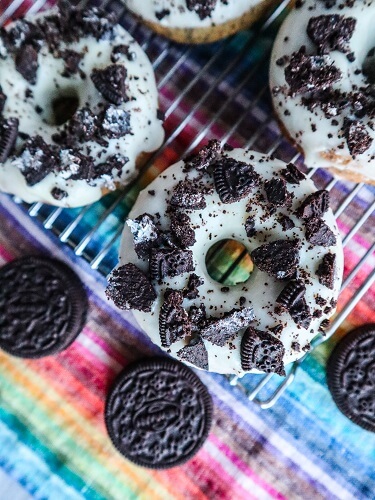 Vegan Cookies and Cream Doughnuts
Makes 6 Doughnuts
Ingredients:
one 6 hole doughnut pan
Cake:
3/4 cup plus 2 Tbsp organic whole wheat pastry flour
3/4 tsp baking soda
1/2 tsp baking powder
1/4 tsp sea salt
1/2 cup maple sugar
1 cups full fat coconut milk (the thick kind, I prefer Thai Kitchen brand) at room temperature
1 tsp pure vanilla extract
1 Tbsp cider vinegar
1/2 cup crushed vegan chocolate sandwich cookies
White Chocolate Icing:
1/4 cup plus 2 Tbsp melted coconut butter
2 Tbsp melted cacao butter
2 Tbsp maple syrup
1/2 tsp pure vanilla extract
3-4 Tbsp filtered water or as needed
For Garnish:
crushed vegan chocolate sandwich cookies
Instructions:
Preheat the oven to 350F degrees and position rack in center of oven.
Oil a doughnut pan.
Whisk flour, baking soda, sea salt, and sugar in a large bowl to blend well.
Whisk coconut milk and vanilla extract together in small bowl to blend well, then whisk into the flour mixture until well blended.
Whisk the cider vinegar into the batter.
Transfer the batter to prepared pan.
Place in the oven, and bake cake until tester inserted into center comes out clean with just a few moist crumbs attached, about 20-25 minutes.  Remove from oven and let cool completely.
To make the glaze, whisk together all ingredients except the water.  Then whisk in the water until smooth and uniform.  If it is a little too thick add just a few tsp more water until it is a pour-able consistency.
Spoon the glaze over the doughnuts, and sprinkle with cookie crumbles.
Allow glaze to set, then enjoy!
Doughnuts keep stored in the refrigerator, covered for up to 1 week.
Notes:
*If you would rather use coconut sugar or even just granulated sugar for this, either will work in place of the maple sugar.
*This cake can be made gluten free by swapping out the whole wheat pastry flour for Bob's Red Mill gluten free all purpose baking flour (this is a brand I have used before and have tested it in cakes with great results).
(Visited 420 times, 1 visits today)