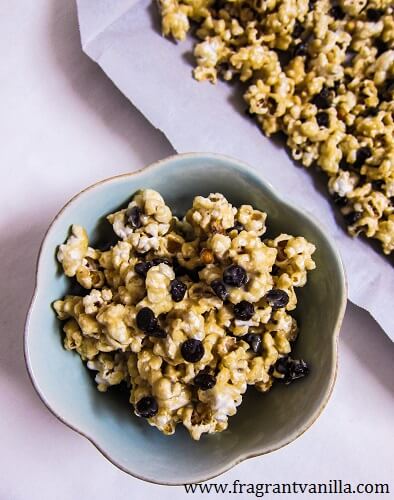 Vegan Cookie Dough Popcorn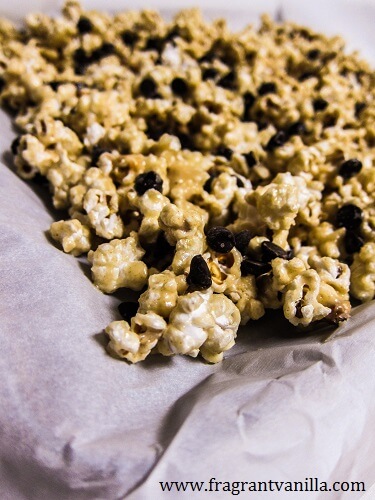 Attitude is everything.  Have you ever noticed that when you wake up and decide to be in a bad mood (yes decide, because that is a choice we make) that everything seems to go wrong or be annoying?  Well, I have.  I try to catch myself when I find the crabbiness creeping up to bite me in the morning and let it go before it gets bad.  I try to stay positive and see the best in things.  I mean, not everything is negative, especially when you look at it from a different perspective.  Maybe there was a reason things were not going as planned, and the outcome could have been much worse than it was when something goes wrong.  Or maybe it was meant to be a lesson to laugh at yourself instead of get upset when you make a stupid mistake.  I tend to look back and laugh when I think about things like accidentally boiling over a pot of oatmeal, then dropping it and splattering oatmeal on the ceiling.  Life is too short to be negative, and even if we live a long time, why waste any of it that way when we have a choice.  Just a thought, and I have had a lot of trying days lately, but I  can say that I am happy.  Part of how I stay that way, is to do things for myself that I enjoy.  Like making a treat when I get home.  Not anything too difficult on a week night, but something good.  So, I made my favorite dinner, some stuffed sweet potatoes, and some really good Cookie Dough Popcorn.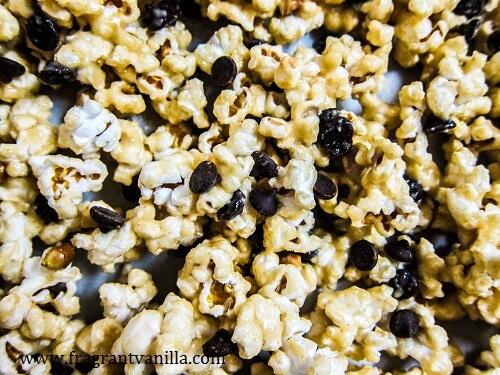 Yes, I said Cookie Dough Popcorn!  OMG it was sooo good!  It did not have chunks of cookie dough in it, it was coated with a mixture that tasted like cookie dough with chocolate chips included.  This stuff was crave worthy!  I have been wanting to make some popcorn for a week now and so it had to be good.  I brainstormed flavors, and this is the one that kept coming back to me.  For the "cookie dough" mixture I used coconut butter, almond butter, and maple syrup with a little vanilla.  I added a little sea salt of course because I wanted this to be sweet and salty (that is a must for my popcorn when it is a dessert popcorn).  It tasted like cookie dough once it was all mixed into the popcorn and the chocolate chips were added.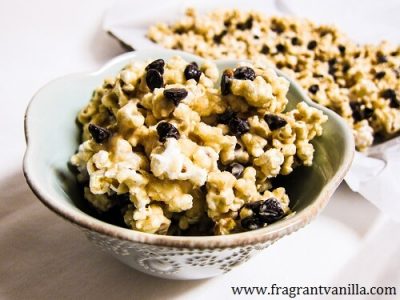 This is the type of thing that you tell yourself you will have a few bites and before you know it half the tray is gone.  I did share some with Eric though, because he loves this sort of thing too, and he is the biggest popcorn lover I know!  If you are in the mood for something crunchy, munchy, sweet and delicious give this a go!  This is just the sort of thing to have when you are craving something but aren't quite sure what, because it covers all the snack bases.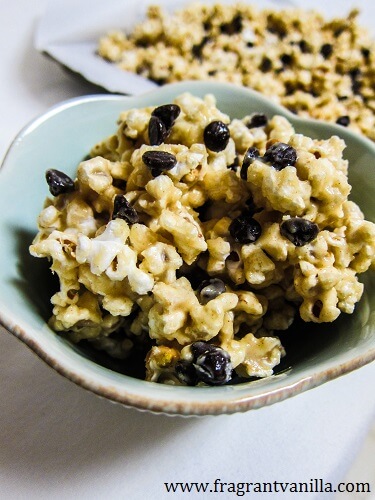 Vegan Cookie Dough Popcorn
Makes 8 cups
Ingredients:
1/3 cup maple syrup
1/3 cup raw coconut butter
1/3 cup almond butter
1/2 tsp sea salt
1 tsp pure vanilla extract
8 cups plain organic popped corn
1 cup vegan dark chocolate chips
Instructions:
In a glass measuring cup (or bowl) whisk together the maple syrup, coconut butter, almond butter, sea salt and vanilla until well blended.
Pour over the popcorn in a large bowl, along with chocolate chips and mix well. Spread out onto a lined sheet pan, and place in the freezer until it is hard.
Enjoy!
(Visited 87 times, 1 visits today)