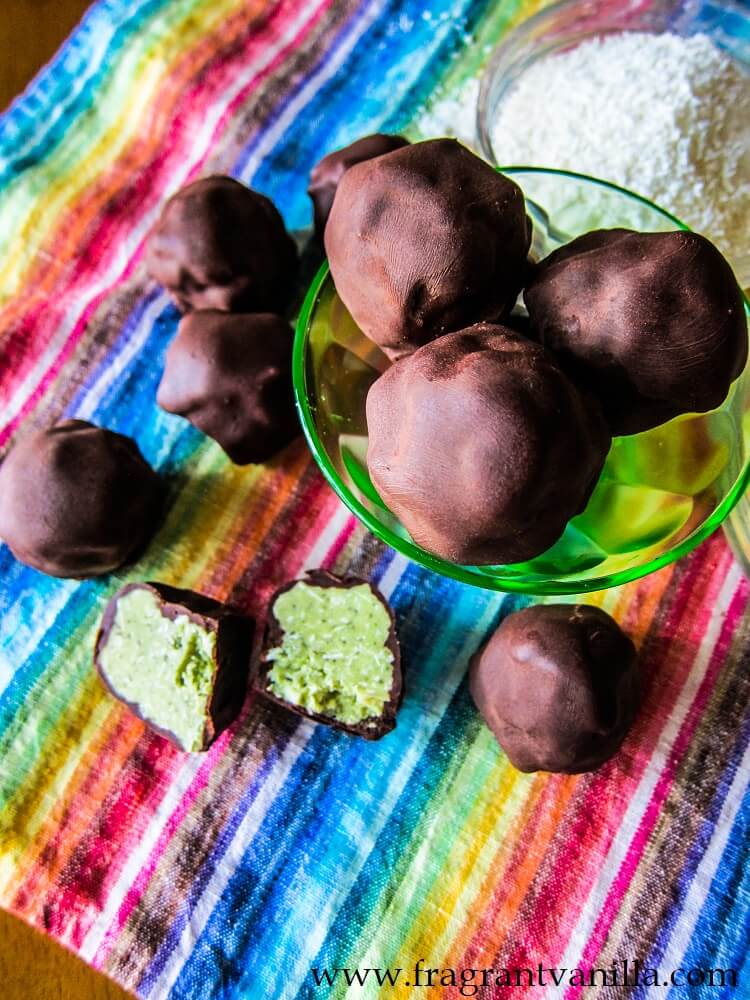 Vegan Coconut Mint and Lime Chocolates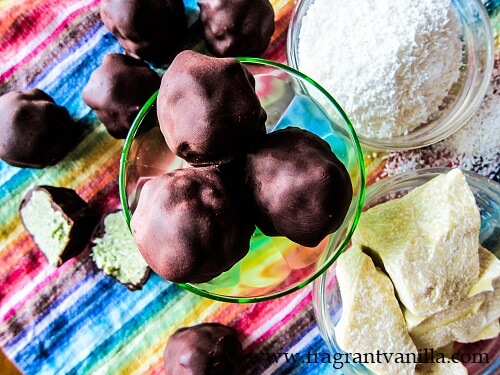 Sometimes I make desserts based on what I am craving, and sometimes I get ideas for them in my everyday life.  Maybe the way something looks, or an ingredient I am using at work (I work in a deli).  Well this time I gained inspiration from my favorite summer lip balm flavor.  A coconut lime and mint (Pitta) lip balm from Hurraw! It is seriously delicious.  I have always loved flavored lip balms.  Ever since I was in high school I keep an arsenal of lip balms and glosses, in fact my nickname was "Glossy".  But now they have to be vegan and natural ingredients in order for me to buy them.  Anyways, this coconut lime mint one is perfect for Summer because not only does it smell like dessert, but it is cooling on your lips.  Well, I was sitting there smelling my lip balm (yes, smelling it) and I dreamed up a heavenly truffle recipe.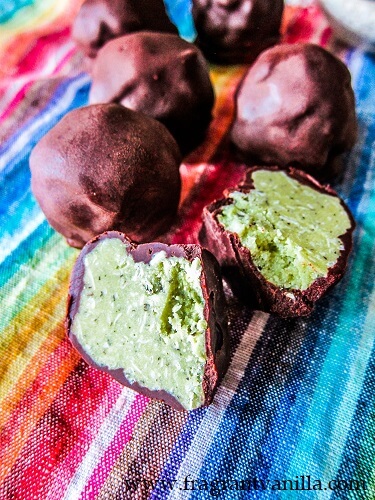 A truffle with a heavenly coconut mint and lime white chocolate center and dark chocolate on the outside. Move over Mounds, this is way better. I was never a fan of Mounds bars growing up because the coconut part was a weird sweet flavor to my taste buds.  But I do love chocolate and coconut together.  I made a heavenly filling with cacao butter, coconut butter and cashew butter blended together with fresh mint and lime zest and it was crave worthy!  I mixed in some shredded coconut as well, because I love the crunchy texture.  I knew this would be so good with the dark chocolate, and it smelled just like the lip balm.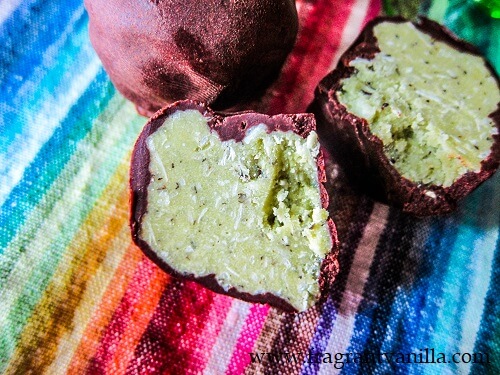 Once it was all coated in dark chocolate, I could not wait to try them.  They were a lovely shade of green inside thanks to the fresh mint leaves, and they were a feast for the senses.  The lovely sweet aromas of coconut and dark chocolate, and the cooling mint flavor with the touch of lime... I felt like I was transported somewhere tropical!  Not that it doesn't feel tropical here in Minnesota right now.  But you know, imagining palm trees and an ocean next to me.  These truffles are a little cooling, so they are perfect for Summer!  If you are a coconut fan, give these a try!  Even better if you happen to have fresh mint growing in your garden, and if you do I envy you, because all I have right now is basil.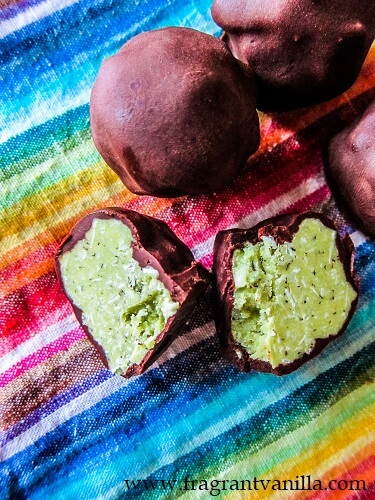 Vegan Coconut Mint and Lime Chocolates
Makes 12
Ingredients:
White Chocolate Filling:
1/2 cup cacao butter (4 oz)
1/4 cup raw cashew butter
1/2 cup coconut butter
1/2 cup fresh mint leaves and/or 1/2 tsp peppermint extract
2 Tbsp organic lime zest
2 tsp pure vanilla extract
1/4 cup maple syrup
1 cup finely shredded coconut
Coating:
8 oz vegan dark chocolate, chopped
Directions:
Combine the cashew butter, coconut butter, and cacao butter over a double boiler, and whisk until smooth.
Pour into a food processor and add the lime and mint leaves. Blend until smooth, and add the coconut, pulsing just to combine.  Place the bowl with the filling the freezer for about 15-20 minutes until it is firm enough to scoop. Scoop into 12 balls, rolling them with your hands until smooth and place on a parchment lined tray, and place back into the freezer until firm, about 30 minutes.
Once the filling has firmed up, melt the dark chocolate in the top of a double boiler.
Dip each white chocolate center into the dark chocolate (if it has gotten too cool and is firming up, warm it a little more over the double boiler) being sure to let the excess drain off, and place back onto the tray (I like to set mine on a fork to allow it to drain better). Once they are all dipped, set them in the freezer until hardened.
Store any leftovers in the refrigerator.
(Visited 43 times, 1 visits today)