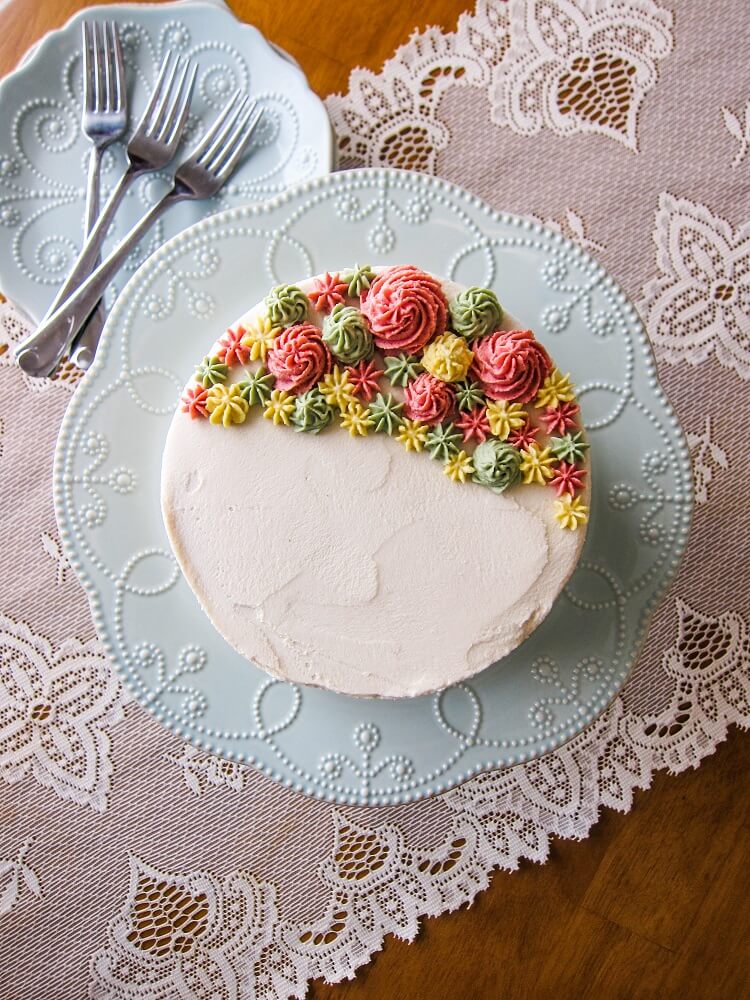 Vegan Coconut Macadamia Carrot Cake with White Chocolate Frosting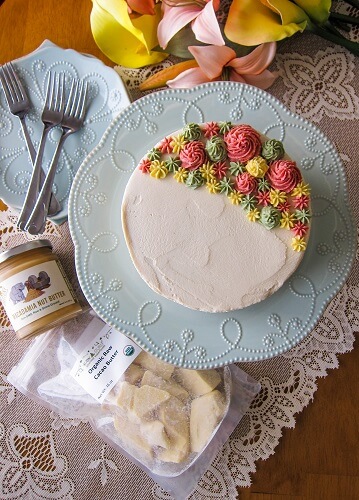 This year for Easter, I decided to make carrot cake. How original, I know but there is nothing wrong with sticking with tradition. You know what tradition I miss? When everyone used to get all dressed up for Easter. I know some parents dress up their little kids all fancy, but I feel like the majority of people go pretty casual for church and Easter brunch or however else they are celebrating. Everyone is free to wear what they want of course, and I have no problem with that, but I like dressing up and being fancy sometimes for special occasions since it is not something I get to do every day. You know what else I like dressing up? Classic desserts like carrot cake.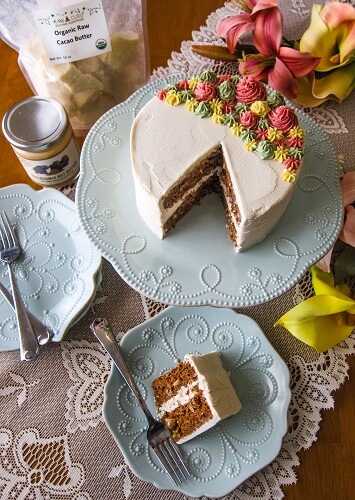 That carrot cake I made for Easter? I dressed up a classic recipe with coconut macadamia nuts and white chocolate. Raw Guru had recently sent me some Dastony macadamia nut butter, and raw cacao butter so it was meant to be! I consider macadamia nuts really special and reserved for special occasions because they are usually pretty spendy (like $34 for 1 lb at a local store in the bulk section), so I often will use them for Holidays or other celebrations. I was super excited about the macadamia nut butter because that stuff is amazing. It is totally heavenly, and I could have just eaten it from the jar but I wanted to use it in something special like my cake.
For the cake base, I used my classic carrot cake batter that is sweetened with dates instead of coconut sugar and uses nut butter instead of oil. It always comes out moist, yet light the perfect consistency. I mixed in some crunchy macadamia nuts, and sweet coconut as well as some spices and it was heavenly. I have to say I love cake batter. I always have to give it a taste to make sure it is good before baking it *wink wink*. But luckily most of it made it into the cake pans. The cakes smelled amazing while baking!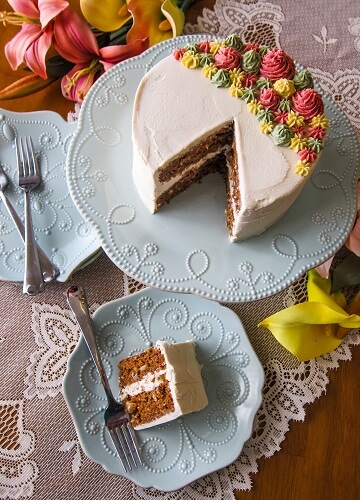 Once they were all baked in cooled I made some epic macadamia coconut white chocolate frosting! It was light and fluffy, rich and creamy and could have been eaten with a spoon but it was even better on the cake! This cake is totally heavenly, and I was really happy with my choice to make it for Easter! I hope you all are having a wonderful Holiday weekend!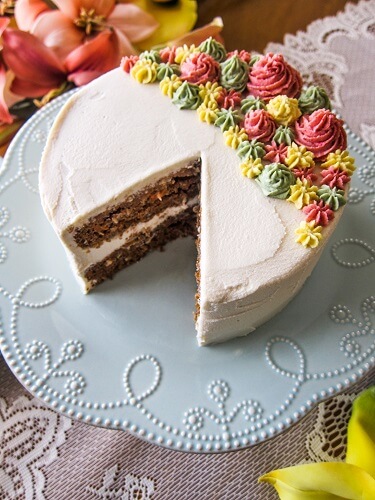 Vegan Coconut Macadamia Carrot Cake with White Chocolate Frosting
Makes 1 6 inch 2 layer cake
2 6 inch cake pans
Cake Batter:
1 1/2 cups quinoa flour (or Bob's Red Mill all purpose gluten free baking flour)
1 1/2 tsp baking soda
1 tsp baking powder
1/2 tsp sea salt
2 tsp ground cinnamon
2 tsp ground ginger
1 cup packed soft medjool dates, pitted, soaked in water for 30
minutes and 1 cup of the water reserved
1/4 cup Dastony macadamia but butter (or raw cashew butter)
1 Tbsp pure vanilla extract
1 cup coconut milk at room temperature
2 Tbsp apple cider vinegar
1/2 cup finely shredded, dried coconut
1/2 cup chopped macadamia nuts
1 1/4 cups shredded organic carrots
Frosting:
1 15 oz can full fat coconut milk at room temperature (use a brand with at least 2/3 of the can coconut cream or the recipe will not work. I used Thai Kitchen)
1/2 cup Dastony macadamia nut butter or raw cashew butter
1/4 cup maple syrup
1 tsp cider vinegar
2 tsp pure vanilla extract
1/4 tsp sea salt
1/2 cup Dastony coconut butter warmed to liquid
1/4 cup Raw Guru cacao butter, warmed to liquid or additional coconut butter
Instructions:
Preheat the oven to 350F degrees and position rack in center of oven.
Line two six-inch-diameter cake pans with 2-inch-high sides with parchment paper. Coat parchment paper and pan sides lightly with oil so that the cake doesn't stick.
Whisk flour, baking powder, baking soda, sea salt, ginger, and cinnamon in a large bowl to blend well. Place dates, reserved water, macadamia nut butter, coconut milk, and vanilla extract into a blender, and blend until smooth, then whisk this blended mixture into the flour mixture until well blended.
Whisk in the cider vinegar until bubbles form. Mix in coconut, macadamia nuts and carrots.  Transfer cake batter to prepared pans and bake cakes until tester inserted into center comes out clean, about 35 minutes.
Remove from oven and cool cakes completely in pan on rack, about 1 hour. Cut around sides of pan to loosen. Turn cakes out onto platter; peel off parchment paper. Let cool completely.
To make the frosting, combine all ingredients in a blender, and blend until smooth.  Pour into a bowl, and place in the freezer until thickened.  You want to whisk it every 15 minutes and you know it is ready when it is thick like whipped cream, about 30-45 minutes depending on how warm it has gotten.
To assemble, place one cake layer on a plate, and spread frosting 1/2 inch thick over it.  Place the other cake layer over that, then spread the remaining frosting on the top and down the sides of the cake.
***if you would like a 2 layer 9 inch cake, double this entire recipe and bake in two 9 inch cake pans. It will take longer to bake, about 50 minutes to an hour.
(Visited 1,114 times, 1 visits today)