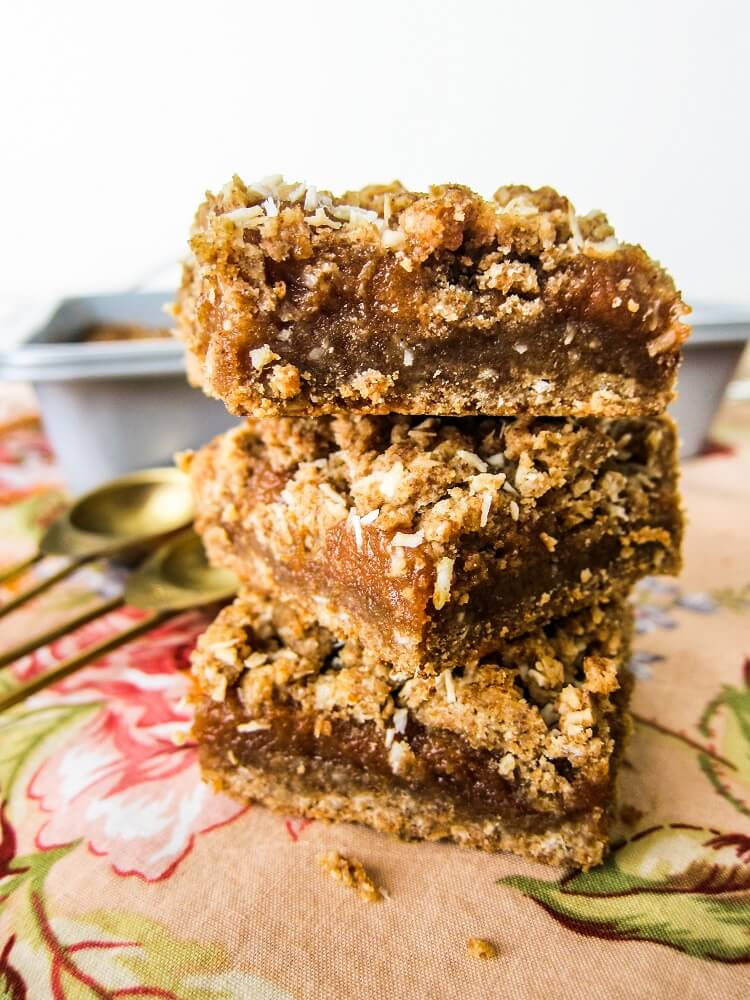 Vegan Coconut Lime Date Bars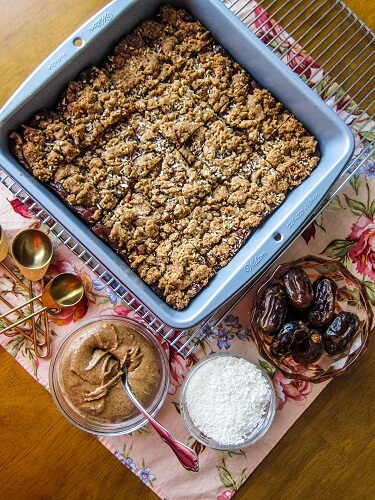 I have always loved date bars. They are sweet, and gooey and delicious with a buttery crust and topping. I don't think they get enough attention from most people, same as dates in general because people probably just think that they are like prunes but they are totally missing out. But dates are nature's caramel. I mean seriously they taste just like caramel, but of course are way healthier for you than actual caramel since they have fiber and nutrients. They are one of my favorite ways to sweeten things. But back to those date bars. I was craving some suddenly last weekend and I haven't made any for a really long time so I went for it.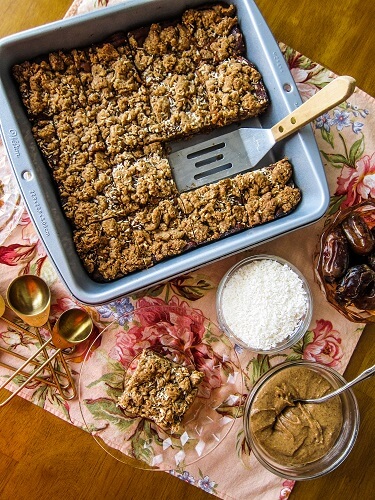 Traditionally they have an oat crust and topping, and although I love that I decided to make mine a little different and give them an almond coconut cookie crust instead. OMG the dough by itself even before I baked them was heavenly. Probably because I included almond flour and coconut to make it extra rich and delicious. Since I used coconut in these I thought I would keep the tropical thing going and add some lime to the filling along with the dates.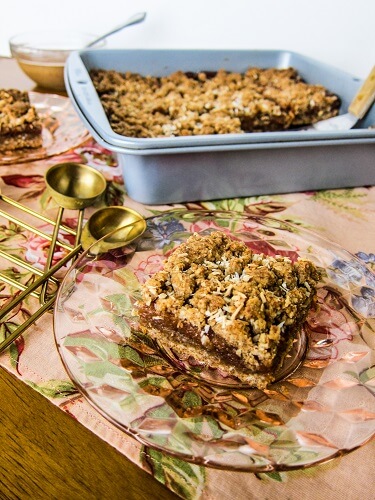 Since dates are so sweet, they are really good when you add citrus to them like lemons or limes. I had limes on hand so that is what I used and it was a perfect combination! The filling is literally just dates, water and lime juice and it is like a delicious lime scented caramel.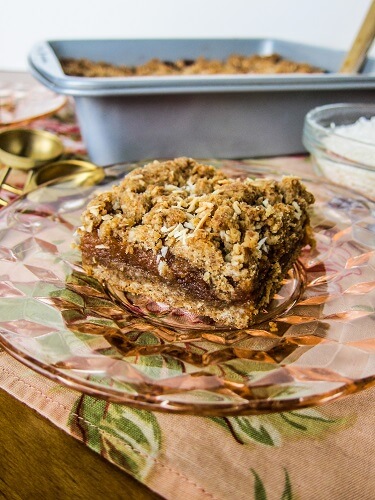 The bars baked up beautifully! I could not wait to try the finished product, but of course I had to wait until they cooled completely otherwise they don't cut as nice (and I am super picky about the way things are cut). They were sooo worth the wait though. They were buttery, rich and delicious thanks to the almond coconut crust and the gooey date lime filling was heavenly with it! If you are a fan of dates like me, definitely give these a try. Or if you haven't tried dates because they look weird or whatever, you definitely need to put those judgements aside and you need to try them. Trust me on this one!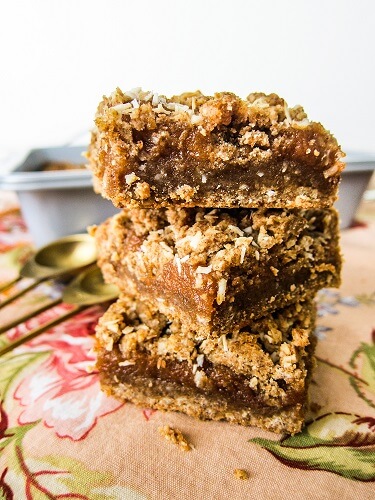 Vegan Coconut Lime Date Bars
Makes 16 bars
Ingredients:
Date Filling:
2 cups soft, pitted medjool dates
1/2 cup filtered water
1/4 cup lime juice
1 Tbsp organic lime zest
Crust/topping:
1/2 cup coconut oil, warmed to liquid
3/4 cup coconut sugar
1 tsp pure vanilla extract
3 Tbsp filtered water mixed with 1 Tbsp ground flax seed
3/4 cup almond butter
3/4 cups all purpose gluten free flour
3/4 cup almond meal
1/2 cup finely shredded, dried coconut
1/2 tsp baking powder
1/2 tsp sea salt
Instructions:
Preheat oven to 350F degrees with the rack set in the center position. Line a 9x9 inch square pan with parchment, and/or grease it with coconut oil.
Blend the dates up with the water and lime juice and zest until smooth in a high speed blender. Pour into a bowl and set aside.
To make the crust, whisk the coconut oil and sugar together in a bowl with the vanilla and flax mixture until the sugar starts to dissolve. Then add the almond butter and mix until combined.
Add the flour, almond meal, coconut, baking powder, sea salt and stir in until well blended.
Spread 2/3 of this mixture over the bottom of the pan, pressing it to the edges with your fingers. Then spread the date mixture over that with a spoon or offset spatula. Drop chunks of the remaining dough over that.
Place in the oven. Bake for about 45 minutes until lightly browned and set.
Remove from the oven and let cool completely before cutting into bars.
(Visited 698 times, 1 visits today)