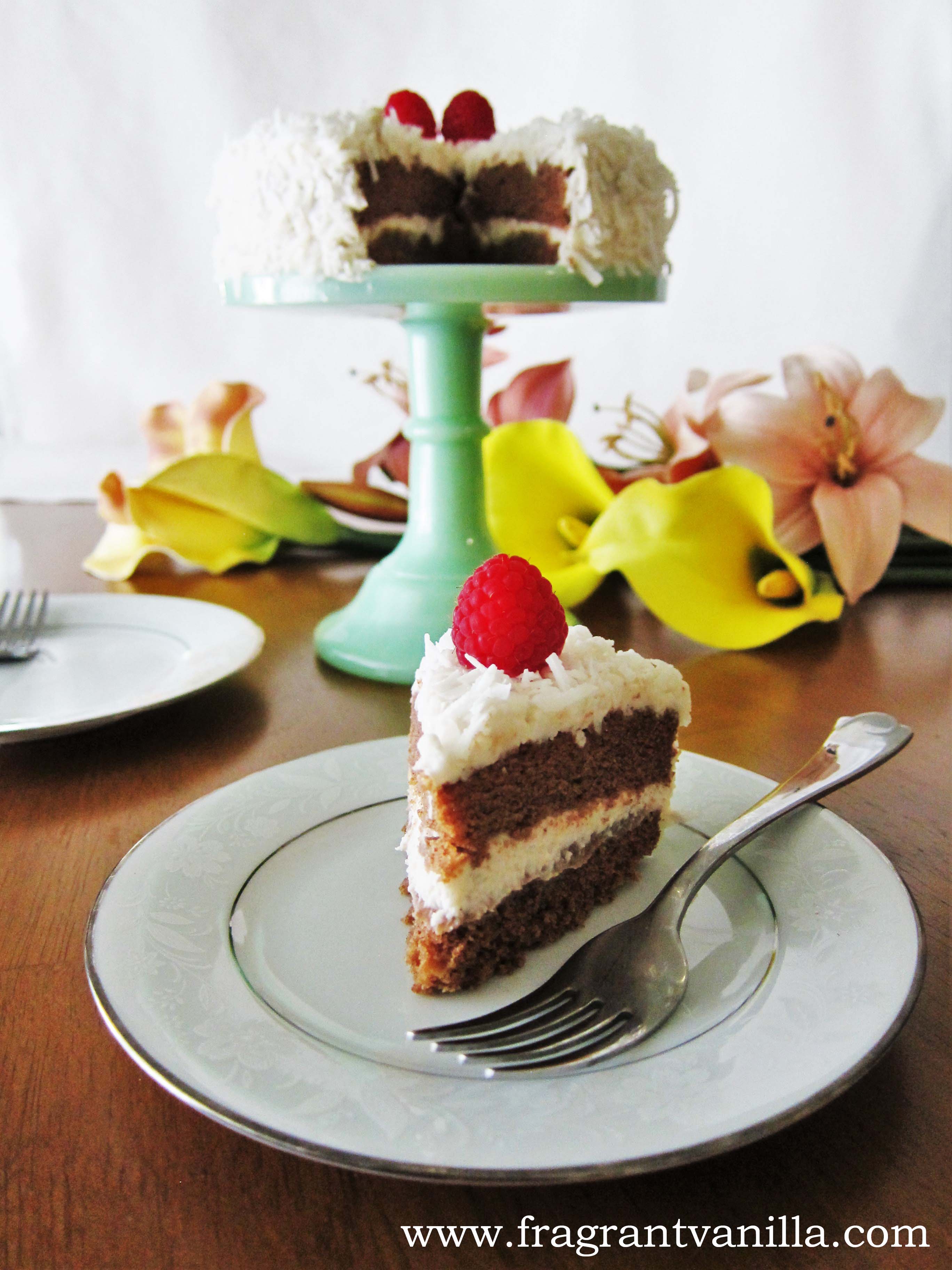 Vegan Coconut Caramel Cake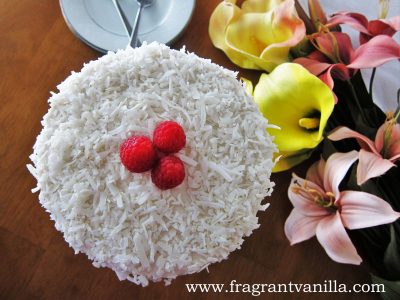 My Mom gave me a bag of shredded coconut and asked me to make something delicious with it.  I made some macaroons, but I also made the most glorious cake.  To begin with, when the idea of making a coconut cake came to mind, I was going to go for a classic coconut layer cake.  You know, all coconut.  Coconut cake layers and frosting.  But then I decided that caramel and coconut would be even better.  I mean, think about it.  German chocolate cake frosting is bomb and it has caramel with coconut.  So, that is where I was going with it.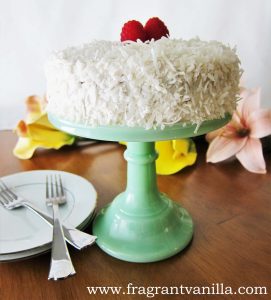 I made the cake layers caramel flavored with dates and pecan butter, and they tasted amazing.  Even the batter before it was baked. They ended up being perfectly moist and soft yet fluffy like cake should be.  Needless to say I was proud of those cake layers.  I decided that the cake should have a caramel layer in between the cake layers so I whipped up some date caramel.  Lastly, I frosted it with the most luscious fluffy whipped coconut frosting, and dusted the outside with that fancy coconut.  It kind of looked like a giant snowball before I dropped a few raspberries onto it for garnish.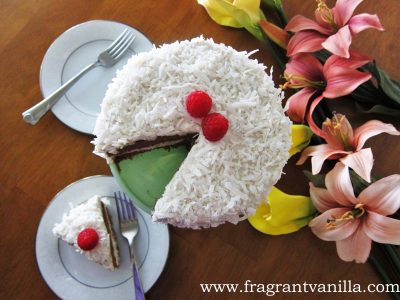 I could not wait to try it.  When I did, I was surprised with a party in my mouth.  Of sweet delicious flavors that is. The caramel was so good with the coconut and the coconut on the outside added a nice crunch.  It was simply heavenly.  I shared some with my Mom and Eric and they loved it too.  This is something you can't just have one piece of, just sayin. I wish I could share a piece with you all, but since I can't, I am sharing the recipe so you can enjoy it too!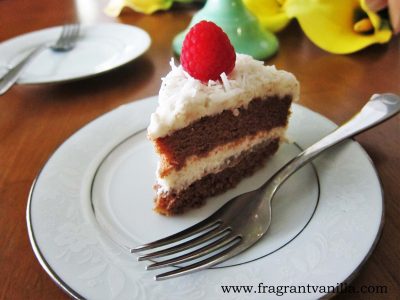 Vegan Coconut Caramel Cake
Makes 1 6 inch 2 layer cake
2 6 inch cake pans
Cake:
1 1/2 cups quinoa flour (or all purpose gluten free flour)
1 1/2 tsp baking soda
1 tsp baking powder
1/2 tsp sea salt
1 cup packed soft medjool dates, pitted, soaked in water for 30 minutes and 1/2 cup of the water reserved
1/4 cup raw pecan butter or raw almond butter
2 tsp pure vanilla extract
1 cup filtered water
2 Tbsp apple cider vinegar
Caramel Filling:
1/2 cup pitted medjool dates, soaked in water for 30 minutes and 1/2 cup of the water reserved
3 Tbsp raw pecan butter or raw almond butter
1 tsp pure vanilla extract
large pinch sea salt
Frosting:
1 15 oz can full fat organic coconut milk, chilled
1/4 cup maple syrup
1 tsp pure vanilla extract
1/4 tsp sea salt
1/2 cup plus 2 Tbsp melted coconut butter (warmed to liquid)
Finely shredded, dried unsweetened coconut
Preheat the oven to 375F and position rack in center of oven. Line the bottoms of two 6-inch-diameter cake pans with 2-inch-high sides with parchment paper. Coat parchment paper and pan sides lightly with oil so that the cake doesn't stick. Whisk flour, baking powder, baking soda, sea salt, in a large bowl to blend well. Place dates, reserved water, pecan butter and vanilla extract into a blender, and blend until smooth, then whisk this blended mixture into the flour mixture until well blended.
Whisk cider vinegar into the batter until bubbles form. Transfer cake batter to prepared pans and bake cakes until tester inserted into center comes out clean, about 25-30 minutes. Cool cakes completely in pan on rack, about 1 hour. Cut around sides of pan to loosen. Turn cakes out onto platter; peel off parchment paper. Let cool completely.
Meanwhile, to make the filling, combine all ingredients in a high speed blender and blend until smooth.
To make the frosting, combine all ingredients in a high speed blender and blend until completely smooth.  Pour into a bowl and place in the freezer until the consistency of stiffly whipped cream (about 30-45 minutes depending on how warm it has gotten.  Once it is ready place in the refrigerator until ready to assemble.
To assemble, place one cake layer on a plate, and spread the caramel filling over it, then spread about 3/4 cup frosting over that. Place the other cake layer over that, then spread the remaining frosting on the top and down the sides of the cake. Coat the outside of the cake with shredded coconut.
*Note: if you would like to make a 9 inch cake, double the cake recipe (and frosting recipe) and bake in two nine inch round pans, it will take 50-60 minutes to bake.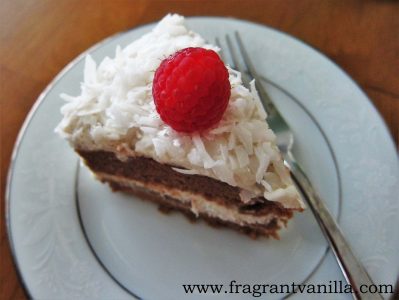 (Visited 165 times, 1 visits today)