Vegan Citrus Margarita Pancakes with So Delicious and Kitchen I.Q.
This is a sponsored post.  All opinions are my own.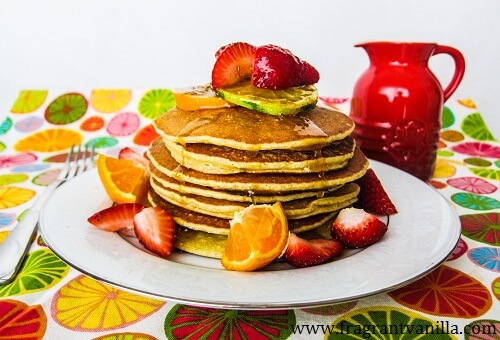 Pancakes are always good, no matter what meal you decide to make them for.  When I was younger my Mom used to make them for dinner sometimes, and I loved it!  Because I was never going to turn down pancakes.  Especially when fresh fruit was included.  Pancakes also remind me of lazy Saturdays, and brunches on Sundays after church. They are sort of a treat, or at least that is what I thought as  kid when I had them.  I had hit the jackpot!  When I make them now as an adult, they are usually not the standard plain with maple syrup.  I like to give them a little imagination and seasonal ingredients.  The ones I made last weekend were super delicious, they were Margarita Citrus Pancakes!  Just in time for patio brunch season.  I just had to share them with you all.  Not only were they good, I got to try out some new products while making them, which was exciting!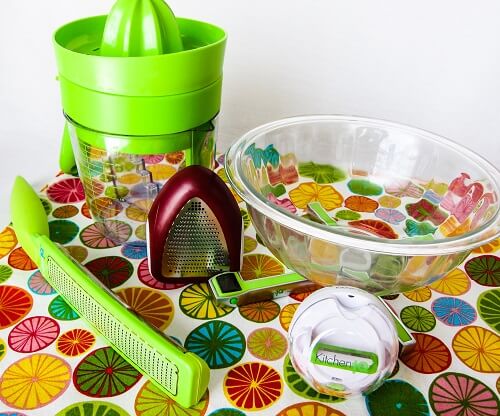 So Delicious Dairy Free and Kitchen IQ were kind enough to send me some things to use for my recipe.  If you are vegan, no doubt you have heard of So Delicious Dairy Free products.  They carry yogurts, ice creams, milk, creamer and desserts among other things, and they are all darn delicious.  I was excited to try their culinary coconut milk, since I had never had it before, and let me tell you, I ended up liking it better than the previous brand I had been using.  It was super creamy and rich, perfectly emulsified and ready to use.  It worked perfect in my pancakes, and I can't wait to try it in other things!  The Kitchen IQ products were really fun to use as well! They come in fun colors, mine were lime green which is perfect for Spring! I got a 3 in 1 mini prep multi tool, which worked well for cleaning the citrus since it has a brush on one side.  If you are using the zest in recipes you want to make sure it is clean.  It also has a peeler and chopper to be used for another recipe.  I was also sent the 3 in 1 prep and measure tool, which was perfect for juicing the citrus and measuring it out, and a V etched grater, which worked awesome for the zest in the recipe.  Zest is essential for citrus recipes because it gives them more flavor and fragrance, and this one is perfect because it catches the zest, and measures it out!  Their V etched spice grater worked wonderfully with some nutmeg, and lastly, the compact digital scale they sent was a great way to get accurately measured flour.  This is probably one of the coolest scales I have seen.  It folds up, and it works just as well as larger scales.  There is no better way to have accurate measurements than using a scale, so I was excited about this! The recipe came together fast, and was easy to make which is always a win!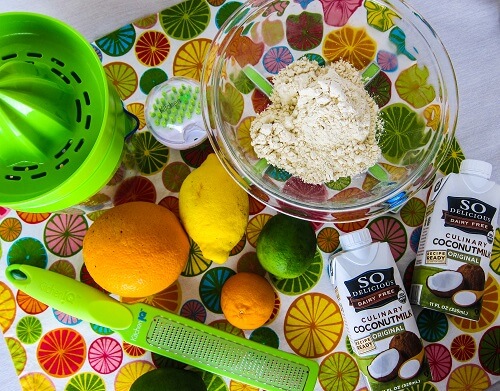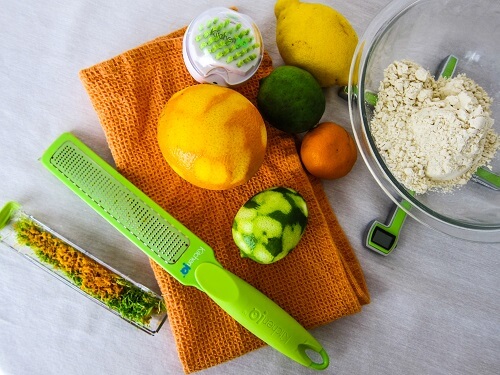 For the pancakes, I included plenty of citrus flavor since these were margarita pancakes, and they have to have lime and orange.  The grater came in handy because it supplied lots of super fragrant zest.  The grater that I used to have before this one kind of was a piece of junk (and it is in the garbage now since it was super dull), and I did not know what I was missing until I tried this new one by Kitchen IQ.  It works so much better.  I used the super creamy coconut milk from So Delicious Dairy Free in the batter and it gave them a delicious rich texture.  The pancake batter smelled wonderful, and they cooked up nicely and filled my kitchen with a wonderful aroma.  These were margarita pancakes...so they HAD to include some tequila as well.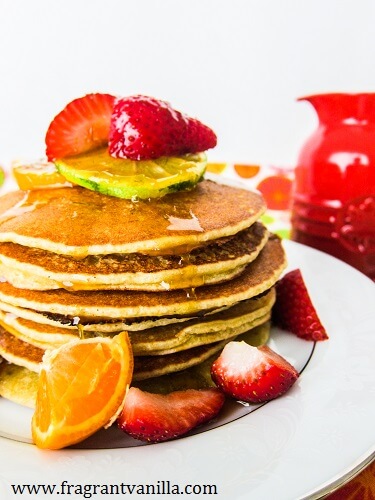 Not so much that it was overwhelming, but I thought a tequila citrus maple syrup would be perfect.  So, I reduced some citrus juice, and maple syrup, and added in some tequila, zest, and sea salt.  These pancakes were sooo good! Like a margarita in breakfast form. This would be a super fun brunch recipe for say...Mother's Day!  I know my Mom would love them.  You could even serve them with margaritas if you wanted.  Why not?! So, if you are looking for a good brand of coconut milk, check out So Delicious Dairy Free Culinary!  I think it may just be my new go-to coconut milk!  Also, if you want to make cooking easier, and are looking for some new kitchen tools and toys, check out Kitchen IQ! Because, I don't know about you, but I love trying new vegan products and kitchen tools!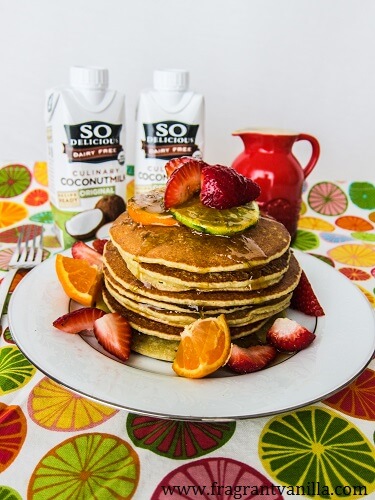 Vegan Citrus Margarita Pancakes
Makes 12
Pancakes:
9.20 oz (about 1 1/2 cups) gluten free all purpose flour
2 Tbsp organic lime zest
1 Tbsp organic orange zest
2 tsp baking powder
1/8 tsp freshly grated nutmeg
2 Tbsp lime juice
1 Tbsp orange juice
1/2 cup avocado oil
1 1/4 cups So Delicious Original Culinary coconut milk
2 tsp pure vanilla extract
1/4 tsp sea salt
3 Tbsp maple syrup
Citrus Tequila syrup:
1 cup orange juice
1/2 cup lime juice
1/4 cup maple syrup
2 Tbsp silver tequila
2 tsp lime zest
pinch sea salt
Instructions:
To make the pancakes, in a food processor, combine all pancake ingredients and process until just blended, pour into a bowl and set aside.
To cook pancakes, preheat oven to 110 degrees. Heat a large non-stick pan over medium heat. Once hot, add the batter in 1/4 cup amounts (I did 3 at a time, but it depends on your pan), and let cook for about 2-3 minutes on the first side until set and starting to brown, then flip with a spatula, and cook another 2-3 minutes. When cooked, place on a plate and keep warm in the oven while you repeat the process with the remaining pancakes.
To make the syrup, heat the orange juice, lime juice, and maple syrup in a saucepan, and bring to a boil.  Simmer for about 15 minutes or until the syrup has reduced to 1/3 of its original volume.  Stir in the tequila, lime zest and sea salt.
Serve the pancakes with fresh fruit, and top the pancakes with the syrup!
*Note: If you do not have a non-stick pan, go ahead and use a little oil when cooking the pancakes to prevent sticking.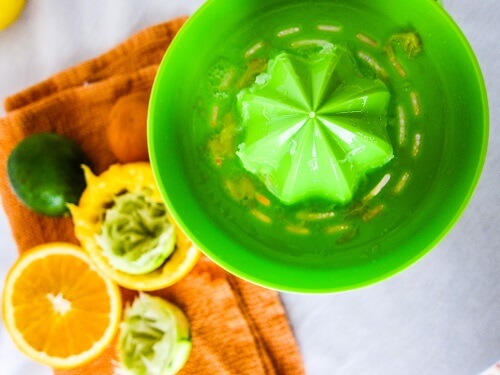 (Visited 69 times, 1 visits today)