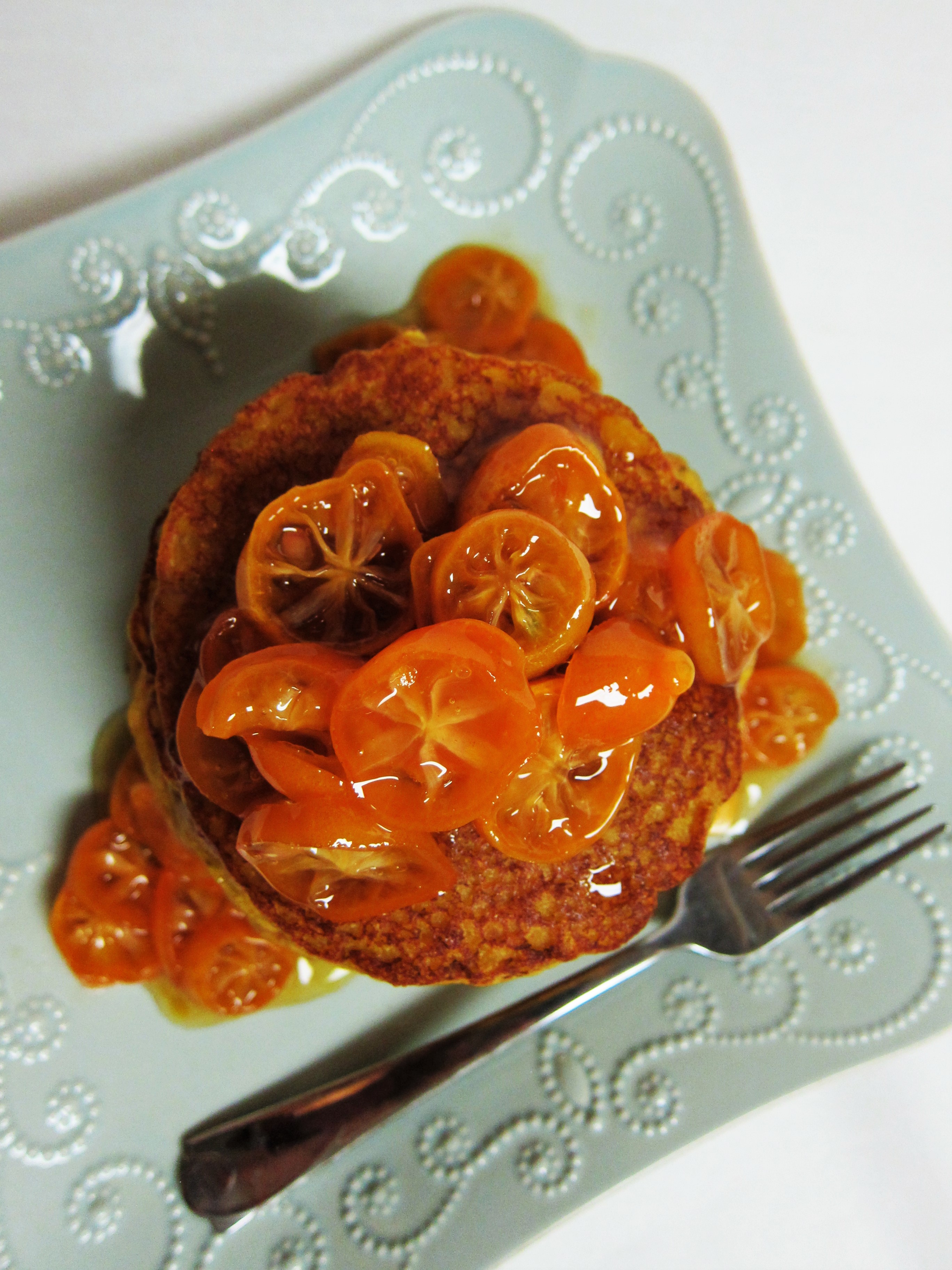 Vegan Citrus Corncakes (gluten free) with Kumquat Syrup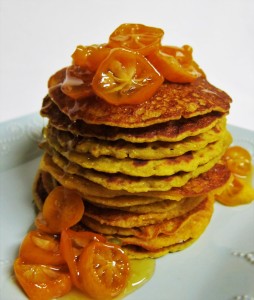 After an exhausting day last week, all I wanted was to make some breakfast for dinner when I got home.  I had been running around all day and wanted nothing more than to relax and make some pancakes.  Something wintery with seasonal ingredients preferably made from things I had on hand, since I didn't feel like shopping after work.  I ended up making citrus pancakes, because I had plenty of citrus fruits on hand, and they taste so bright and sunny this dark time of the year.  I decided to make sunny yellow corn cakes, because I love the flavor of cornmeal with fruit, and I didn't have much gluten free flour on hand, so it worked out.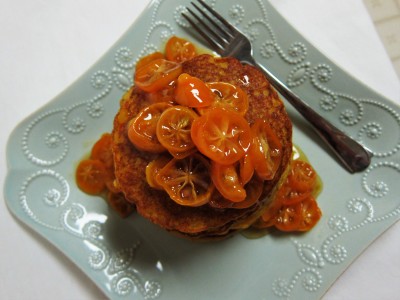 I added some protein powder to the batter since I wanted something more substantial and filling.  I had ran and lifted weights in the morning and been at work all day so I was hungry.  I made a zesty, sweet citrus syrup to top them off, and they tasted like sunshine and a warmer climate than here.  I shared some with Eric, since he loves pancakes too.  In fact, that was one of the first dishes I cooked for him and he always approves. If you need a little sunshine, try out these pancakes, they are wonderful!  If you do not have access to kumquats, feel free to substitute orange sections, and orange zest in the sauce for them.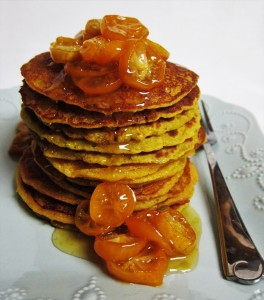 Vegan Citrus Corncakes (gluten free) with Kumquat Syrup
Serves 2
Ingredients:
Sauce:
1 1/2 cups sliced organic kumquats
juice of 1 large lemon (about 3 Tbsp )
1/4 cup maple syrup
pinch sea salt
2 tsp arrowroot starch dissolved in 2 tsp water
1 tsp pure vanilla extract
Pancakes:
2 Tbsp ground flax seed
1/2 cup Bob's Red Mill All Purpose Gluten Free Baking flour
1/2 cup cornmeal
2 scoops Sprout Living Epic Vanilla Lucuma Protein Powder
1 tsp aluminum-free baking powder
1/4 tsp sea salt
1/2 cup applesauce
2 Tbsp melted coconut oil
1 1/4 cups orange juice
2 Tbsp lemon zest
2 Tbsp orange zest
2 tsp pure vanilla extract
2-3 Tbsp maple syrup (depending on how sweet you like them)
coconut oil for cooking
To make the sauce, combine the kumquats, lemon juice and maple syrup in a pan, cook over medium heat, until the kumquats have softened, about 5 minutes. Add the arrowroot, and cook until thickened, about a minute more.  Add the vanilla and remove from heat. Set aside.
Whisk together the flax seed, flour, cornmeal, protein powder, baking powder and sea salt in a large bowl.
Whisk in all the remaining wet ingredients until smooth.
To cook pancakes, preheat oven to 200 degrees. Heat a large non-stick pan over medium heat and add a little coconut oil to coat the bottom. Once hot, add the batter in 1/4 cup amounts (I did 4 at a time, but it depends on your pan), and let cook for about 2-3 minutes on the first side until set and starting to brown, then flip with a spatula and cook another 2-3 minutes on the other side. When cooked, place on a plate and keep warm in the oven while you repeat the process with the remaining pancakes. Serve with the kumquat sauce.
(Visited 67 times, 1 visits today)