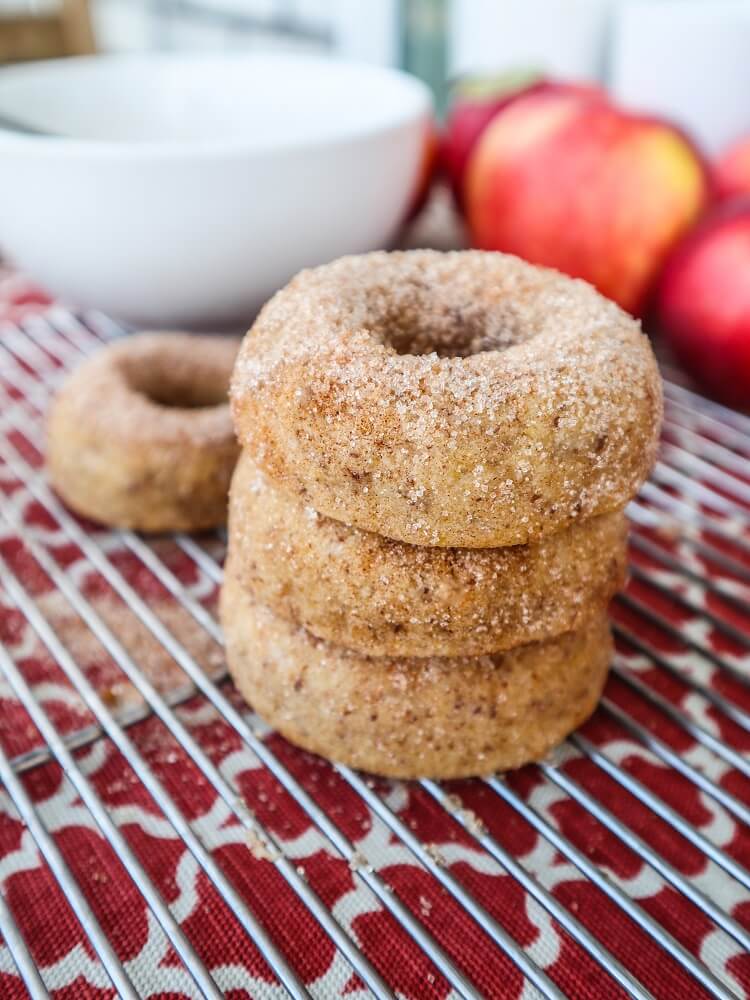 Vegan Cinnamon Sugar Apple Doughnuts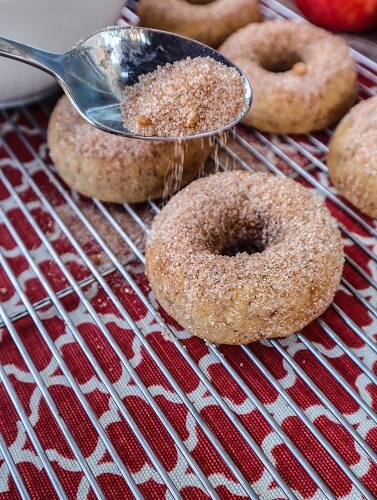 Last weekend Eric and visited a local apple orchard where you can pick your own apples.  This week they were offering sweet tango apples which are a good balance of tart and sweet, so that was what we ended up picking.  It was a beautiful day to walk through the orchard, the sun was shining and although there was a fall chill in the air I thought it was perfect to be outside!  They have a truck that sells apple cider doughnuts and they always smell amazing but they are not vegan so I told myself that I wanted to make my own when I got home because I wanted to enjoy some!  So, I used one of the apples to make some apple sauce and we had bought some cider so I used both of those to make some Vegan Cinnamon Sugar Apple Doughnuts!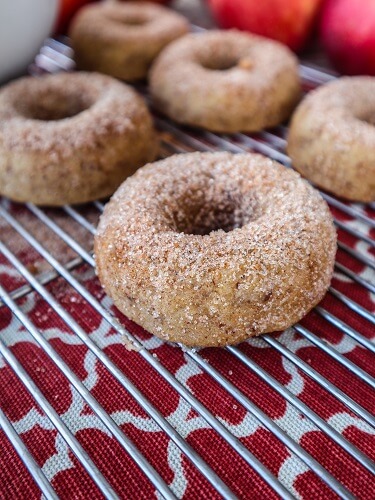 Maybe some day they will offer some at one of the orchards, but until then I think it is kind of fun to make my own since I do own a doughnut pan that I might as well get use out of!  They are really actually quite easy to make and you can be enjoying warm doughnuts within 45 minutes or less!  I really do think they should be served warm, I used to love warm mini doughnuts that I would get at the fair when I was little.  These are baked not fried though so slightly less bad for you.  Plus I use better ingredients.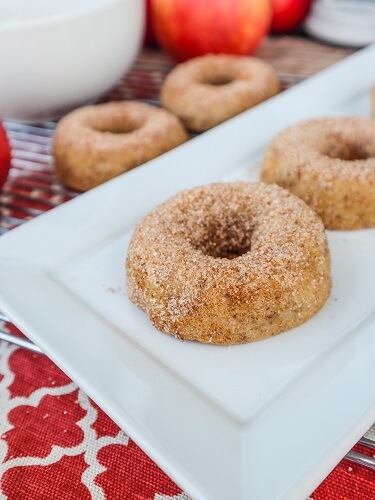 I used whole wheat pastry flour for these but if you wanted to use all purpose flour instead you could use that and they would be a little lighter in color.  I included a little bit of cinnamon in the doughnuts as well as vanilla to give them a heavenly aroma!  I also used both a little apple sauce and apple cider since these are apple doughnuts after all, and it made them moist and light.  The batter tasted wonderful even before I baked them and smelled even more heavenly while they baked!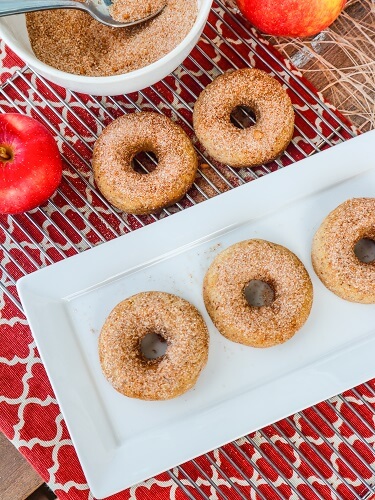 I could not wait to try one!  And I didn't have to wait long because these are best coated in cinnamon sugar while warm.  I spritzed them with a little avocado oil to help the cinnamon sugar stick to them but if you didn't have a spray you could lightly brush them instead.  They turned out super delicious!  I have really missed warm cinnamon sugar doughnuts and the apple was a nice seasonal twist!  If you are in the mood for some delicious doughnuts, definitely give these Vegan Cinnamon Sugar Doughuts a try!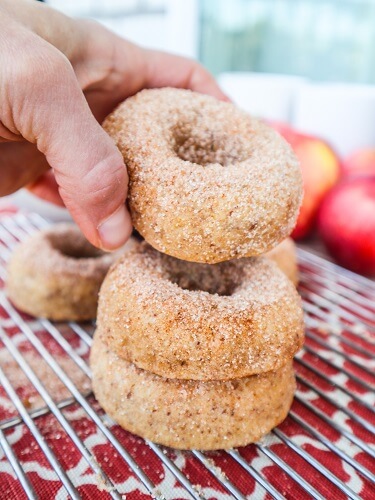 Vegan Cinnamon Sugar Apple Doughnuts

Makes 10 doughnuts
Ingredients:
Cake:
1 1/2 cups whole wheat pastry flour or all purpose flour
3/4 cup plus 2 Tbsp granulated sugar or maple sugar
3/4 tsp baking powder (1/2 tsp plus 1/4 tsp)
1/2 tsp cinnamon
1/2 tsp sea salt
2 flax eggs (2 Tbsp ground flax seed mixed with 1/4 cup plus 2 Tbsp filtered water, allowed to sit 15 minutes)
3 Tbsp apple sauce
3 Tbsp avocado oil
1/2 cup apple cider
1 1/2 tsp pure vanilla extract
3/4 cup granulated sugar or maple sugar mixed with 1 tsp cinnamon
Instructions:
Preheat oven to 350F degrees, and oil a doughnut pan.
In a large bowl, combine the flour, sugar, baking powder and sea salt and whisk to blend.
Add the flax eggs, apple sauce, oil, apple cider, and vanilla and beat with an electric mixer for about a minute (or a little longer if doing it by hand with a whisk).
Pour the batter into prepared doughnut pan, filling the holes 3/4 full.
Place doughnuts in the oven and bake for about 15-20 minutes until the doughnuts are done in the center (you are able to insert a toothpick into the center and it comes out almost clean with a few moist crumbs).
Remove from the oven and let cool about 5 minutes, then remove the doughnuts from the pans (you want them still warm.  Spritz them with a little avacado oil (I have an olive oil spray).
Place the cinnamon and sugar in a bowl and mix together, then coat each of the doughnuts with them by rolling the doughnuts in it and spooning it over them until they are all coated.
Enjoy!
The doughnuts keep for up to 1 week in an airtight container in the refrigerator or 2-3 days on the counter.  You can freeze them for up to a few months.
(Visited 391 times, 1 visits today)