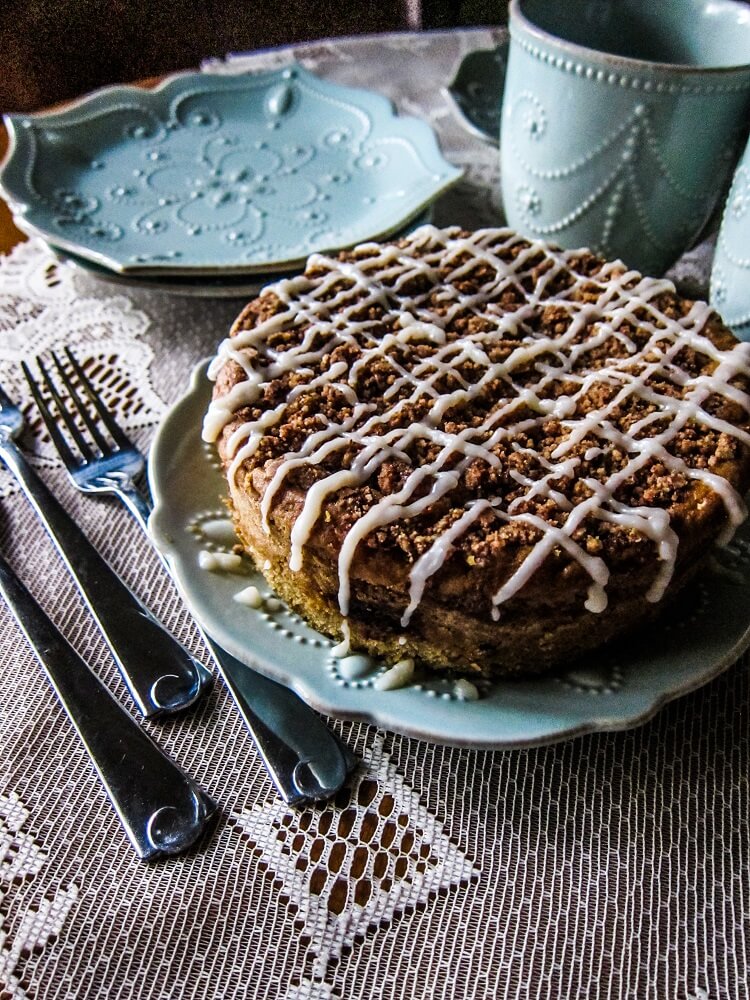 Vegan Cinnamon Roll Cake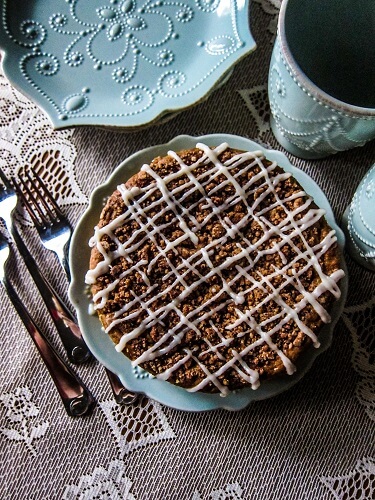 At work in the deli last week, one of my coworkers decided to bake a cinnamon roll cake for our hot food bar.  We don't usually make desserts for it but it is always nice to swap things up, and a lot of people have a sweet tooth.  Plus, who doesn't like warm cinnamon scented cake? Anyways, the cake smelled amazing and sold well but sadly it wasn't vegan so I could not try it.  So I decided that I was going to go home and make one of my own that was more suited to my tastes as well.  I prefer to make my desserts a bit less processed than traditional ones, so every time I veganize a recipe it becomes less processed as well. I was super excited about this one!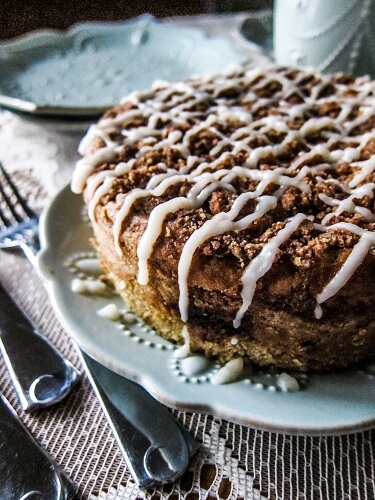 I already love cinnamon rolls, but they are kind of a lot of work.  Cake is so much easier! And if I can get the same sweet cinnamony flavor, why not?!  For the cake base I started off with what I would use for my plain vanilla cake.  Cinnamon rolls have a vanilla base after all.  It was really quite simple to make, just whisked all together in a bowl!  Back in the day before I went vegan and I would make those vanilla cakes that you had to whip the eggs separately and cream the sugar and whatnot and you know what?  Honestly the texture of my vegan cakes is just as good and they are easier to make.  I used maple sugar to sweeten this one, because it goes so well with cinnamon.  Also, you may notice there is not any oil in this cake.  It actually doesn't need it, because the coconut oil I use in the batter is plenty rich!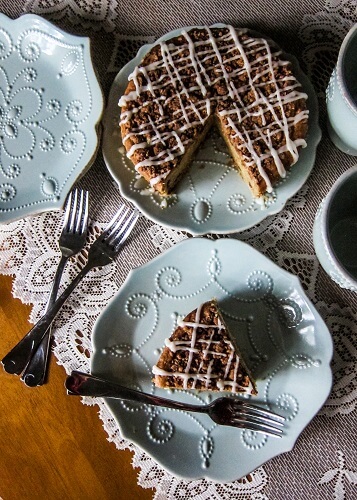 I gave the inside of the cake cinnamon swirls as well, because cinnamon rolls have to have plenty of cinnamon!  I did swirls instead of just dropping it in because I figured it would be more evenly distributed that way.  Once it was all put together I wanted to make a streusel for the top like the one that was made at work.  I am a sucker for streusel after all.  I love it on anything dessert related.  I kept this one simple, just flour, sugar and coconut butter (not to be confused with coconut oil) plus some cinnamon and was looking forward to how crunchy and delicious it would get once baked!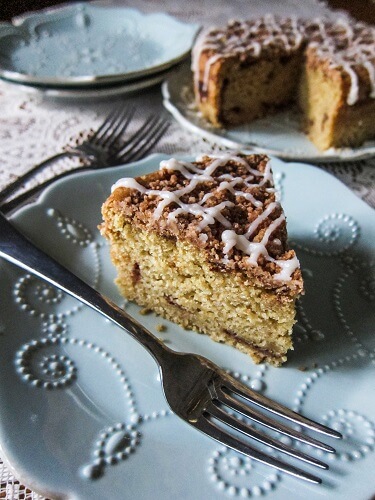 It smelled amazing while baking by the way.  Cinnamon reminds me of fall, which is appropriate since we are almost there!  I could not wait to try it, but I had to wait for it to cool a bit before un-molding.  As if it wasn't already amazing how it was, I added some glaze like the cake at work had.  Except instead of making a powdered sugar glaze, I used coconut butter sweetened with a bit of maple syrup.  It was time to dive in.  The cake was soooo good!  It had a soft, light texture, and it was just the right amount of sweetness, with the perfect amount of cinnamon and vanilla.  That crunchy struesel topping made it crave worthy!  So the next time you are craving cinnamon rolls but don't want to deal with yeast and kneading and whatnot, make this instead!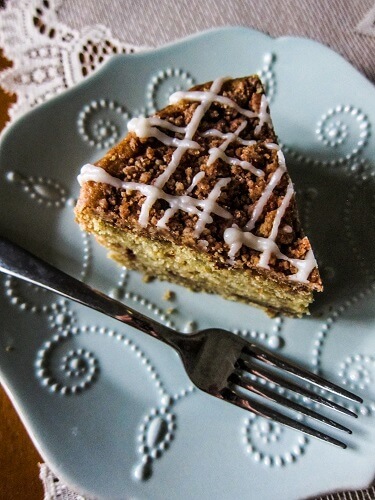 Vegan Cinnamon Roll Cake
Makes one 6 inch cake
Ingredients:
one 6 inch cake pan
Cake:
3/4 cup organic whole wheat pastry flour
3/4 tsp baking soda
1/2 tsp baking powder
1/4 tsp sea salt
1/2 cup maple sugar
1 cup full fat coconut milk (the thick kind, I prefer Thai Kitchen brand) at room temperature
1 tsp pure vanilla extract
1 Tbsp cider vinegar
Swirl:
2 Tbsp maple syrup at room temperature
2 Tbsp maple sugar
2 tsp cinnamon
Topping:
1/4 cup organic whole wheat pastry flour
2 Tbsp maple sugar
1/8 tsp sea salt
1/4 tsp cinnamon
3 Tbsp coconut butter, warmed to liquid
Drizzle:
1 Tbsp coconut butter
1 tsp maple syrup
1 Tbsp filtered water, or as needed
Instructions:
Preheat the oven to 350F degrees and position rack in center of oven.
Oil a 6 inch round baking pan and line it with parchment at the bottom so it will not stick.
Whisk flour, baking soda, sea salt, and sugar in a large bowl to blend well.
Whisk coconut milk and vanilla extract together in small bowl to blend well, then whisk into the flour mixture until well blended.
Whisk the cider vinegar into the batter.
Mix together swirl ingredients in a small bowl.
Transfer half the cake batter to prepared pan then place the swirl mixture in a ziplock bag with the corner cut off and pipe it into a swirl from the center out.  Pour the rest of the cake batter over it, then do the same with more of the swirl. marble the swirls with a knife.
Mix together the streusel ingredients in a bowl with your hands until it starts to clump together, then sprinkle over the cake.
Place in the oven, and bake cake until tester inserted into center comes out clean with just a few moist crumbs attached, about 25 minutes.
Remove from the oven and let cool for at least 30 minutes, then un-mold, by cutting around the edges if they are stuck at all, then putting  plate over the top, then flipping it onto that plate then placing a plate on the bottom and flipping it upright onto that plate.
Whisk together the coconut butter, maple syrup and water until smooth (adding a little more water if it is too thick to drizzle).
Drizzle the coconut butter mixture over the cake, and serve!
Cake keeps stored in a container on the counter for up to 1 week, or can be frozen for up to 4 months.
Notes:
If you would rather use coconut sugar or even just granulated sugar for this, either will work in place of the maple sugar.
If you would like to make a 9 inch round cake, double the entire recipe, and bake it in a 9 inch round pan, increasing the baking time to 50 minutes to 1 hour (depending on your oven).
This cake can be made gluten free by swapping out the whole wheat pastry flour for Bob's Red Mill gluten free all purpose baking flour (this is a brand I have used before and have tested it in cakes with great results).
(Visited 2,715 times, 1 visits today)