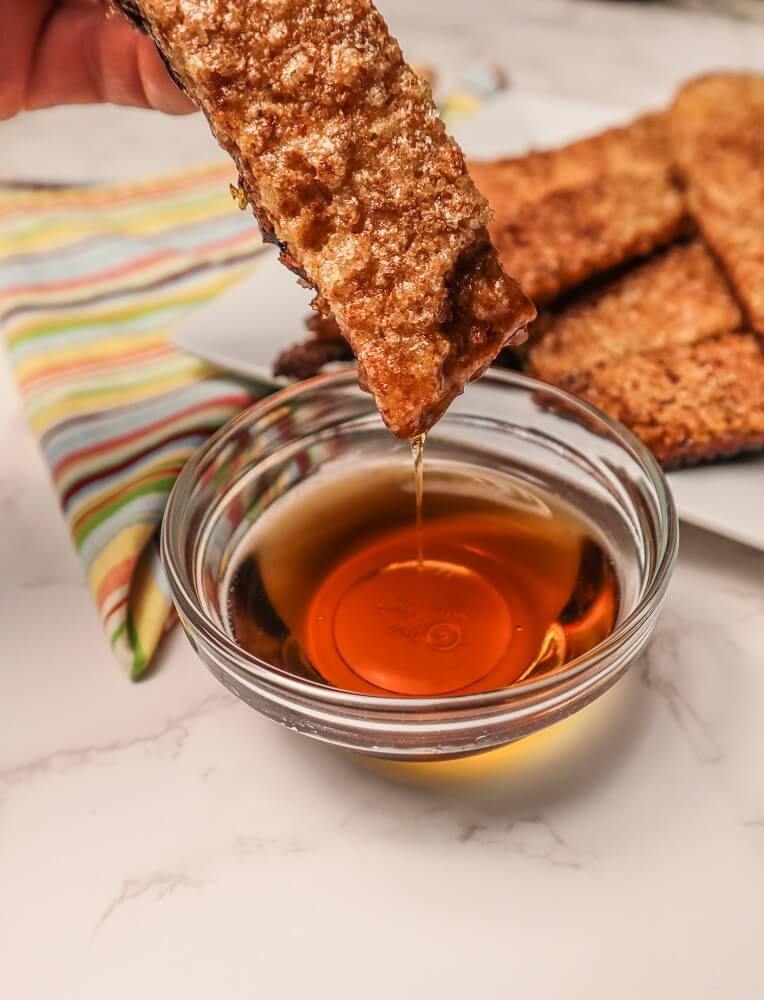 Vegan Churro French Toast Sticks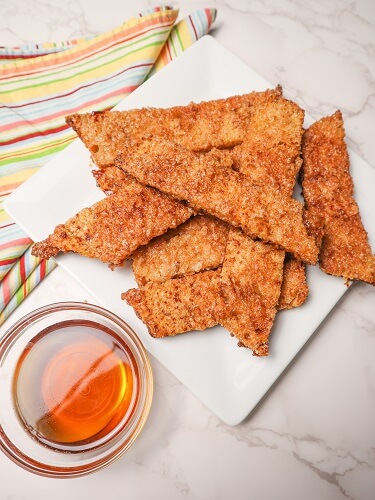 Growing up I loved french toast sticks.  We would occasionally have them with school lunch (I never minded breakfast at other random parts of the day), and I thought they were awesome.  What kid doesn't like something that tastes like dessert for lunch after all.  I don't think I had had any since middle school, because that is when I started bringing my own lunch.  But I decided to make a veganized version of them last weekend because they just sounded good.  So I made some Vegan Churro French Toast Sticks!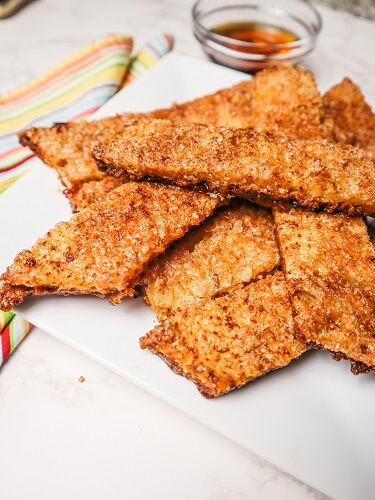 I had some good crusty bread on hand that I knew would be perfect to make them with!  With the crust cut off of course.  Not that I mind crust (I just ate the stuff I cut off), but I wanted these to be uniform in texture. I made a french toast mixture that I have made before that has flax eggs, oat milk, vanilla cinnamon and maple syrup and it worked out nicely.  You just want to dip these into the mixture briefly (not to soak them to the core, but to allow them to get a sticky coating to adhere the cinnamon sugar mixture on), then let them drain on a wire rack.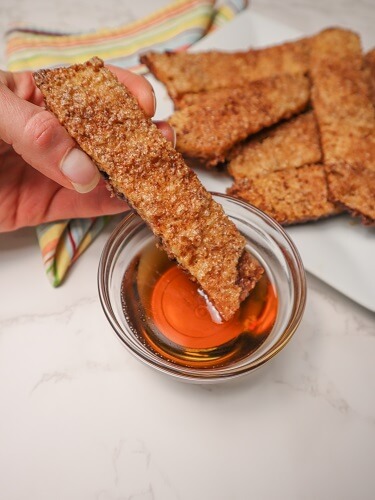 Next, I made a cinnamon sugar mixture and rolled them in it, then placed them on a baking sheet.  It had a little extra  cinnamon since I wanted these to taste like churros.  These were going to be baked french toast sticks  because I prefer baking to frying in a pan when it comes to french toast.  It is easier and less messy and everything is done at once!  They smelled so good while baking!  I could not wait to try them!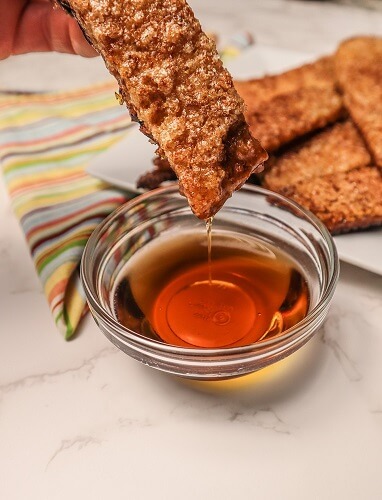 They got nice and crispy at the edges in the oven the sugar creating a nice coating on them.  I served them with some maple syrup and they were super delicious!  Even better than the ones I remember eating as a kid!  If you were ever a french toast sticks fan, give these Vegan Churro French Toast Sticks a try!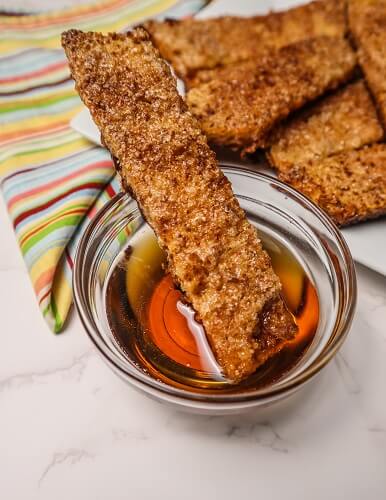 Vegan Churro French Toast Sticks
Serves 4-6
Ingredients:
about 12 1 x 1 1/2 inch sticks of dried sourdough bread or other crusty bread with the crust removed (it was about 4 large slices)
2 Tbsp ground flax seed plus 6 Tbsp filtered water
1 cups oat milk (or your favorite plant based milk)
2 Tbsp maple syrup
1/8 tsp sea salt
1 tsp pure vanilla extract
1 1/2 tsp cinnamon (divided)
2//3 cup maple sugar or granulated sugar
maple syrup for serving
Instructions:
Preheat the oven to 350F degrees, and line a sheet pan with parchment.
In a bowl, whisk together the flax mixture, oat milk, maple syrup, sea salt, vanilla and 1/2 tsp cinnamon until well combined, dip the bread sticks into it briefly top coat them and then set them on a wire rack above a sheet pan to drain the excess off.
Mix together the remaining cinnamon and sugar on a plate, then roll the bread sticks in it and set them on the parchment lined sheet pan. Sprinkle additional cinnamon and sugar over them.
Place in the oven 25-30 minutes until they are crispy at the edges and starting to brown.
Remove from oven.
Let cool about 10 minutes and enjoy warm with some maple syrup!
(Visited 156 times, 1 visits today)