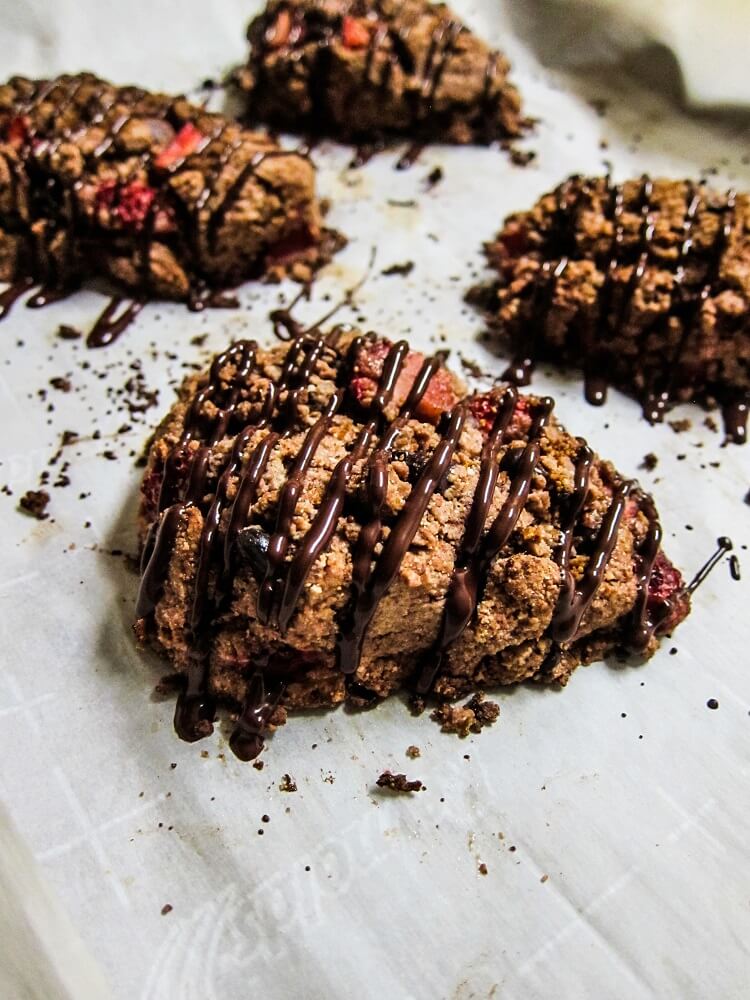 Vegan Chocolate Strawberry Scones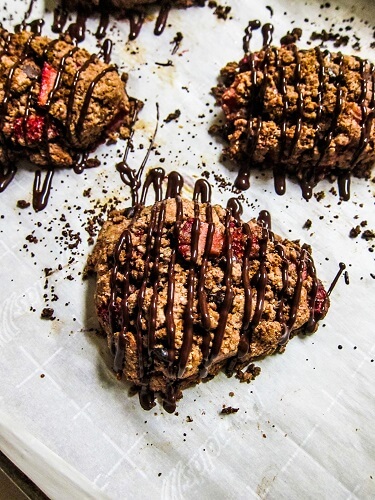 I am so happy it is finally getting comfortably warm outside! Eric and I went for a walk in the afternoon around the Stone Arch area of Minneapolis last weekend and it was so warm that I wore shorts and a tank top and was even sweating a little despite the breeze. Let me tell you, it is a nice change from the snow we had just a couple weeks ago. We decided when we got done walking that something cool sounded good and I had the idea to hit up Crepe and Spoon a vegan and crepe shop in the area. I have always wanted to try it, and the ice cream I had ended up being super delicious. I got the raspberry lemonade ice cream in a waffle cone. I haven't had a waffle cone since I was a kid probably and I loved it! We will definitely be going back there, especially this Summer.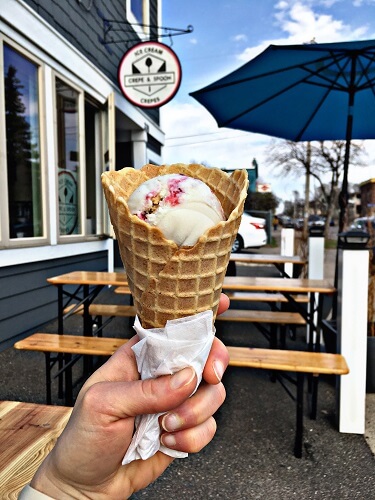 It was a little chillier on my other day off, so I decided to do some baking. I had picked up some organic strawberries at Aldi for a good price, and I thought they would be lovely in some scones. I had made some chocolate strawberry scones a while back before I went vegan and they were really good so I decided to recreate those.
Scones are actually a fairly quick and easy thing to make provided you have your coconut milk chilled (which I always do because I store it in the refrigerator since I mostly use it chilled). For the base, I used a mixture of whole wheat pastry flour and almond flour with coconut oil and full fat coconut milk to make it nice and rich, plus of course some cacao powder and vanilla. The secret to making these flakey and delicious is to not over-mix the dough. this dough is super delicious by the way, I had to sample it before baking of course.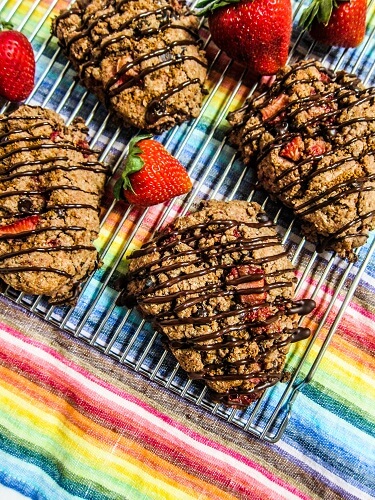 They smelled amazing while they baked almost like brownies, and they were lovely when I pulled them out of the oven. I decided to top them off with a bit of melted dark chocolate too though to make them even more pretty. They were delicious warm (the best way to eat scones) with plenty of chocolate flavor, gooey chocolate chips and jammy strawberries in a tender dough! If you have strawberries and chocolate on hand, give these a try!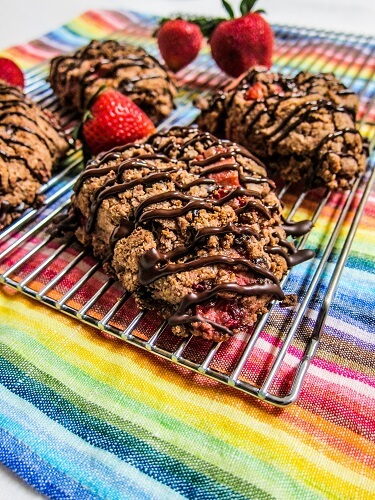 Vegan Chocolate Strawberry Scones
Makes 8
Ingredients:
Scones:
2 1/2 cups organic whole wheat pastry flour
1/2 cup almond meal
1/4 cup cacao powder or unsweetened cocoa powder
1/2 cup coconut sugar
2 1/2 tsp baking powder
1/4 tsp salt
1/2 cup virgin coconut oil, cut into chunks
1 cup cold full fat organic canned coconut milk (whisked until smooth if chunky)
1 Tbsp pure vanilla extract
1 1/2 cup fresh organic strawberries, sliced
3/4 cup vegan dark chocolate chips or chunks
coconut milk for topping (if needed)
coconut sugar for sprinkling
Instructions:
Preheat oven to 425F degrees with the rack set at the middle position.
Line a baking sheet with parchment.
In a large bowl, combine the flour, almond meal, cacao powder, sugar, baking powder, and salt. Cut in the coconut oil with a pastry blender or 2 knives until the mixture starts to clump into pea sized pieces. In a small bowl, stir the vanilla into the coconut milk. Add the coconut milk to the dough, and stir a few times, but do not over-mix. The dough should hold together when squeezed, but still be clumpy.
Fold in strawberries and chocolate chips until evenly distributed.
Place dough on a floured work surface, and shape into a circle, a few inches high. Use a bench scraper to cut into 8 triangles (like a pizza).
Place scones on the prepared baking sheet, reshaping slightly if necessary.
Brush the tops lightly with the coconut milk (only if they seem dry, you want the sugar to stick), and sprinkle with coconut sugar.
Place in the oven and bake for about 20 minutes or until golden brown (after about 15 minutes you may need to reshape with 2 bench scrapers if the scones are spreading, then place back in the oven).
Cool on a wire rack.
Enjoy!
(Visited 138 times, 1 visits today)