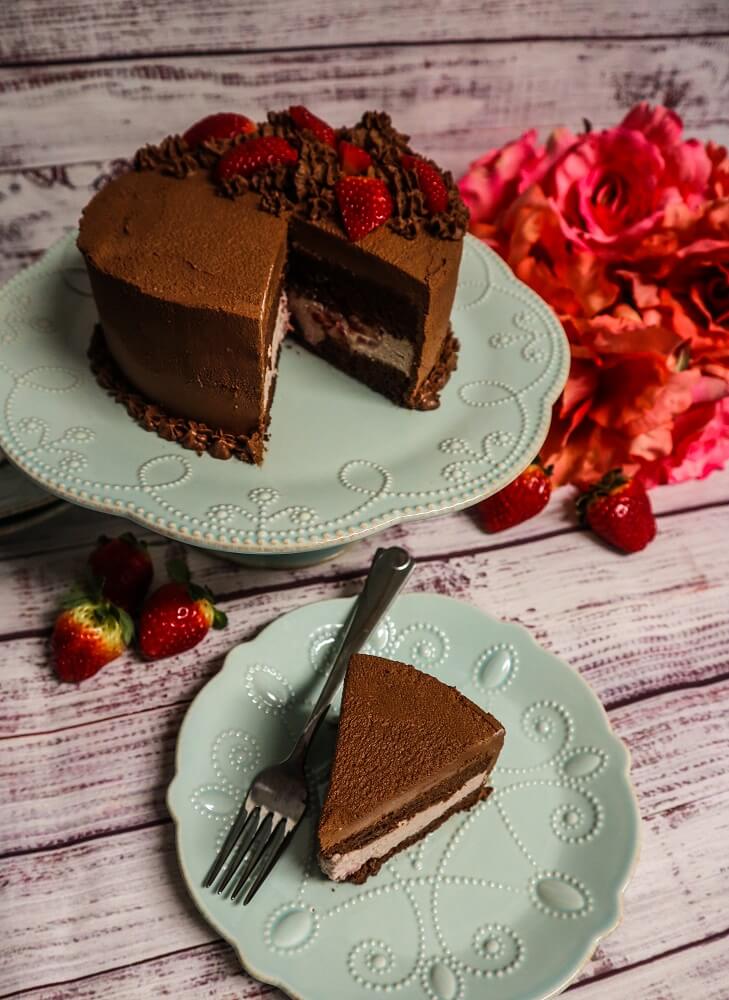 Vegan Chocolate Strawberry Cake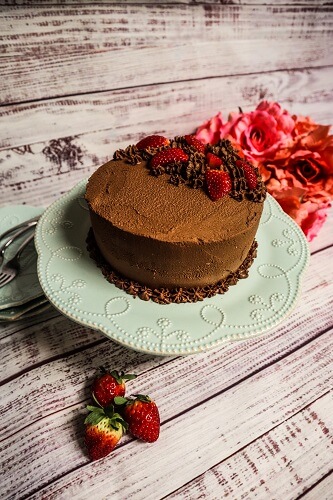 I haven't made an actual layer cake in a while, so when I was craving chocolate cake this week, I decided to go for it.  They are a little more work than other cakes, and I am a busy person, so when I have time to make one, it is usually a relaxing day to play with recipes.  This one actually took me several days to make since I was making it after work, but I enjoyed the process.  I look at making cakes as a relaxing activity.  I thought about making just a regular chocolate cake, but I wanted to make something more special and incorporate berries, since Valentine's Day is coming up.  I am all about the berries, and chocolate and pink desserts.  This one had a little of all of those things.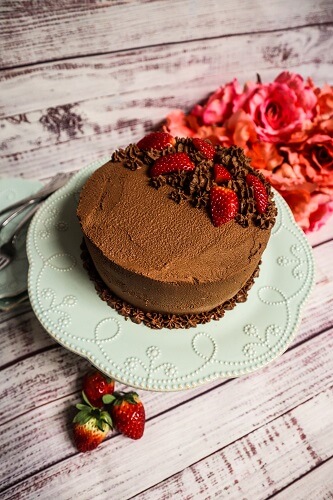 It sort of evolved as I made it into the end result.  First, I made the chocolate cake layers. I used my date sweetened chocolate cake recipe for a nice and moist but light fluffy intensely chocolaty rich cake. I then was going to just put some berry jam and chopped berries.  But I thought, you know what would be even better?  A layer of strawberry cheesecake!  Why not?!  This is a fun experiment after all.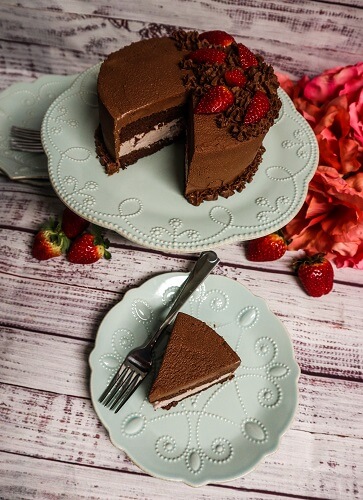 So I made a strawberry cheesecake filling. Once that had set up, I wanted it to have a nice rich chocolate frosting, so I made my vegan cream cheese style frosting that has both coconut milk and cashew butter to make it rich and creamy. But I added in a good amount of cacao powder to give it that rich chocolate flavor.  It almost tasted like chocolate mousse and it was hard to stop sampling it!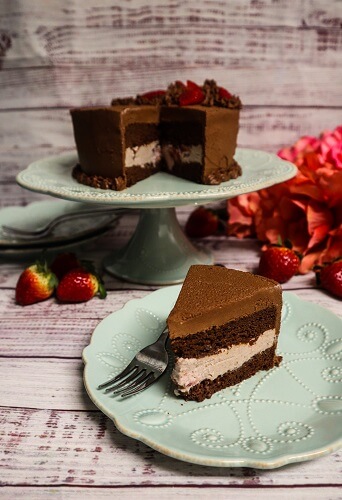 I could not wait to try the finished product!  It was so heavenly!  The soft decadent cake was perfect with the creamy sweet cheesecake filling, flavorful berries, and rich chocolate frosting!  This would be perfect for Valentine's Day!  But of course it would be good year round, I am always in the mood for cake!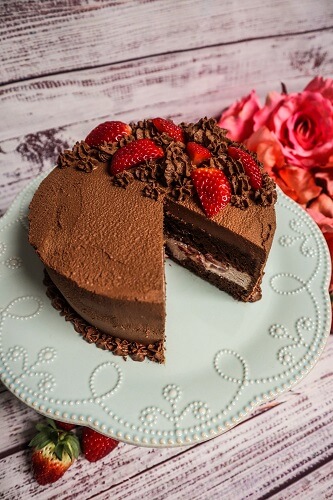 Vegan Chocolate Cake with Strawberry Cheesecake Filling
Makes one 2 layer 6 inch cake
Ingredients:
Cake:
1 1/2 cups Bob's Red Mill Gluten Free All Purpose Flour
1/4 cup cacao powder or unsweetened cocoa powder
1 1/2 tsp baking soda
1 tsp baking powder
1/2 tsp sea salt
1 1/4 cups packed soft medjool dates, pitted, soaked in water for 30 minutes and drained
1/4 cup almond butter
2 tsp pure vanilla extract
2 cups filtered water
2 Tbsp apple cider vinegar
Cheesecake Filling:
Frosting:
1 15 oz can organic full fat coconut milk, chilled (use a brand that is at least 3/4 of the can coconut cream or the frosting will not set up, I prefer Thai Kitchen brand)
1/2 cup raw cashew butter
1/3 cup cacao powder or unsweetened cocoa powder
1/3 cup maple syrup
1/4 tsp sea salt
1/4 tsp cider vinegar
1 tsp pure vanilla extract
1/2 cup plus 2 Tbsp melted coconut butter (NOT OIL), warmed to liquid
Directions:
Preheat the oven to 350F degrees and position rack in center of oven.
Oil two 6 inch round cake pans with coconut oil and line the bottom with parchment.
Whisk flour, cocoa powder, baking powder, baking soda, sea salt in a large bowl to blend well.
Place dates, water, almond butter, and vanilla extract into a blender, and blend until smooth, then whisk this blended mixture into the flour mixture until well blended. Whisk in the cider vinegar until bubbles form.
Pour the cake batter into prepared pans, and place in the oven.
Bake cakes until set and a toothpick inserted into the center comes out almost clean, about 30-35 minutes.  Remove from oven, let cool completely, then un-mold them onto two plates. cover and set aside.
To make the filling, combine all ingredients but the fresh berries in a high speed blender and blend until completely smooth. Stir in the chopped berries.
Place one cake into the bottom of a springform pan, then pour the cheesecake filling over it.  Place the other cake on top, and put into the freezer for a few hours until the center is all set.  Keep in the refrigerator until ready to frost.
To make the frosting, combine all ingredients in a high speed blender and blend until completely smooth.  Pour into a bowl and place in the freezer until the consistency of stiffly whipped cream (about 30-45 minutes depending on how warm it has gotten.  Once it is ready place in the refrigerator until ready to frost.
Unmold the spring form pan and place the cake on a plate.  Spread the frosting on the top and down the sides of the cake.
Decorate with remaining frosting and enjoy!
(Visited 2,021 times, 1 visits today)