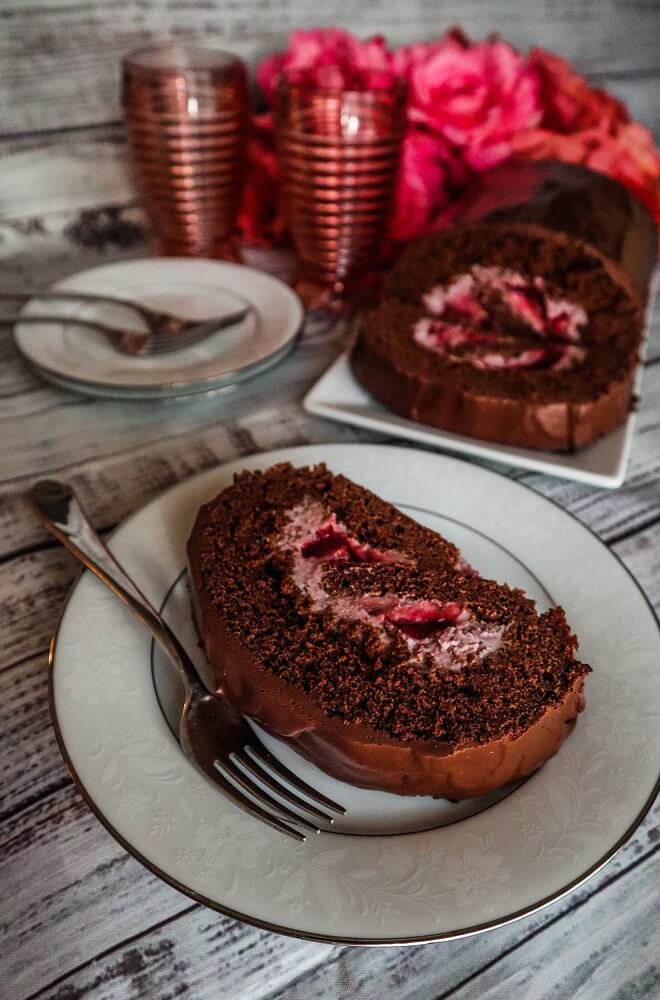 Vegan Chocolate Raspberry Roll Cake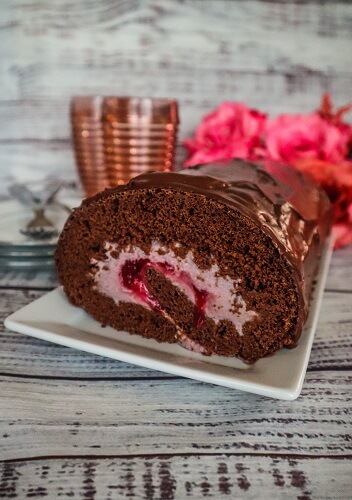 Sometimes you just feel like making a really good chocolate cake. I was in that sort of mood last weekend. So I decided to make one.  I had some raspberry jam on hand and I thought it would be perfect with a dark chocolate cake. I decided to make a roll cake, because a layer cake is a little more time consuming. You would think that roll cakes are more difficult but once you get the hang of them, they are actually surprisingly easy! I wanted a dark chocolate cake base with a raspberry cream and raspberry jam inside.
For the cake part, I used my date sweetened dark chocolate cake.  It is always nice and pliable thanks to the dates, and happens to be fruit sweetened which I love as well. Also the dates give it a slight caramel like flavor along with the chocolate. I have tried making these sort of cakes with a sugar type base, but they just aren't as forgiving with rolling as the fruit sweetened one is. While this was baking, my kitchen smelled like heavenly brownies!
For the raspberry cream filling, I used a mixture of coconut cream and cashew butter to make a luscious base.  It is almost cheesecake mousse like.  To sweeten it and give it that raspberry flavor I used mostly raspberry jam.  It was a really delicious jam that Eric's Dad made and it is just the perfect amount of sweet and tart with plenty of raspberry flavor.  You want to use a flavorful jam for this that you can really taste the raspberries in, not one that is simply just sweet.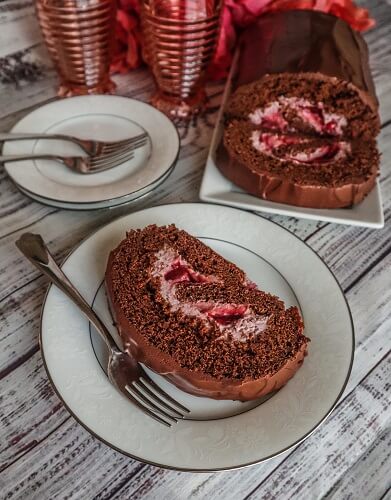 I spread a little bit of jam on top of the cream before I rolled the cake as well for extra raspberry flavor.  When it was all done and had had time to set, I finished it off with a layer of dark chocolate ganache on the outside.  That is my favorite way to decorate the outside of a chocolate roll cake.  It is almost like a really thick fudge, so yummy!  This cake as a whole was totally heavenly!  The rich vanilla raspberry cream and gooey jam on the inside were perfect with the soft dark chocolate cake and ganache!  If you are in a chocolate sort of mood, try this out sometime!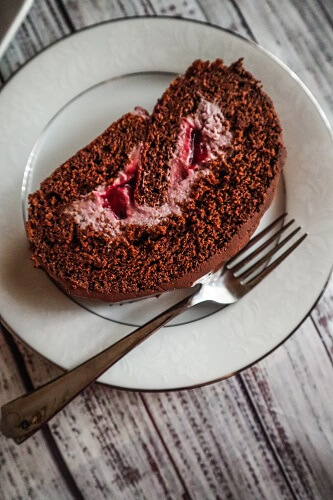 Vegan Chocolate Raspberry Roll Cake
Makes one 15 inch long roll cake
Ingredients:
10x15 inch jelly roll pan
Cake:
1 1/2 cups organic whole wheat pastry flour
1/4 cup cacao powder or unsweetened cocoa powder
1 1/2 tsp baking soda
1 tsp baking powder
1/2 tsp sea salt
1 1/4 cups packed soft medjool dates, pitted, soaked in water for 30 minutes and drained
1/4 cup raw cashew butter or almond butter (or your preferred nut butter, just make sure it is smooth)
2 tsp pure vanilla extract
2 cups filtered water
2 Tbsp apple cider vinegar
Filling:
1 15 oz can organic full fat coconut milk or coconut cream, such as Thai Kitchen chilled (you want to make sure it is a brand that is 3/4 of the can cream or it will not work)
1/2 cup raw cashew butter
1/2 cup raspberry jam
1/4 tsp sea salt
1 tsp pure vanilla extract
2/3 cup melted coconut butter (NOT OIL), warmed to liquid
Ganache:
3/4 cup chopped vegan dark chocolate
1/3 cup plus 2 Tbsp full fat coconut milk
Directions:
Preheat the oven to 350F degrees and position rack in center of oven.
Line a 15 x 10 inch jellyroll pan with parchment paper.
Whisk flour, cacao powder, baking powder, baking soda, and sea salt in a large bowl to blend well.  Set aside.
Place dates, water, almond butter, and vanilla extract into a blender, and blend until smooth, then whisk this blended mixture into the flour mixture until well blended. Whisk in the cider vinegar until bubbles form.
Transfer cake batter to prepared pan and bake cake until tester inserted into center comes out clean, about 15-18 minutes.
Cool cake completely.
To make the filling, combine all ingredients in a high speed blender and blend until completely smooth.
Pour into a bowl and place in the freezer until the consistency of stiffly whipped cream (about 30-45 minutes depending on how warm it has gotten.  Once it is ready place in the refrigerator until ready to assemble.
When ready to assemble, spread filling over the top of the cake, then roll up jellyroll style starting with the short side and using the parchment to assist you in rolling.  Be careful because the cake is fragile, but if it cracks as you roll it no worries, keep rolling because the cake will be covered.  Let chill in the freezer once rolled for a few hours before topping with the ganache.  Once it has chilled, cut off the ends to make it nice and even.
To make the ganache, melt the chocolate in the top of a double boiler, then whisk in the coconut milk until smooth.  Pour over the cake and smooth out over the top and sides (but leaving the pretty ends exposed).
Chill until the ganache has firmed up, and serve!
*If you would like to make this gluten free, swap the whole wheat flour for Bob's Red Mill Gluten Free All Purpose Baking Flour (I have tested this brand and know it works, but have not tried other brands so I am not sure if they would turn out the same).
(Visited 2,618 times, 1 visits today)