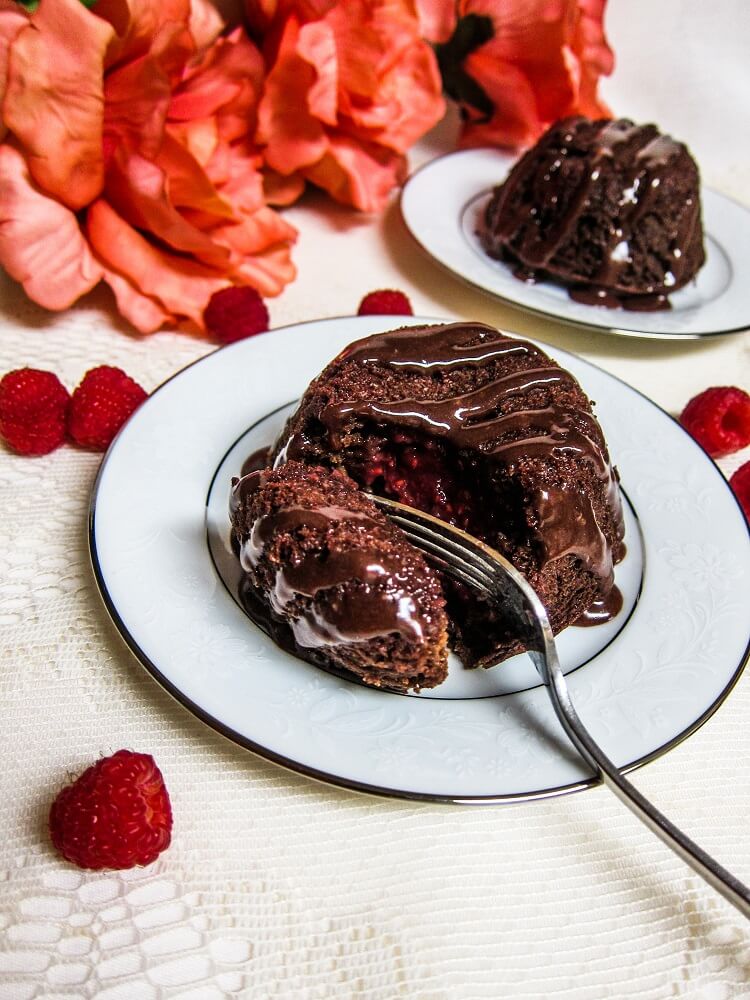 Vegan Chocolate Raspberry Lava Cakes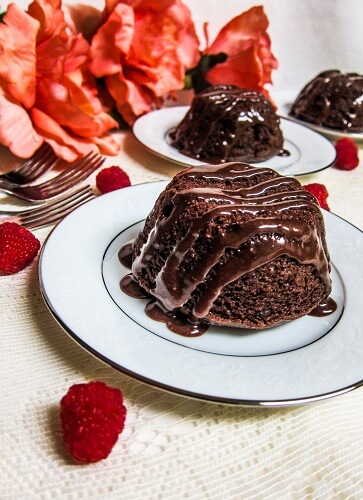 I had some leftover raspberry jam from another recipe, and I thought it would be amazing in a chocolate cake. But I didn't really feel like making a big, tall layer cake. It had been a really crazy hectic week and something more low maintenance was more appealing. Don't get me wrong, I love making layer cakes, they are so fun to decorate and it's kind of relaxing to do so. But not when I don't have a lot of time after work and don't want to have to rush, because making desserts should never be rushed, it is supposed to be fun. So I came up with a way to enjoy some delicious chocolate raspberry cake that was actually quick and easy to make. I made lava cakes!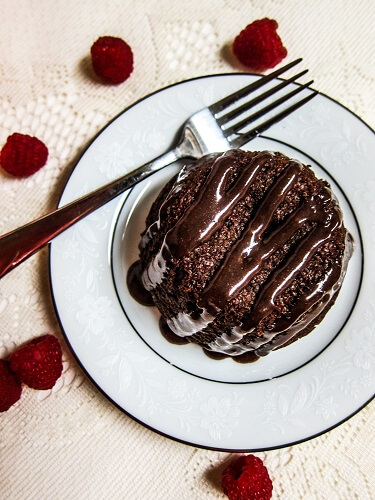 I love lava cakes. After all, gooey filling in a warm chocolate cake is amazing. Not only that, they bake up in a short amount of time, because you want the filling to be a little gooey. These ones are ready in about 30 minutes, which I love! Not only that, I already had all of the ingredients on hand!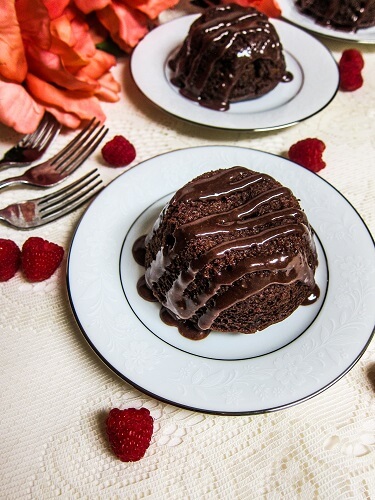 For the cake, I use a batter made with dates instead of sugar because they keep the cake nice and moist but still light. The perfect texture. Also, this cake contains no oil in the batter (just for the dishes so they come out nicely), I use almond butter instead and it works great! For the filling I used a fruit sweetened raspberry jam to keep it easy instead of making a filling. I think my favorite fruit to pair with chocolate is raspberries.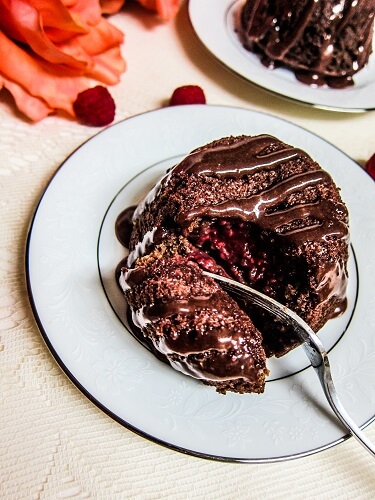 The cakes baked up beautifully and I could not wait to try one! They were so good! Rich, decadent soft dark chocolate cake with a gooey raspberry center and some molten chocolate chips because I added those in as well and you have to serve these warm! I even drizzled them with some fudge sauce to make them pretty! I did not have any coconut milk ice cream on hand, but if you did, it would be perfect with these! I love a warm dessert with a cool ice cream for a nice contrast! These would be perfect for Valentine's Day next week. So if you want to impress someone, make these for them! Or just make them for yourself, that is ok too and totally acceptable!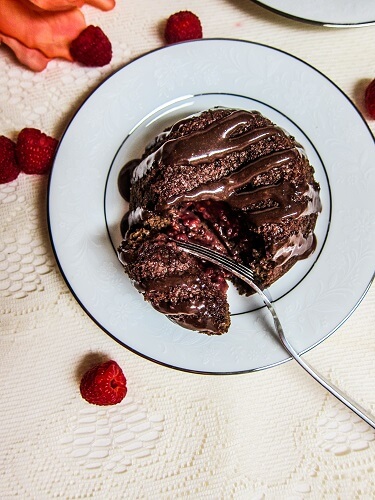 Vegan Chocolate Raspberry Lava Cakes
Makes four 1 cup cakes
Ingredients:
4 1 cup custard dishes
Cake:
3/4 cups quinoa flour (or all purpose gluten free flour)
2 Tbsp cacao powder or unsweetened cocoa powder
3/4 tsp baking soda
1/2 tsp baking powder
1/4 tsp sea salt
1/2 cup packed soft medjool dates, pitted, soaked in water for 30 minutes and 1/2 cup of the water reserved
2 Tbsp almond butter
1 tsp pure vanilla extract
1/2 cup filtered water
1 Tbsp apple cider vinegar
Filling:
1/2 cup fruit sweetened raspberry jam
1/4 cup vegan dark chocolate chips or chunks
Chocolate fudge sauce:
2 Tbsp almond butter
2 Tbsp maple syrup
2 Tbsp cacao powder
pinch sea salt
filtered water as needed
Directions:
Preheat the oven to 375F degrees and position rack in center of oven.
Oil four 1 cup custard dishes or ramakins with coconut oil.
Whisk flour, baking powder, baking soda, sea salt in a large bowl to blend well.
Place dates, reserved water, almond butter, water, and vanilla extract into a blender, and blend until smooth, then whisk this blended mixture into the flour mixture until well blended. Whisk in the cider vinegar until bubbles form.
Transfer half of the cake batter to prepared dishes filling them half full, then sprinkle some chocolate chips over each one, and drop 2 Tbsp of the jam mixture into each in the center. Sprinkle more chocolate chips over that. Spoon the remaining batter over each one, place on a tray, and place in the oven.
Bake cakes until they are set, but not over-baked about 15-18 minutes. Remove from oven, let cool for about 10 minutes.
Meanwhile, whisk together the fudge sauce ingredients until smooth (adding a little filtered water if necessary if too thick, I used about 2 Tbsp, you want it to be pour-able but not runny).
When the cakes have sat 10 minutes, un-mold, drizzle with the fudge sauce and enjoy warm.
(Visited 739 times, 1 visits today)