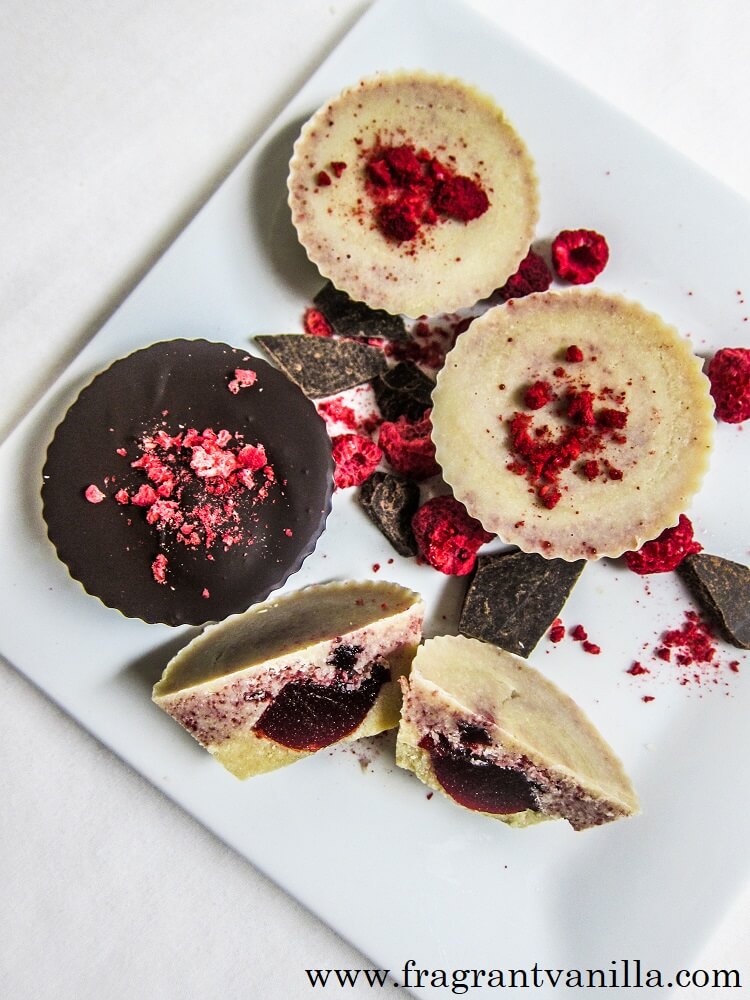 Vegan Chocolate Raspberry Jam Cups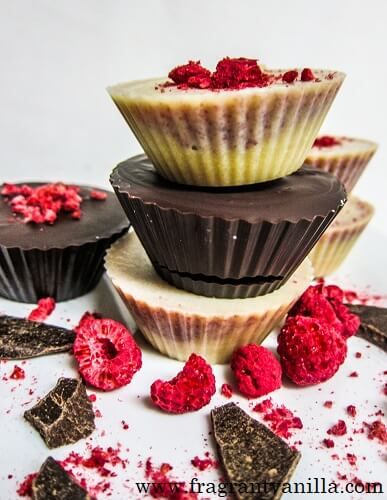 I am in a chocolate making mood lately.  Probably because Valentine's day is coming up, and I want to be able to give some as gifts, and enjoy some for myself.  So lots of chocolate goodies are essential.  I know people like to buy boxes of chocolates to give their significant others, but I like to make them myself, because I feel like if someone puts the time into making something special and thoughtful to me, it means more than if they just bought it.  Bonus points if it is my favorite flavor, or has ingredients that I really love in it.  Plus, I feel like there aren't a lot of options out there for Vegan Valentine's candy, at least not around here.  Well, you are in luck, I made something really simple but really delicious a few days back that your sweetheart might just really love. Some dark chocolate and white chocolate raspberry cups. So whether you and your significant other love chocolate, or vanilla I have you both covered.  These are what I would choose as a favorite next to peanut butter cups if I am in a fruit sort of mood. Because raspberries are my all time favorite fruit. And, although I would choose the white chocolate cups most days because I am a vanilla girl, the dark chocolate are amazing as well.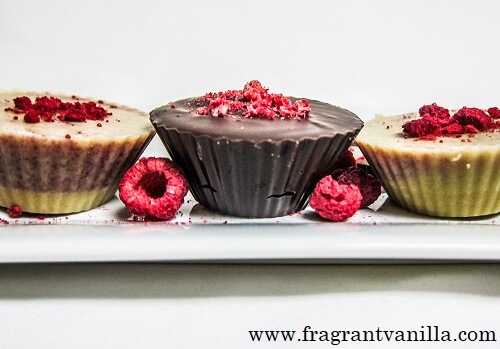 Eric's Dad sent us a big care package of his home made jam (a bunch of different flavors) and soap a few weeks back, and the raspberry is my favorite so I have been using some of it in my desserts. I figured this would be the perfect application for it to shine, and simplify my life significantly when making these cups so I don't have to make a blend up a "jam".  The white chocolate is luxurious, with a base of cacao butter, coconut butter and cashew butter.  It has that silky melt in your mouth thing going on that non-vegan chocolate has (or from what I can remember.  I like it better actually, since it is not super sugary, I add just enough maple syrup to sweeten it. I love also that it is vanilla scented, by favorite flavor, which smells heavenly before you even take a bite out of one of these babies.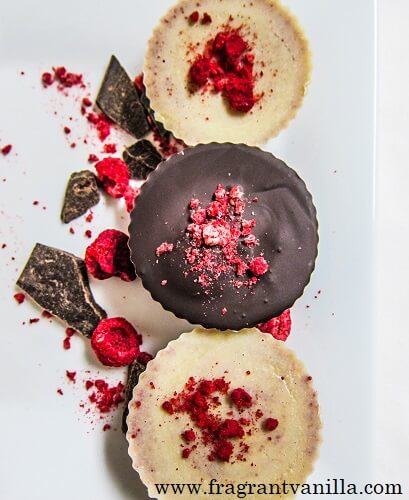 The chocolate is quite simple, only 4 ingredients plus the jam.  But of course if you didn't want to make your own chocolate like I do, you could melt down your favorite vegan dark chocolate.  I just like to make my own because it is cheaper, and I control what sweetener goes into it.  If you are a dark chocolate person all the way, you will love these!  If you have some peanut butter cup molds, or even foil muffin tins, you can make these.  And, how much more special would it be if you made candy for your sweetheart than if you had bought it from the store for them this Valentine's day?  If they are not a fan of raspberry jam, use their favorite instead.  Just make sure it is not too runny. I hope you are all having a wonderful week!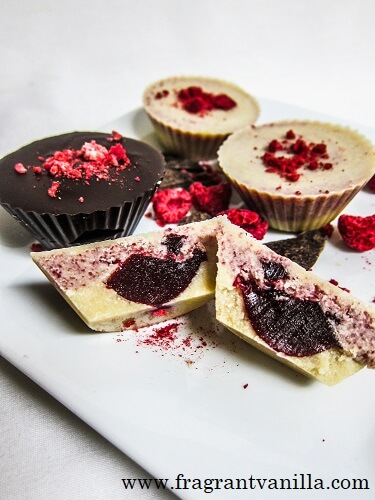 Vegan White Chocolate Raspberry Cups
Makes 6 large candies
Ingredients:
1/4 cup cacao butter (2 oz)
2 Tbsp raw cashew butter
1/4 cup coconut butter
1 tsp pure vanilla extract
2 Tbsp maple syrup (or to taste)
1/8 tsp sea salt
about 1/3 cup vegan raspberry jam
Instructions:
Combine cacao butter, cashew butter, vanilla, maple syrup,  and sea salt over a double boiler, and whisk until smooth.  Pour into the bottoms of 6 larger peanut butter cup tins (or molds), then place them in the freezer to set.
Once the bottom chocolate has set, spoon about a heaping 2 tsp of the jam onto the top of the set chocolate, then pour remaining melted chocolate over that.
Place them in the freezer to set, about 15 minutes.
Store in the refrigerator.
Vegan Dark Chocolate Raspberry Cups
Makes 6 large candies
Chocolate:
Filling:
about 1/3 cup raspberry jam
Instructions:
To make the chocolate, whisk together all ingredients until smooth.
Spoon a little chocolate into the bottoms of 6 peanut butter cup molds, filling them about 1/4-1/3 full.  Place in the freezer until hard, about 10 minutes.
Once the chocolate has hardened, spoon a heaping 2 tsp of jam over that.
Pour more chocolate over the cups until the jam is covered, and place them in the freezer until set, about 20 minutes.
Store any extra in the refrigerator.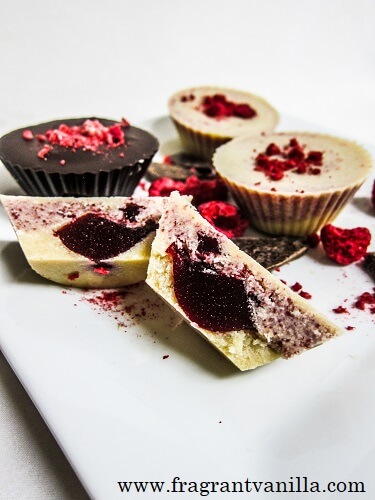 (Visited 103 times, 1 visits today)