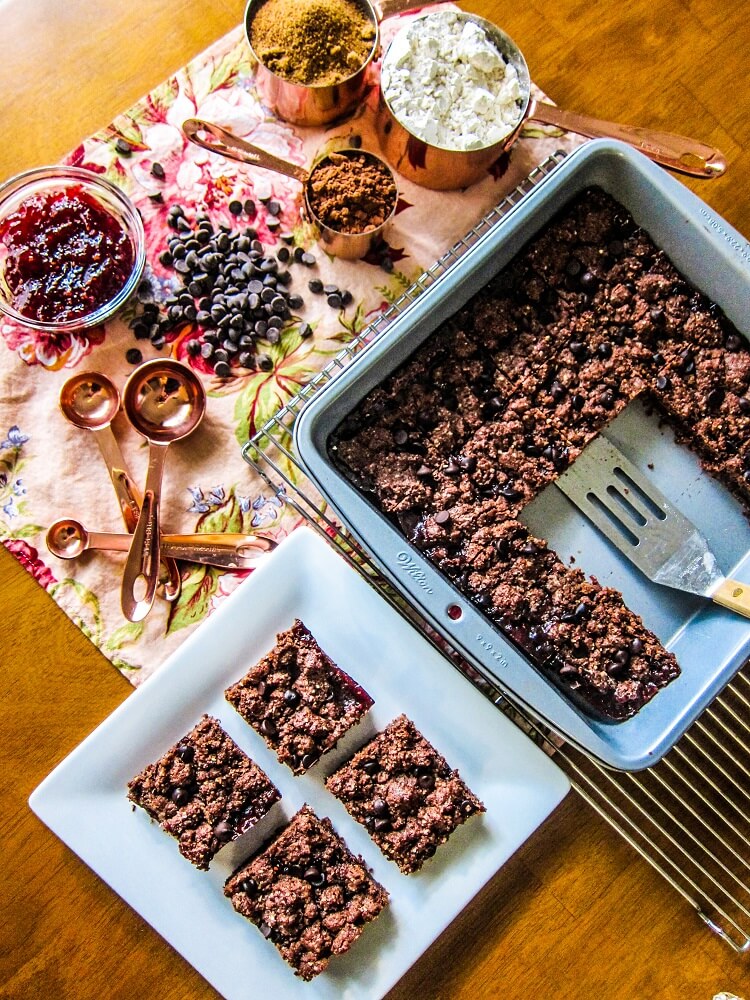 Vegan Chocolate Raspberry Jam Bars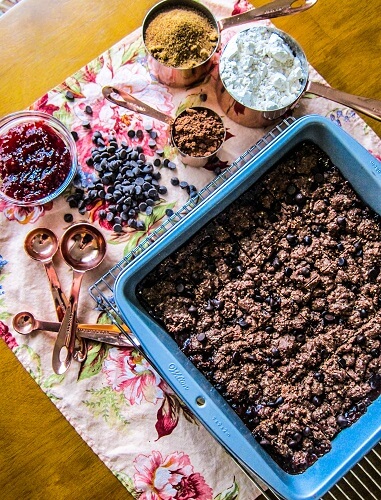 I recently had dinner with my Mom at a local cafe and we were looking at the dessert case on the way out. There were beautiful cakes and tarts but the thing that caught our eye were some raspberry chocolate bars. They had a crunchy chocolate streusel on top as well as chocolate chips and a raspberry jam filling. My Mom said to me, I bet you could make some of those at home! So, I decided that I would create my own version!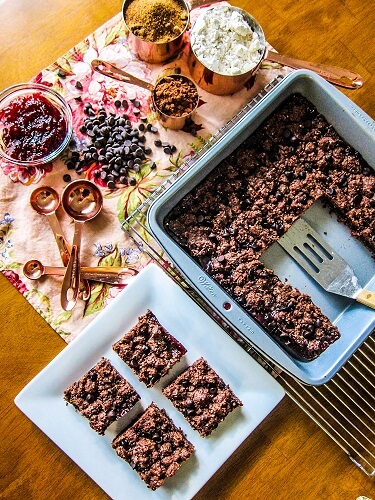 I tend to do baking projects on my days off when I have more time, and they sounded really good so I went for it! I have made jam bars before and loved them, I have just never tried chocolate ones. I decided to even improve upon the idea and make them chocolate hazelnut raspberry jam bars. Because I normally use nut butter in my jam bars anyway to make them extra delicious and I happened to have hazelnut butter and hazelnut meal on hand.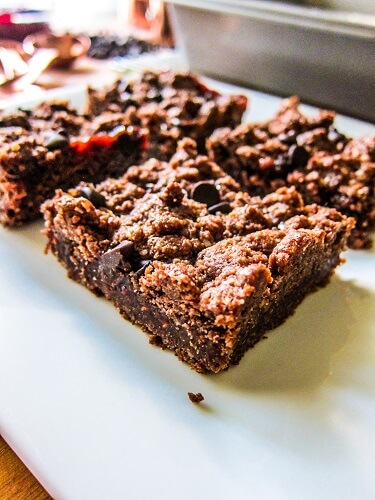 Chocolate and hazelnuts are an amazing combination anyhow add in raspberry and its even better! The crust is really easy to make, you just mix it all together, press half into the pan, top with the jam and then crumble the rest of the crust and chocolate chips over that! I admit, I did sample a bit of the crust while I was making it, because it was like super delicious cookie dough. I am one of those people who likes to sample what I am making all the way through and I am just a sucker for cookie dough and batter!
Lastly I sprinkled on some chocolate chips before baking because one can never have too much chocolate in a chocolate dessert, right? They smelled amazing while baking. Too bad I had to wait until they cooled completely to cut them so they stayed pretty. It was well worth the wait though! They were heavenly! Rich, chocolaty hazelnut cookie crust and crumble plus the dark chocolate chips and gooey tart sweet jam...total deliciousness! So the next time you are craving a baked chocolate treat, give these a try instead of just brownies!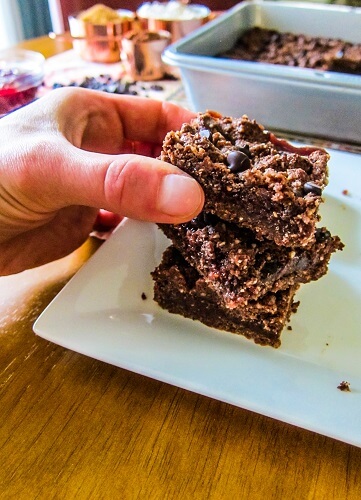 Vegan Chocolate Raspberry Jam Bars
Makes 16 bars
Ingredients:
Crust/topping:
1/2 cup coconut oil, warmed to liquid
3/4 cup coconut sugar
3 Tbsp filtered water mixed with 1 Tbsp ground flax seed
3/4 cup hazelnut butter
3/4 cups whole wheat pastry flour
1/2 cup hazelnut meal
1/4 cup cacao powder or unsweetened cocoa powder
1/2 tsp baking powder
1/2 tsp sea salt
Filling and Topping:
3/4 cup vegan raspberry jam
1/2 cup vegan dark chocolate chips
Instructions:
Preheat oven to 350F degrees with the rack set in the center position. Line a 9x9 inch square pan with parchment, and/or grease it with coconut oil.
To make the crust, whisk the coconut oil and sugar together in a bowl with the flax mixture until the sugar starts to dissolve. Then add the hazelnut butter and mix until combined.
Add the flour, cacao powder, hazelnut meal, baking powder, sea salt and stir in until well blended.
Spread 2/3 of this mixture over the bottom of the pan, pressing it to the edges with your fingers. Then spread the jam over that with a spoon or offset spatula. Drop chunks of the remaining dough over that and sprinkle with chocolate chips.
Place in the oven. Bake for about 45 minutes until lightly browned and set.
Remove from the oven and let cool completely before cutting into bars.
(Visited 328 times, 1 visits today)