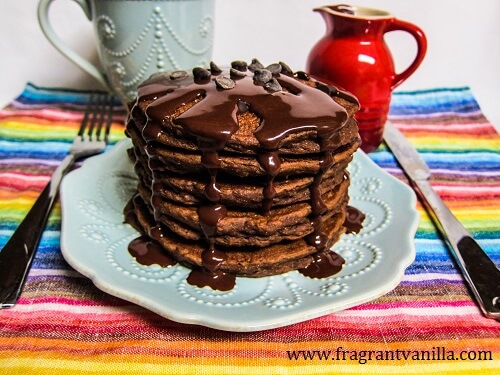 Vegan Chocolate Quinoa Pancakes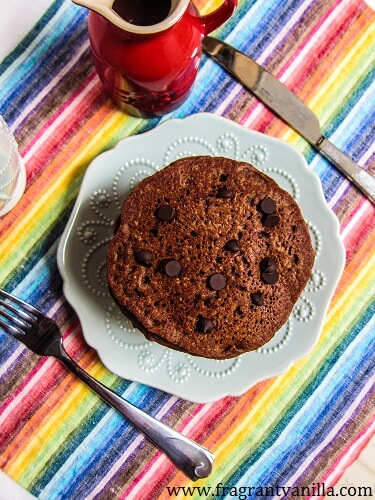 I always think it is funny listening to people try to pronounce the word quinoa for the first time.  "Qhinwah?  Keenohah? Keen-way?  I am not sure how to say it..."  We have all been there honestly, and it is hard to pronounce for first timers. I first started making it when I started working at the health food store 11 years ago.  It became part of my diet because it is high in protein, and fiber and I am not a huge rice eater. I make quinoa a lot for dinner with things like quinoa bowls or quinoa salad, but I don't often venture much beyond that in the realm of quinoa. So, I decided to make something a little different with it a few nights back.  Something sort of sweet, pancakes!  I was just in a pancake making mood, and I was going to make chocolate pancakes anyway (I had decided at work in the middle of the day when I was really hungry), so I thought why not add some quinoa for extra protein?  I was always a fan of whole grain pancakes, and although quinoa isn't a grain (it is a seed), it has the same affect in pancakes, adding heft and deliciousness.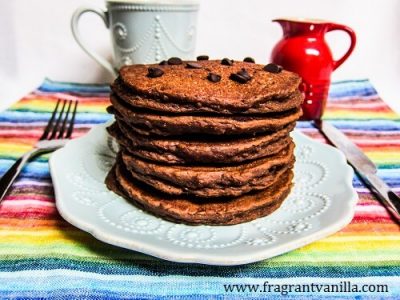 For the pancake base, I used gluten free flour because it is what I always have on hand.  I like Bob's Red Mill All Purpose Gluten Free, because I find that it works well, and it is made with bean flours which I appreciate.  I added a little apple sauce in place of the eggs and oil, so these were pretty light pancakes.  I have a really nice ceramic pan which worked beautifully for cooking them without having to oil.  I added in chocolate chips, because the little kid in me wanted to.  I mean, nothing was better than chocolate chip studded pancakes as a kid, right?  The quinoa kind of blended in and added texture and protein.  They smelled wonderful while cooking, like brownies. I decided to make a chocolate syrup to go over them, and it was the perfect addition because I wanted something really chocolaty.  These were just that.  Chocolate in 3 forms!  Dessert for dinner, sometimes you just have to do it.  Yes, I made these in the evening.  I usually don't have time in the morning or the patience to make pancakes.  My mornings consist of going for a run, and heading off to work after showering and eating with little time in between.  But breakfast for dinner is awesome!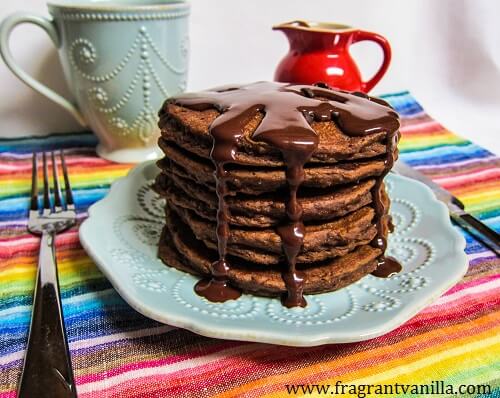 If you wanted to be a little more healthy and less sweet with these, you could use a fruit puree instead of the syrup.  I think mashed raspberries would be awesome!  I love raspberries and chocolate together.  But anything goes!  Taylor these to your taste buds, maybe some just sliced fruit on top, or if you wanted to go the other direction and be more decadent, some coconut whipped cream!  The possibilities are endless!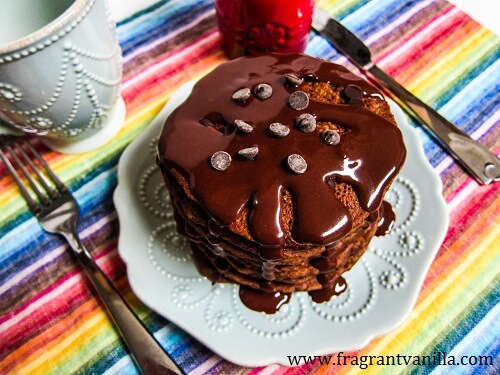 Vegan Chocolate Quinoa Pancakes
Makes 12
Ingredients:
Pancakes:
1 1/2 cups gluten free all purpose flour
1/4 cup unsweetened cocoa powder
2 tsp baking powder
1/2 cup applesauce or mashed banana
1 1/3 cups thin coconut milk
2 tsp pure vanilla extract
1/4 tsp sea salt
1/4 cup maple syrup
1 cup cooked quinoa
3/4 cup vegan chocolate chips (optional)
Chocolate Syrup:
1/4 cup maple syrup
1/4 cup unsweetened cacao powder
pinch sea salt
Instructions:
In a food processor, combine all pancake ingredients except quinoa and chocolate chips and process until just blended.  Pour into a bowl, stir in the quinoa and chocolate chips, and set aside.
To cook pancakes, preheat oven to 110 degrees. Heat a large non-stick pan over medium heat. Once hot, add the batter in 1/4 cup amounts (I did 3 at a time, but it depends on your pan), and let cook for about 2-3 minutes on the first side until set and starting to brown, then flip with a spatula, and cook another 2-3 minutes. When cooked, place on a plate and keep warm in the oven while you repeat the process with the remaining pancakes.
To make the topping, whisk together the syrup and cacao powder and sea salt until smooth (adding a little water if too thick, or more cacao powder if too thin).   Top the pancakes with it!
*Note: If you do not have a non-stick pan, and don't mind these not being oil free, go ahead and use a little coconut oil when cooking them to prevent sticking.
(Visited 149 times, 1 visits today)