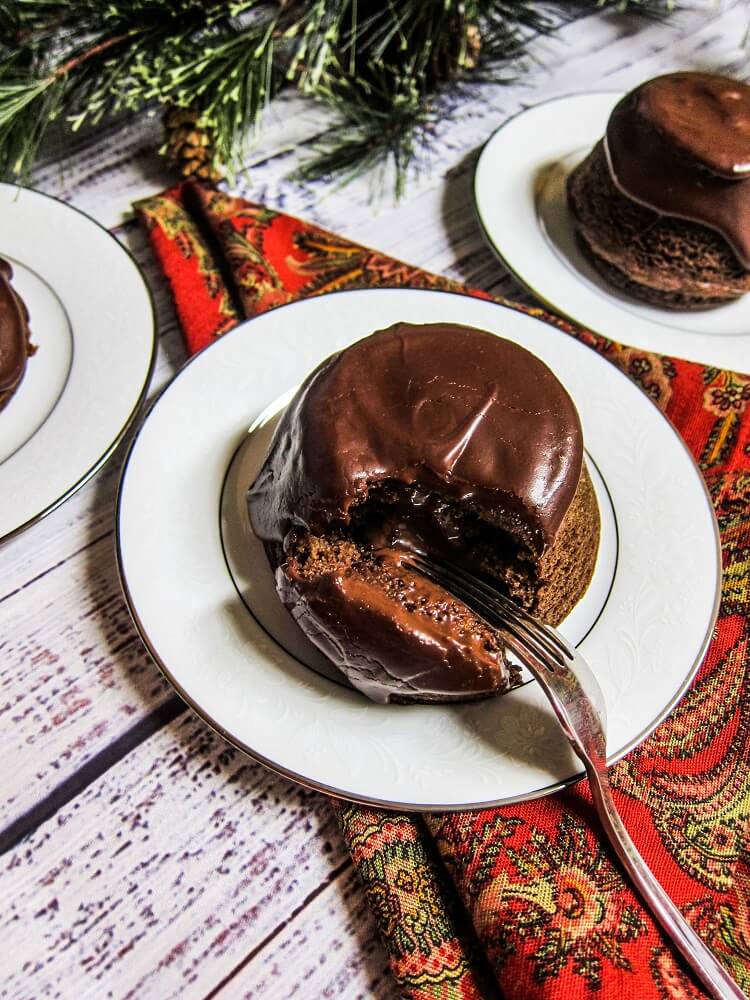 Vegan Chocolate Peppermint Lava Cakes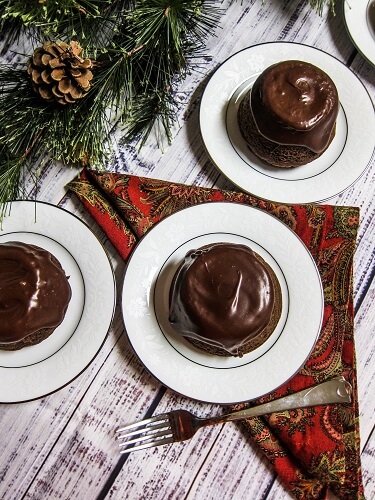 After a hectic week last week, I decided that I needed to bake something chocolaty.  Brownies or chocolate cake sounded good, maybe with peppermint.  I had seen someone making some peppermint brownies on a morning show I was watching and the combo of chocolate and peppermint sounded amazing at the time.  I didn't however want to bake a big pan of brownies or make a large layer cake that would have been more work than I was willing to put in after being at work in a kitchen all day, so I went for some mini lava cakes!  I had made some similar ones before and I knew they were nice and easy and I could enjoy some delicious cake quickly.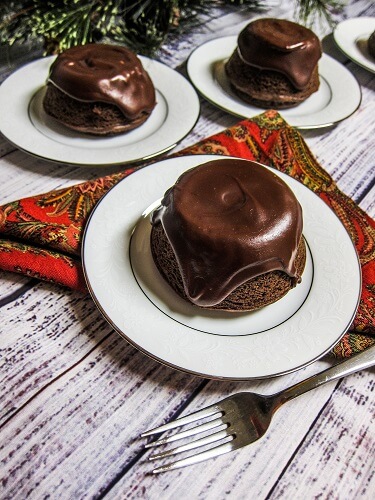 Raw Guru had recently sent me some cacao powder, so it was perfect!  It was just begging to be used in a recipe like this one!  For the base, I started out with quinoa flour which is naturally gluten free.  But you could of course use whole wheat pastry flour if you prefer that and it will work just as well.  Next, I added in the cacao powder of course to make it nice and chocolaty.  For the sweetener, instead of sugar I used dates because they keep the cake nice and moist and soft but not to heavy.  You would never guess that this is fruit sweetened.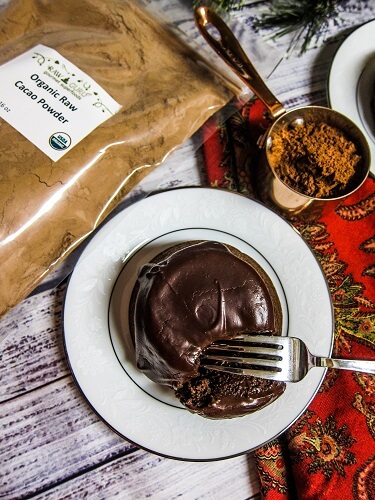 It also happens to be oil free, because I use full fat coconut milk instead of oil and it comes out perfect!  Lastly a good amount of peppermint was important for that holiday twist!  For the filling I made a quick ganache so it would be nice and gooey and rich inside when you cut into it to enjoy it.  They smelled amazing while baking! I could not wait to try one!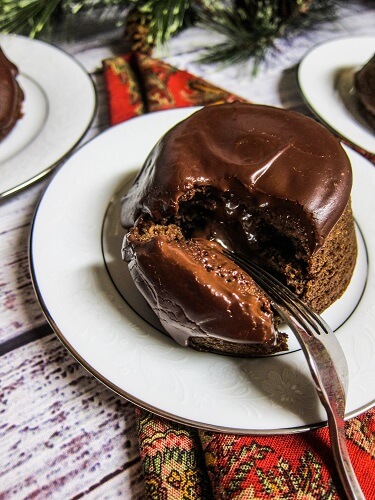 I only had to wait 10 minutes.  I poured some of the extra ganache over it and it was amazing!  Gooey and rich as lava cake should be with a hint of peppermint and tons of dark chocolate flavor!  The only thing that would have made this even better is if I had some vegan ice cream on hand which I did not but it was still crave worthy!  If you are a big chocolate fan, definitely give these a try!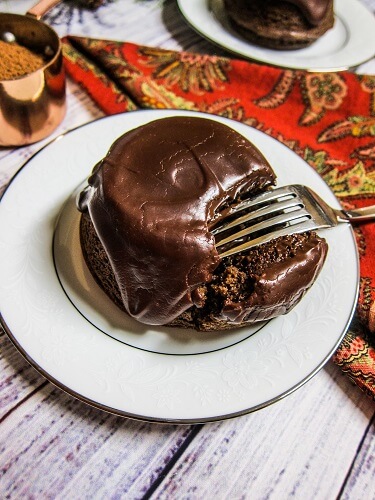 Vegan Chocolate Peppermint Lava Cakes
Makes 4
Ingredients:
Filling:
1 cup chopped vegan dark chocolate or vegan chocolate chips (I like this brand)
3/4 cup full fat coconut milk 
Cake:
3/4 cups quinoa flour (or all purpose gluten free flour)*
2 Tbsp Raw Guru cacao powder or unsweetened cocoa powder
3/4 tsp baking soda
1/2 tsp baking powder
1/4 tsp sea salt
3/4 cup packed soft medjool dates, pitted, soaked in water for 30 minutes and 1/2 cup of the water reserved
1 tsp pure vanilla extract
1 tsp peppermint extract
3/4 cup full fat coconut milk (the thick part from the top of the can)
1 Tbsp apple cider vinegar
Instructions:
Preheat the oven to 375F degrees and position rack in center of oven.
Oil four 1 cup custard dishes or ramakins with oil.
To make the ganache filling, place the chocolate and coconut milk in the top part of a double boiler, whisking them, and heat until they are melted and blended together and smooth. Turn off the heat but leave over the warm water.
To make the cake batter, whisk flour, baking powder, baking soda, sea salt in a large bowl to blend well.
Place dates, reserved water, peppermint, coconut milk, and vanilla extract into a blender, and blend until smooth, then whisk this blended mixture into the flour mixture until well blended. Whisk in the cider vinegar until bubbles form.
Transfer half of the cake batter to prepared dishes filling them half full, then drop 2 Tbsp of the ganache into each in the center. Spoon the remaining batter over each one, place on a tray, and place in the oven.
Bake cakes until they are set, but not over-baked about 15-18 minutes.  Remove from oven, let cool for about 10 minutes.
Rewarm the extra ganache if it has solidified (if it is too thick or clumpy once it has warmed, whisk in a little water until it thins it will smooth out).
When the cakes have sat 10 minutes, un-mold, pour the extra ganache over and enjoy warm.
*If you prefer to use whole wheat pastry flour instead of the quinoa or gluten free flour, it can be used as well. 
(Visited 1,913 times, 1 visits today)